HOGS KEEP PACE IN WESTERN CONFERENCE PLAYOFF RACE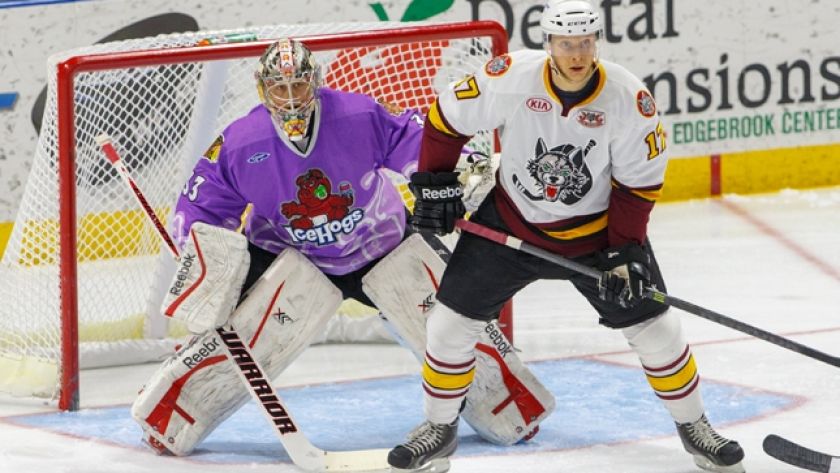 Rockford exploded for six goals on the night to end the weekend 2-1-0-0
Rockford, Ill. – There are just eight games left in the regular season and the Rockford IceHogs (33-26-5-4) broke a six-game point streak of the Chicago Wolves (39-20-5-3) on Sunday afternoon. With the win, the IceHogs brought themselves back into a tie for 7th place in the Western Conference standings with a 6-3 win over the Wolves.
It was a new game once the Wolves tied it up with 14:07 left in the final frame when three Wolves broke toward the net and cleaned up the puck on a rebound. Michael Davies was the Chicago skater that found the back of the net for the 3-3 marker.
The IceHogs took the lead for the third time when Pierre-Marc Bouchard posted up behind the net on the power play and found Brad Mills in front of the right face-off circle with 9:56 left in regulation. Mills took the puck and deposited it top shelf past Jake Allen for the 4-3 goal and the eventual game-winner.
Brandon Mashinter and Phillip Danault put the final nails in the coffin with empty-net goals at 18:42 and 19:06 respectively for a 6-3 IceHogs win.
The first tally of the contest was notched with 15:28 left in the second period when the IceHogs leading scorer, Adam Clendening, found Mark McNeill down ice and set him on the break. With two Wolves hot on his trail, McNeill went top shelf on Allen for his 16th goal of the season.
Less than two minutes later, at 5:50 of the second period, Ty Rattie brought the contest back even with a marker of his own. Alexandre Bolduc found Rattie in the left face-off circle, giving him room to flip the puck past Kent Simpson.
The scoring continued with 13:04 left in the sandwich frame when Joakim Nordstrom was the beneficiary of a rebound off Allen from a Mathieu Brisebois shot. Nordstrom was streaking to the net and found the puck on his forehand for the 2-1 tiebreaker.
Before the second period came to an end, Mashinter added to the IceHogs lead on the power play with 3:31 left. Mashinter fired the puck toward Allen from the side of the net and the puck took an awkward bounce off of a Chicago stick and past Allen to set the scoreboard to 3-1.
After a Garret Ross hooking minor, the Wolves took advantage on the power play to make it a one-goal game at 3-2. Rattie notched his second goal of the game on a straight-away blast from the blue line at 3:02 of the final frame.
Next Home Game: Friday, Apr. 11 vs. Milwaukee Admiral. Puck drop is slated for 7 p.m. The IceHogs return home after three games on the road, finishing their season series against the Admirals on Friday night.