HOGS HOLD OFF GRIFFINS CHARGE, TAKE 4-2 VICTORY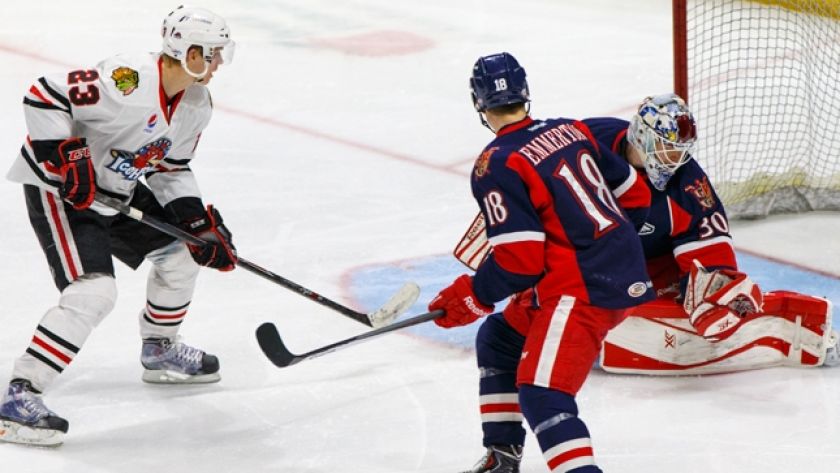 Rockford, Ill. – The Rockford IceHogs jumped out to an early 3-0 advantage and held off a late charge by the defending Calder Cup Champion Grand Rapids Griffins to earn a 4-2 victory at the BMO Harris Bank Center on Saturday night.
In six previous matchups, the IceHogs had not held a lead against their Midwest Division rival, with the only Rockford victory coming in the shootout. To earn the early advantage, the IceHogs took a 1-0 lead 4:17 into the game. Joakim Nordstrom redirected a shot from defenseman Brett Skinner from the right face-off circle to tie Brad Winchester for the team lead with 10 goals on the campaign.
The IceHogs stretched their lead to two goals just 43 seconds into the second period after Grand Rapids was whistled for covering the puck in the goal crease on an IceHogs power play to give Nordstrom a penalty shot. The centerman went five-hole on Griffins' goaltender Jared Coreau to convert his second goal of the night and take sole possession of the team lead in goals with 11.
Continuing their early onslaught, the IceHogs made the contest 3-0 with 16:11 remaining in the sandwich frame. Nordstrom found his third point of the night as his shot rebounded off Coreau and found Jeremy Morin, who flipped it into the back of the net. The left winger's marker chased Griffins net minder Coreau out of the game and Tom McCollum came in to replace him.
Although they were short-handed, the Griffins wouldn't let the three goals go unanswered as Cory Emmerton took a pass from Xavier Ouellet and went top-shelf to beat Jason LaBarbera for the first time in his Hogs tenure. The tally at 13:47 put Grand Rapids back within two at 3-1.
Taking control of the momentum, the Griffins converted on a power play with 1:51 left in the second period to cut the score to 3-2. A save by LaBarbera on a slap shot by Tomas Jurco resulted in an open side of the net for Riley Sheahan to net his seventh lamp lighter of the season.
A back and forth third period wound up with Garret Ross sealing the victory for the IceHogs with a steal in the neutral zone and an empty net goal with 45 seconds remaining to put Rockford back up by two at 4-2.
LaBarbera, making his IceHogs debut, was credited with the victory after making 31 saves. Coreau was tagged with the loss, stopping 13 of the 16 shots he faced. McCollum turned away all 13 attempts after coming on in relief.
Next Home Game: Friday, Jan. 10 vs. Lake Erie. Face off is set for 7 p.m. This game will be the first of a back-to-back set and game two of a three game week for the IceHogs.