Hogs Fall Through In Third Period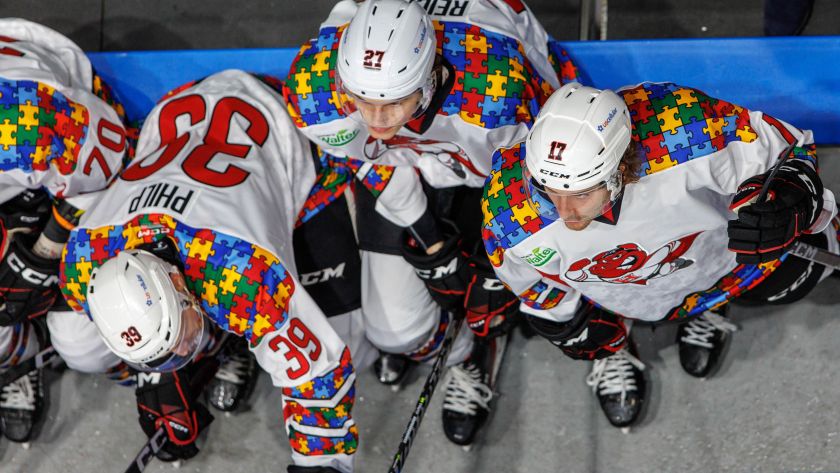 Rockford, Ill. – The Rockford IceHogs couldn't plug the leak in the third period and fell 6-2 to the Chicago Wolves on Saturday night. Defenseman Adam Clendening and forward D.J. Busdeker both tallied their third goals of the season.

The Wolves netted the first two lamp lighters of the contest in the introductory period. Fishing the loose puck out of a pile of IceHogs in the crease, Chicago forward Jamieson Rees chipped in a shot at 8:04, and forward Brendan Perlini followed up at 14:06 with a rocket from the right circle to take a 2-0 lead heading into the first intermission.
Bringing the score back within one, Rockford scored the only goal of the middle frame. Forward Brett Seney caught a pass from forward Cole Guttman and set up a one-timer from Clendening high in the slot at 3:54. Clendening bagged his third tally of the season on the Hogs' second power-play opportunity of the contest.
The contest ended with a five-goal final frame. Chicago forwards Noel Gunler and Ryan Suzuki tacked on two goals at 3:27 and 10:18, taking a 4-1 lead. Busdeker answered back at 10:44, tossing a wrister past Wolves goaltender Pyotr Kochetkov and notching his third red lighter of the campaign and making the score 4-2.
Piling on a pair of goals to close out the third period, Rees and forward Vasily Ponomarev added a pair of tallies at 13:16 and 14:03, sealing the IceHogs 6-2 loss.
IceHogs goalie Dylan Wells impressed in his perfect second stanza after giving up two goals in the first period but marked 33 saves on 39 Chicago shots and was tagged with the loss. Kochetkov turned away 22 of 24 Rockford shots to earn the win.
Tune In LIVE on the IceHogs Broadcast Network Presented by BMO
Watch and listen to every game this season on the IceHogs Broadcast Network presented by BMO! Listen from your favorite device, at home, or on the road at IceHogs.com and on the IceHogs app and watch LIVE on AHLTV and selected games on 23.3 Circle TV! Fans can also tune in on all of Mid-West Family's local stations including 104.9 The X, B103, 95.3 The Bull, and Rockford Greatest Hits 100.5 and featured on Rock River Current, the Stateline's premiere source for local events, news and culture.