HOGS FALL FLAT IN ROSEMONT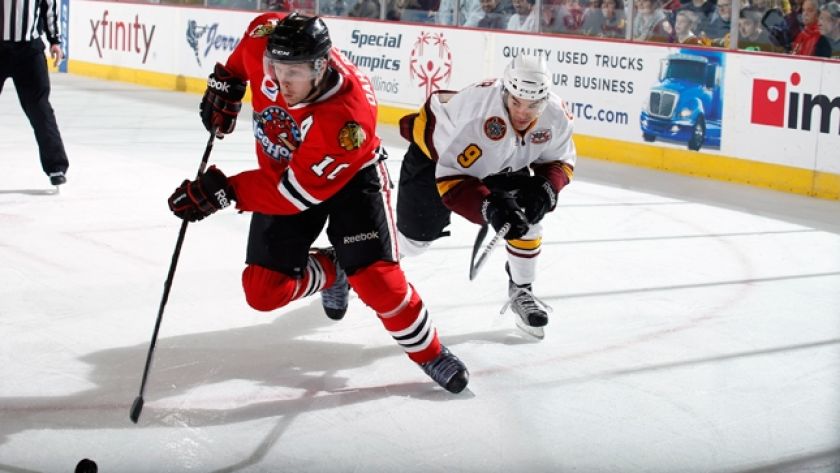 Wolves top Hogs 6-0

Rosemont, Ill.-In the front end of a home-and-home set against the Chicago Wolves, the Rockford IceHogs were thumped 6-0 at the Allstate Arena on Friday.

Rockford was blanked for the first time in over a year as the last time in which they were held without a goal was March 16, 2013 at Peoria.

Chicago snagged the first marker on Friday 5:09 into the opening period. Joel Edmundson flipped in an Adam Cracknell pass off the blocker of Rockford's Kent Simpson and in for his third goal of the season.

That lead was extended as Cracknell found the back of the Rockford net later in the frame. Keith Aucoin knocked down a pass in the Rockford zone and spotted Cracknell streaking to the Rockford goal were he buried his tenth goal of the season.

In the second period, Rockford's deficit grew to 3-0. After Simpson turned away an Alexandre Bolduc shot, Ty Rattie found the rebound and swiped in his 16th goal of the season at 4:47 of the middle frame.

The second period then got a little rough. Jared Nightingale was assessed a five-minute fighting major and the Wolves would notch two more markers. Keith Aucoin pounced on a rebound and knocked in his tenth of the season at 16:48 before Bolduc fired home his 11th goal of the season under the cross bar at 17:41.

Nightingale was handed 17 minutes of penalty time for his ruckus with Eric Selleck but was outdone by Bobby Shea who was has given 30 PIMs after an altercation with Ty Rattie at 19:26. Shea's penalties resulted in the Wolves second five-minute power play of the game. Rockford, however, killed it off.

In the third period, the Wolves capped the scoring in the third period when Pat Cannone tipped home a Tyler Shattock pass at 15:17 to make it 6-0.


Next Home Game: Saturday, March 22 vs. Chicago Wolves. Puck drop is 7 p.m. It is country night with the IceHogs and the first 1,500 fans through the gate will receive a cowboy hat courtesy of Frito Lay. Gunnar and the Grizzly Boys will be performing live at the game. The game on Saturday is sold out.