HOGS CHALLENGE FANS TO BEAT THE BLUELINERS IN NCAA BRACKET CHALLENGE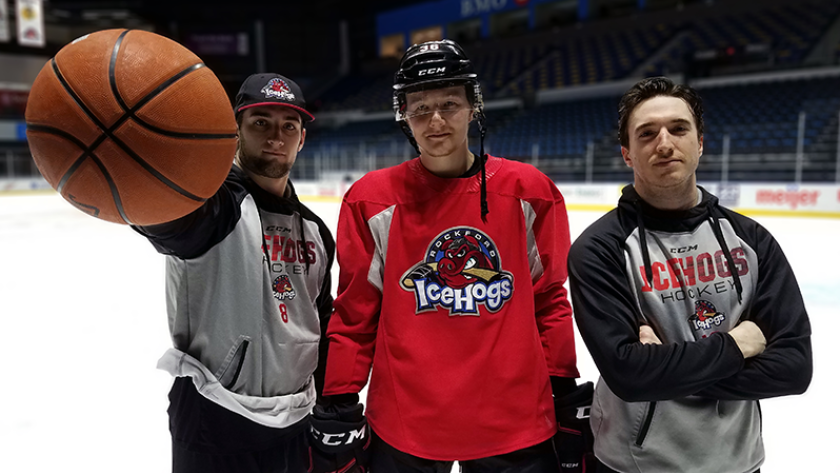 ROCKFORD, Ill. – The Rockford IceHogs are challenging fans to beat the locker room's brackets for the 2019 NCAA Basketball Tournament.
[ENTER THE BRACKET CHALLENGE HERE]
*Note: you will need a valid Yahoo! account to join the bracket group*

Fans can pit their college basketball bracket skills against a bracket filled out by defensemen Dennis Gilbert and Josh McArdle, and a bracket by blueliner Joni Tuulola. Each fan who finishes with a better score than both of the IceHogs' brackets will be entered to win an autographed Tuulola practice jersey, and the fan with the top overall score will win a game-worn, autographed Gilbert jersey.
In addition, all entrants into the Beat the Blueliners Bracket Challenge will receive one free ticket to the IceHogs home game on Wednesday, March 27 against the Milwaukee Admirals at 7 p.m. at the BMO Harris Bank Center. Tickets can be redeemed by following the FEVO ticket link posted on the "Commissioner's Note" section of the bracket's homepage. The "Commissioner's Note" is located on the top portion of the landing page of the bracket group.
The brackets will be unveiled Sunday night on March 17. However, registration to join the Beat the Blueliners Bracket group is currently open. Fans can access the group and the free ticket link now, and complete their bracket after the matchups are unveiled Sunday night. Each entry is valid for one free ticket to the IceHogs game on March 27, but additional tickets can be purchased for the discounted price of just $10 through the FEVO ticket link.
Brackets must be completed before Yahoo! Sports locks all picks early on Thursday, March 21. The tournament scoring will not include the "First Four" games from March 19-20. Scoring will follow Yahoo! standard scoring format for the tournament.
The IceHogs will post a video detailing Gilbert and McArdle's one bracket, and Tuulola's selections on Thursday, March 21.
The bracket can be accessed HERE (The group name is Beat the Blueliners Challenge)
For questions or additional information, contact the IceHogs on social media or call the IceHogs front office at (815) 986-6465.
Next Home Game: March 16 vs. Cleveland | 6 p.m.
The Rockford IceHogs host Dino Night on March 16 at the BMO Harris Bank Center. The first 2,500 fans in attendance will receive a FREE bobblehead of Jane, the T-Rex, which is displayed in Rockford's own Burpee Museum of Natural History, courtesy of Register Star Media.