'HAWKS PROSPECTS CLINCH BERTH IN TITLE GAME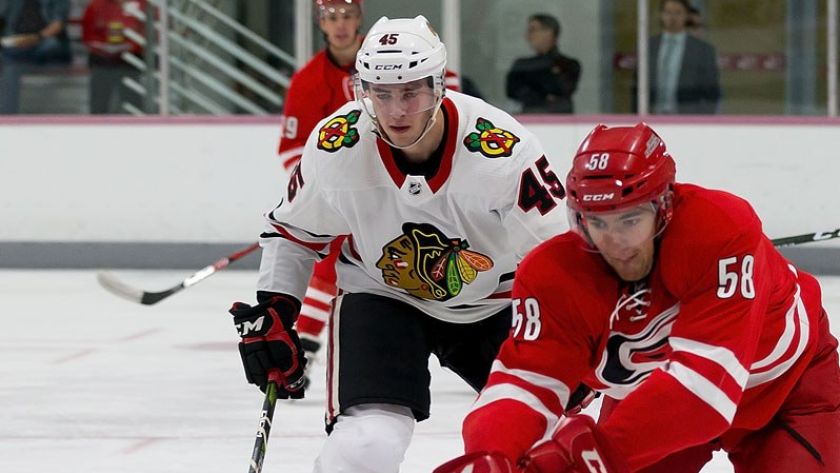 TRAVERSE CITY, Mich -- Luc Snuggerud tallied five points, Alex DeBrincat extended his goal streak to each of his three games this tournament and the Chicago Blackhawks thumped the Carolina Hurricanes, 9-2, in the final game of pool play for the 2017 NHL Prospects Tournament.
The Blackhawks will now face the Columbus Blue Jackets prospects in the championship game tomorrow (Sept. 12) at 6 p.m. (CST). The game can be viewed via live stream on NHL.com.
DeBrincat scored his tournament high-tying third goal just 36 seconds into the opening period. The winger, skating through the neutral zone, found himself with space and sniped a goal past opposing goalie, Callum Booth. DeBrincat has now tallied at least one point in each of his three games and four total points in that span.
Matthew Highmore and Will Pelletier each chipped in a goal before the end of the period, with Highmore scoring shorthanded on a breakaway and Pelletier capitalizing on a great cross-ice feed from Snuggerud, to help Chicago put the game out of reach.
Snuggerud also provided an assist on Michael Cramarossa's goal at 13:30 in the second period and closed out the middle frame with a blast through traffic on the power play.
​In the third, the blueliner picked up his fourth point with a helper on a goal by Graham Knott. He then one-timed a pass from Alexandre Fortin for a shorthanded goal at 5:35 to finish his standout performance with two goals, three assists and five points.
Snuggerud, who also registered an assist in Friday's game against the New York Rangers, enters the final day of the showcase tied for the tournament lead with six total points.
Robin Press (3a), Cramarossa (1g, 1a), Fortin (2a) and Pelletier (1g, 1a) each also posted multi-point efforts in Monday's victory.
The Blackhawks racked up 16 penalty minutes on eight total infractions, including eight PIM in the opening period...Chicago has played shorthanded 14 times this tournament, the second-most behind only the New York Rangers (15), but also lead the entire tournament with two shorthanded goals (only St. Louis also has at least one shorthanded goal).
Chicago is currently tied for the most goals scored (15, also St. Louis) and ranks second for the fewest goals allowed (8, CBJ is first with 6 GA)...The team's +7 goal differential is the best of any club in the showcase.

Luc Snuggerud finished +6 in plus/minus tonight and currently ranks first among all tournament skaters with an overall plus/minus of +6.