HARTMAN, RAANTA POWER HOGS PAST FLAMES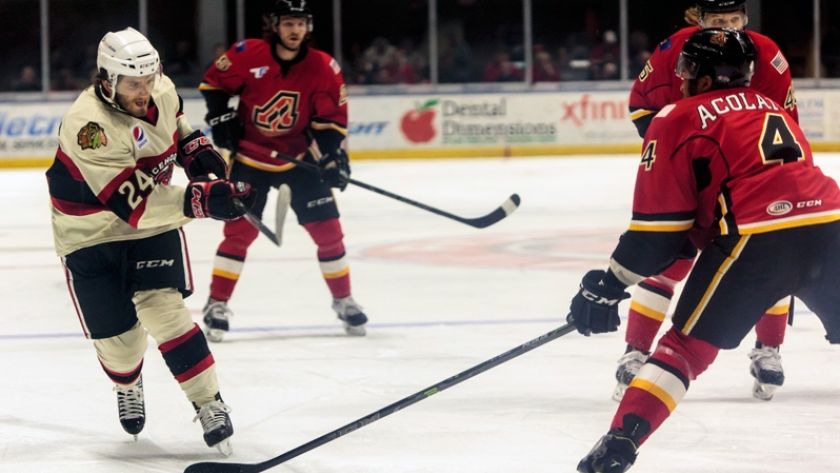 Raanta records shutout while Hartman notches three points in 4-0 win over Adirondack
Rockford, Ill. – Not only did the Rockford IceHogs (36-19-5-2) bump their current win streak up to three games with a 4-0 shutout on Saturday at the BMO Harris Bank Center, but the IceHogs remained unbeaten against an Adirondack Flames (30-24-6-2) squad fighting for their playoff lives.

Rockford used a shootout to knock off the Flames on Wednesday, but didn't have any trouble shutting down the Flames in regulation during Saturday's rematch to remain unblemished after three head-to-head matchups this season. The win was powered by a big second period from three Rockford rookie skaters, as well as stellar goaltending from Antti Raanta - who recorded his first career AHL shutout. The Finnish netminder stopped all 26 shots to become the fourth IceHogs goaltender to register a shutout this season.

After a scoreless and physical opening frame, the Rockford offense got things going in the second period to ignite a sold-out BMO Harris Bank Center. Defenseman Stephen Johns joined the play from the blueline and fired a puck from an off angle to put the IceHogs on the board and up 1-0 just 57 seconds into the frame.

In the later stages of the period, fellow rookie Ryan Hartman upped the ante to 2-0 with his 10th tally of the season. Cody Bass won a faceoff in the offensive zone before firing a shot in on the Flames cage. Goaltender Brad Theissen made the initial stop but Hartman was on the doorstep and cleaned up the rebound to double the IceHogs advantage.

Rockford continued to pour it on with the period coming to a close, this time cashing in on a power play. Despite struggling to get the power play started, Hartman was finally able to get the puck in deep and cycled around to Peter Regin. Just before getting checked down, Regin setup Matt Carey for a one-timer that he blasted to the back of the net. The assist for Regin extended his point streak to seven straight games (2g-6a), surpassing Mark McNeill's (from 10/31/14-11/14/14) for the longest of the season.

With under two minutes remaining in the game and the Flames already on a power play, they decided to pull the goaltender in favor of the two man advantage to try and mount a late charge but Johns had other plans. The rookie d-man dumped his second goal of the night into the empty net with 1:06 left to cap the scoring at 4-0.

Next Home Game: Sunday, March 22 vs. Texas Stars: Puck drop is at 4 p.m. Sunday marks the 16th Annual Jersey Auction Night for the IceHogs, as they sport special Autism Awareness uniforms to raise money for The Autism Program. The first 2,500 fans receive a free IceHogs puzzle, while proceeds from a live auction after the game will benefit The Autism Program and other local initiatives.