Guttman Grinds Out Comeback with Overtime Winner for Hogs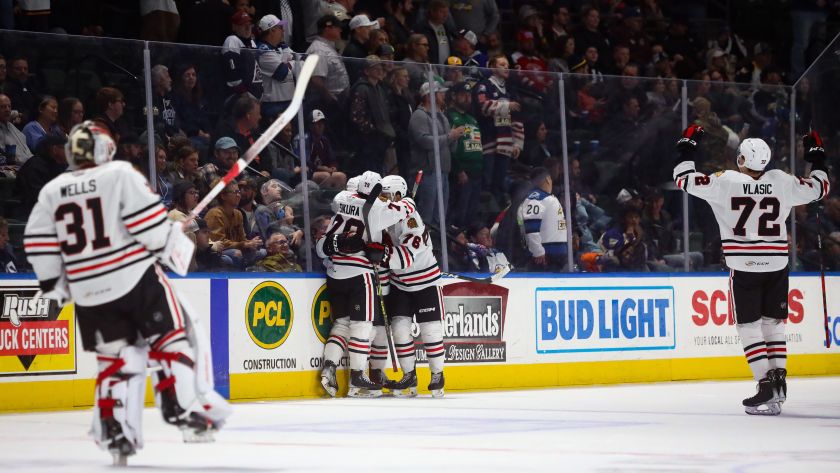 Loveland, Colo. — Trailing for nearly three periods, the Rockford IceHogs clawed their way back to a 2-1 overtime win over the Colorado Eagles on Friday night. Forward Brett Seney tallied the equalizer late in the final frame, and forward Cole Guttman completed the comeback charge with the overtime winner.
Deadlocked 1-1 heading into overtime, the IceHogs stunned the Eagles late in the extra period. Catching a cross-ice pass from forward Dylan Sikura, Guttman blasted a one-timer from the left circle past Colorado goaltender Justus Annunen at 3:37 to earn the win.
Carrying the puck past the blue line, Colorado forward Spencer Smallman lit the lamp first for the Eagles with a wrister from the right circle to take a 1-0 lead at 8:16 in the introductory period.
Trying to find the equalizer late in the second stanza, Rockford forwards David Gust, Guttman, Luke Philp, and Sikura had some of the best looks of the night and fired a flurry of one-timers and slap shots on Annunen but came up empty-handed.
Down 1-0 after the scoreless second period, Seney rushed Annunen and knocked in his 15th tally of the season on an aggressive push in the crease at 9:12, tying the contest 1-1.
Rockford put on a penalty kill clinic, denying all six of the Eagles' man advantage chances.
IceHogs netminder Dylan Wells had a pair of crucial pad saves in the third to help send the match to overtime, turning away 21 of 22 Colorado shots to earn the win. Annunen marked 22 saves while getting tagged with the loss.

Tune In LIVE on the IceHogs Broadcast Network Presented by BMO
Watch and listen to every game this season on the IceHogs Broadcast Network presented by BMO! Listen from your favorite device, at home, or on the road at IceHogs.com and on the IceHogs app and watch LIVE on AHLTV and selected games on 23.3 Circle TV! Fans can also tune in on all of Mid-West Family's local stations including 104.9 The X, B103, 95.3 The Bull, and Rockford Greatest Hits 100.5 and featured on Rock River Current, the Stateline's premiere source for local events, news and culture.