Garrett Mitchell Named IceHogs' 2022-23 IOA/American Specialty AHL Man of the Year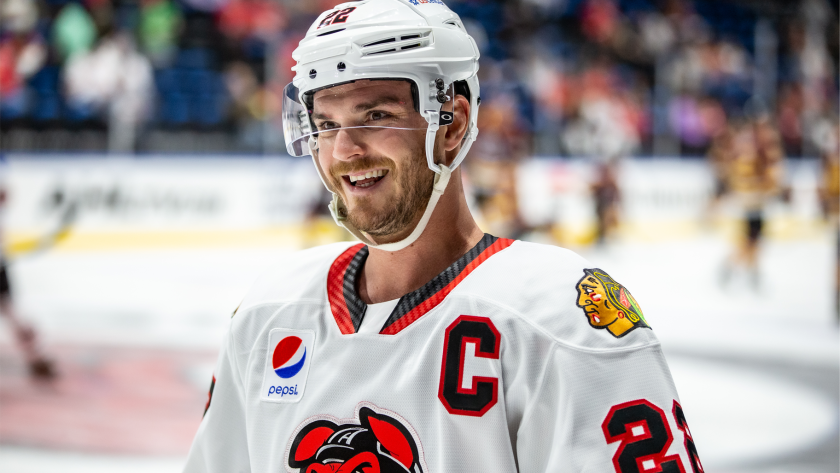 The Rockford IceHogs are proud to announce that Garrett Mitchell has been named the team's winner of the IOA/American Specialty AHL Man of the Year award for his outstanding contributions to the Rockford community during the 2022-23 season.
Aside from being one of the most popular IceHogs throughout his four seasons with the team, the captain has consistently made a conscious effort to better the Rockford community through his generosity and care. The list below illustrates some of Mitchell's impact on the area:
On Dec. 15, Mitchell helped deliver stuffed animals from the IceHogs' annual Teddy Bear Toss game to the UW Health Clinic and the YWCA in Rockford. Mitchell visited with gravely sick children at the UW Health Clinic to spread holiday cheer and deliver gifts. Then Mitchell delivered donations and joy to the YWCA and less fortunate children.
Mitchell continued to give back to the Rockford community throughout the Holidays by making house visits to families in need. On Christmas eve, Mitchell hand-delivered gifts to families who could not afford Christmas gifts and spent time interacting with the family members.
The IceHogs captain welcomed a unique member to the team on Dec. 30. Six-year-old Samuel Escutia spent most of his first six years in and out of hospitals with various afflictions and illnesses. Mitchell helped Samuel sign a one-day contract with the IceHogs and aided in making Samuel's day with the IceHogs one to remember.
Mitchell also made an impact on youth literacy and education by visiting Cherry Valley Elementary School on Jan. 10. At the event, Mitchell read to school children and stressed the importance of education and learning during a Q&A with the students.
In a fan engagement event, Mitchell interacted with kids and their families at Belvidere Park District on Feb. 20.
On Apr. 2, Mitchell served as the keynote speaker at the Rockford Hockey Club's banquet to kick off their 50th anniversary season. Mitchell delivered his testimony of development and fielded questions from young hockey players.
Mitchell is now one of 32 finalists for the AHL's 2022-23 Yanick Dupré Memorial Award, honoring the overall IOA/American Specialty AHL Man of the Year. The league award is named after the former Hershey Bears forward and AHL All-Star who died in 1997 following a 16-month battle with leukemia. The winner of the Yanick Dupré Memorial Award will be announced by the American Hockey League on Thursday, May 5.