Former IceHogs Defenseman Jan Rutta Becomes First Alum to Earn Back-to-Back Stanley Cup Titles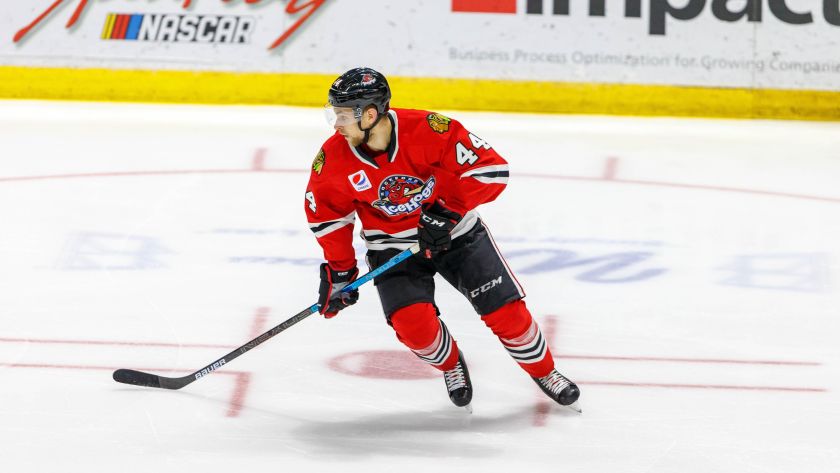 ROCKFORD, Ill. – For the second consecutive season, former Rockford IceHogs defenseman Jan Rutta and the Tampa Bay Lightning captured the Stanley Cup behind a 1-0 victory over the Montreal Canadiens in Game 5 of the Stanley Cup Final to win the best-of-seven series, 4-1. After helping the Lightning win the Cup in 2020, Rutta is the 26th member of the IceHogs to hoist hockey's coveted prize.
Rutta, 30, is the only IceHogs alum to earn hockey's top trophy since Bryan Bickell, Corey Crawford, Kyle Cumiskey, Scott Darling, Niklas Hjalmarsson, Marcus Kruger, Joakim Nordstrom, Brandon Saad, Andrew Shaw, Teuvo Teravainen, Trevor van Riemsdyk and Kris Versteeg captured the Cup with the Chicago Blackhawks in 2015.
For the Lightning, this is the first time a team has repeated as Stanley Cup champs since the Pittsburgh Penguins won titles in 2016 and 2017 and just the fourth team to repeat since 1990 (Pittsburgh in 1991 and 1992, Detroit in 1997 and 1998, Pittsburgh in 2016, 2017).
The Pisek, Czech Republic, native is also the second IceHogs alumni to win the Cup with the Lightning after Jassen Cullimore was a member of the organization's first-ever title in 2004.
With the IceHogs, Rutta appeared in eight games during the 2018-19 campaign, adding a goal and three assists for four points before being acquired by Tampa Bay on Jan. 11 of that season. In 80 games with the Chicago Blackhawks (2017-19), the 6-foot-3, 204-pound defenseman added 26 points (eight goals, 18 assists).
In the Stanley Cup Playoffs, Rutta skated in 23 contests, adding two goals and one assist for three points including becoming the first player in NHL history to score a goal in July with the game-opening tally in Game 3 of the Final at Montreal last Friday. During the regular season, he added eight assists in 35 games with the Lightning.
IceHogs Alumni to Win the Stanley Cup
(Players with names that appear on the Stanley Cup)
Player Year Team
Bryan Bickell - 2013, 2015 - Chicago Blackhawks
Dave Bolland - 2010, 2013 - Chicago Blackhawks
Brandon Bollig - 2013 - Chicago Blackhawks
Nick Boynton - 2010 - Chicago Blackhawks
Troy Brouwer - 2010 - Chicago Blackhawks
Dustin Byfuglien - 2010 - Chicago Blackhawks
Corey Crawford - 2013, 2015 - Chicago Blackhawks
*Jassen Cullimore - 2004 - Tampa Bay Lightning*
Kyle Cumiskey - 2015 - Chicago Blackhawks
Scott Darling - 2015 - Chicago Blackhawks
Colin Fraser - 2010, 2012 - Chicago Blackhawks and Los Angeles Kings
Jordan Hendry - 2010 - Chicago Blackhawks
Niklas Hjalmarsson - 2010, 2013, 2015 - Chicago Blackhawks
Marcus Kruger - 2013, 2015 - Chicago Blackhawks
*Brett Lebda - 2008 - Detroit Red Wings*
Nick Leddy - 2013 - Chicago Blackhawks
Antti Niemi - 2010 - Chicago Blackhawks
Joakim Nordstrom - 2015 - Chicago Blackhawks
*Daniel Paille - 2011 - Boston Bruins*
Jan Rutta - 2020, 2021 - Tampa Bay Lightning
Brandon Saad - 2013, 2015 - Chicago Blackhawks
Andrew Shaw - 2013, 2015 - Chicago Blackhawks
Ben Smith - 2013 - Chicago Blackhawks
Teuvo Teravainen - 2015 - Chicago Blackhawks
Trevor van Riemsdyk - 2015 - Chicago Blackhawks
Kris Versteeg - 2010, 2015 - Chicago Blackhawks
*Won the Stanley Cup before joining the IceHogs