FORMER HOGS CAPTAIN NORDSTROM SEEKING SECOND STANLEY CUP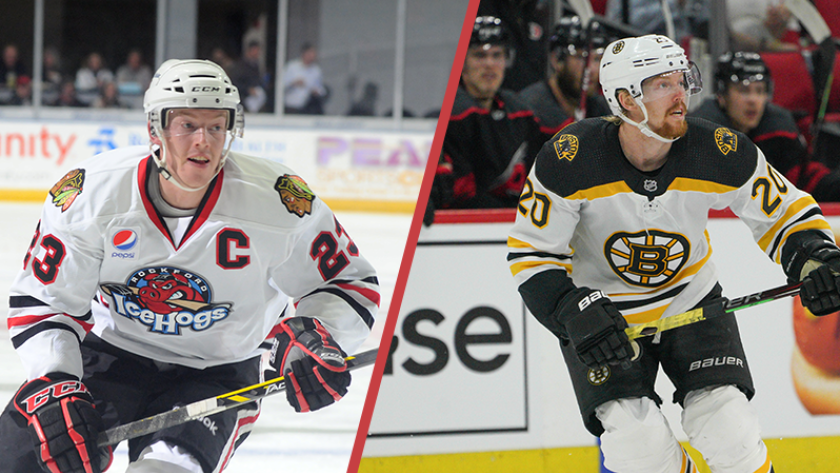 ROCKFORD, Ill. – Former Rockford IceHogs captain Joakim Nordstrom is in pursuit of his second Stanley Cup Championship following the Boston Bruins' four-game sweep of the Carolina Hurricanes.
The 27-year-old forward earned an AHL All-Star selection with Rockford en route to capturing his first Stanley Cup with the Chicago Blackhawks during the 2014-15 season. Nordstrom began the campaign with the IceHogs, finding his form in late October when he notched a season-high five-game point streak from Oct. 29 - Nov. 6. He earned a promotion to Chicago through November and December before returning to the AHL with a career-best four-point night on Dec. 13 at Lake Erie. Nordstrom provided all the offense the IceHogs needed in the 5-2 victory, scoring a goal in each of the three periods against Sami Aittokallio.
The Stockholm, Sweden native also skated in 38 regular season games with the Blackhawks that season. He then appeared in three postseason contents while helping Chicago win the Stanley Cup in six games over the Tampa Bay Lightning.
Overall, Nordstrom logged 52 points (26g, 26a) and a +10 rating in 92 career games with the IceHogs from 2012-15. He set career-high marks with his 17 goals, 16 assists and 33 points during the 2013-14 season and followed that impressive campaign by netting three game-winning goals in just 23 contests in 2014-15. The forward combined to shoot a solid 18.1 percent during his full AHL career with 27 goals on 149 shots.
This year, Nordstrom has delivered his second-best point total of his NHL career with Boston. The forward has tallied 12 points on seven goals and five assists while skating in all but 12 games with the Bruins during the regular season. He has also appeared in 16 of 17 playoff games with Boston during the 2019 Stanley Cup playoffs, picking up two goals and two assists during the Bruins' dominant run to the Stanley Cup Finals. Nordstrom also posted his first multi-point effort of his NHL playoff career with a marker and helper on April 23 vs. Toronto.
Boston now awaits the winner of the Western Conference Finals series between San Jose and St. Louis.
Season Tickets for 2019-20 on Sale Now:
Don't miss a moment of the action next season. Reserve your seats for the IceHogs' 21st season of professional hockey in Rockford and 13th as the top AHL affiliate of the Chicago Blackhawks. The IceHogs' home opener is set for Oct. 12 and ticket packages begin as low as $132 for an eight-game mini pack. Contact us at (815) 847-6399 or visit icehogs.com to claim your spots for this upcoming season.