DYLAN'S DAGGERS DOWN GRIFFINS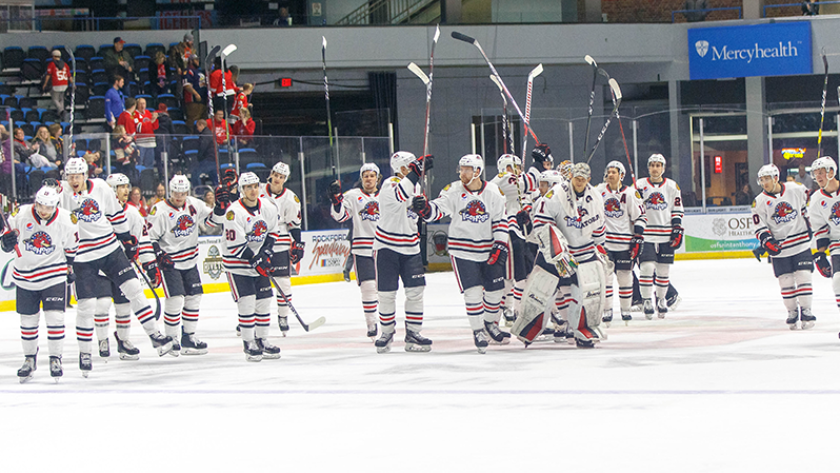 [POSTGAME INTERVIEWS: NATHAN NOEL | DYLAN SIKURA | DEREK KING]
Rockford, Ill. - Dylan Sikura tied the game late in the third period then potted the winner in overtime as the Rockford IceHogs rallied to a thrilling 3-2 come-from-behind victory over the Grand Rapids Griffins Friday night at the BMO Harris Bank Center.
The IceHogs have now claimed victories in three of their last four contests, including back-to-back overtime wins.
With the IceHogs trailing 2-1 and the clock winding down in regulation, Sikura provided the tying tally on the power play with 2:58 remaining. The rookie forward collected a pass from Jordan Schroeder in neutral ice, then split the Grand Rapids defense entering the zone and beat Griffins goaltender Harri Sateri from in tight.
Sikura's winner came with just 37 seconds left in the overtime session. Defenseman Joni Tuulola fired a shot from the point, then Sikura deflected it past Sateri to cap the comeback effort. Sikura's four game-winning goals through 25 games is a higher total than any IceHogs skater has had in the last two seasons.
Nathan Noel got Rockford on the board at the 2:54 mark of the second period. Givani Smith responded for the Griffins in the second stanza, then Derek Hulak gave the Griffins their third-period lead with 15:42 remaining in the final frame.
Rockford goaltender IceHogs Anton Forsberg made a season-high 41 saves and earned his first home victory at the BMO Harris Bank Center. The netminder has allowed two or fewer goals in seven of his eight starts with the IceHogs this season.
NEXT HOME GAME: Dec. 8 vs. Chicago Wolves | 6 p.m.
The IceHogs host the Chicago Wolves in the fourth Illinois Lottery Cup matchup of the 2018-19 season. Rockford has won two of the first three games thus far in the series.