Deep Thoughts with Derek King – Postgame Quotes: 5/3/21 at Grand Rapids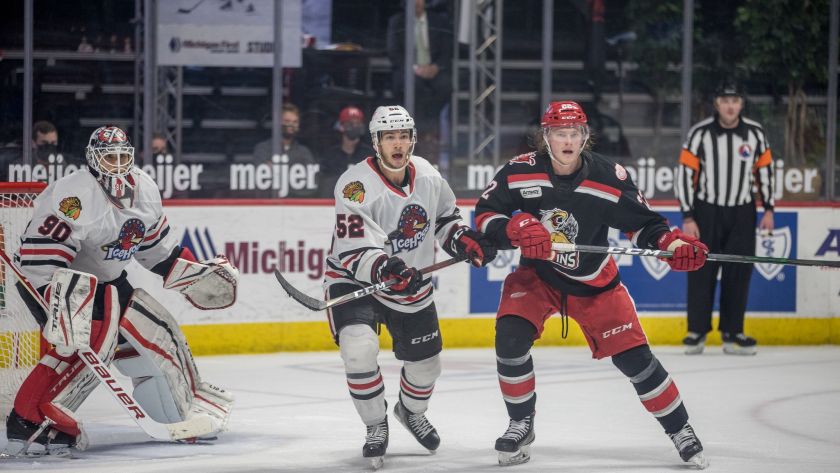 This season, after every Rockford IceHogs road game, Head Coach Derek King and broadcast Joseph Zakrzewski will break down the action and review the biggest headlines.
Tonight, forwards Evan Barratt (one goal, one assist), Andrei Altybarmakian (two assists), and Chad Yetman (one goal, one assist) each recorded two-point games and forward Tim Soderlund and defenseman Cody Franson
dazzled in the shootout to send the Rockford IceHogs (11-15-1-0) over the Grand Rapids Griffins (12-9-3-1), 3-2, at Van Andel Arena Monday night.

Another fun battle between the IceHogs and Griffins tonight in another chess match. Seems like the ice and puck (warm temperatures) were giving everyone an extra challenge. What did you do to adjust/simplify your game to get the results you were hoping for?
King: We just needed to keep it simple. Pucks were bouncing, so we tried not to overhandle it.
Barratt, Yetman and Altybarmakian come up with big two-point games tonight. How did you like their games?
King: That line was good. Yetman was key on that line. Good for him.
Tomkins and Yetman also come up with big games after not having played for a bit (early April). Looked like no signs of rust for either of them. What growth have you seen from them in their time away to get the opportunity to play tonight?
King: Yetman was solid. Tomkins was what we needed. Kept us in the game.
The shootout is always a challenge, but Soderlund and Franson made it look easy. What battle plan do you put together for the breakaways?
King: No plan. Just gut feeling. Anders suggested Franson so I went with it. Soderlund is automatic.
You get the series-clinching win tonight of the three-game set and now five games are left in the season. This team has found its groove. What do you look forward to now going into the Friday/Sunday home-and-home set vs. Iowa?
King: Same mindset. Game is on the line every time you step on the ice.