Deep Thoughts with Derek King – Postgame Quotes: 4/28/21 at Grand Rapids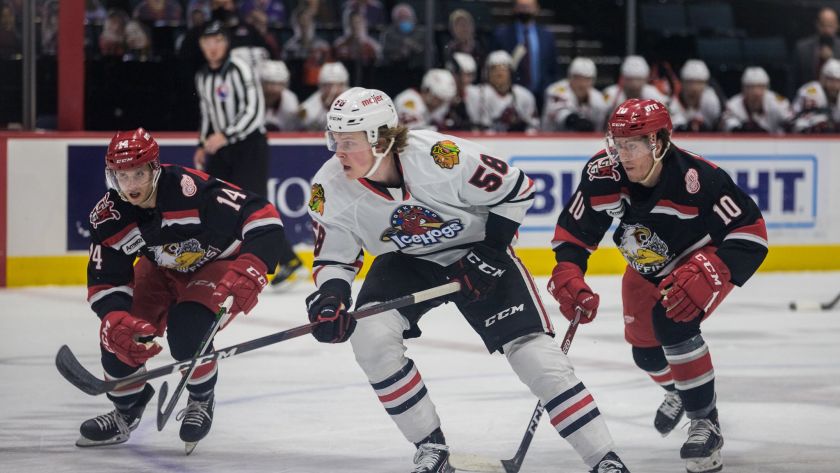 This season, after every Rockford IceHogs road game, Head Coach Derek King and broadcast Joseph Zakrzewski will break down the action and review the biggest headlines.
Tonight, forward Dylan McLaughlin struck on the power play, and rookie Mitch Fossier converted on a third-period penalty shot, but the Grand Rapids Griffins (12-7-3-0) held on for a 3-2 win over the Rockford IceHogs (9-15-1-0) at Van Andel Arena in Grand Rapids.
Stingy defense highlighted the first and second periods and limited chances for both sides. What made it so difficult for the offense to crack through?
King: I think both teams were really doing a good job in the neutral zone and making it hard to generate any play or speed.
The IceHogs power play converts again tonight and every man-advantage created great chances. How has the power-play attached shaped up to see success over the last two games? Change in approach?
King: The five guys on the ice are simplifying there puck decisions and having success.
Third period featured not one, but two penalty shots and a nice conversion by Mitch Fossier. He has found a groove lately after being in/out of the lineup. What has he shown you?
King: Fossier doesn't want to be in and out of the lineup, so he's doing all the little things right.
At the start of the third period, goalie Cale Morris comes out for Ivan Nalimov. Was he injured or was that to shake things up? Is he ok and what is his status?
King: He tweaked something so just on the safe side, we took him out.