Deep Thoughts with Derek King – Postgame Quotes: 4/13/21 at Iowa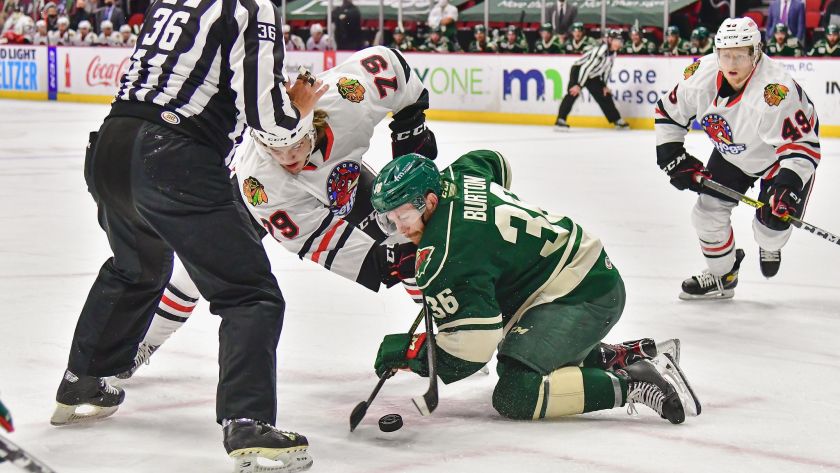 This season, after every Rockford IceHogs road game, Head Coach Derek King and broadcast Joseph Zakrzewski will break down the action and review the biggest headlines.
Tonight, forward Josiah Slavin extended his personal point streak to four games (three goals, two assists) and opened the game scoring for the Hogs for the fourth consecutive game, but the Iowa Wild responded and rallied for a 4-1 win at Wells Fargo Arena in Des Moines, Iowa.
Slavin continues to create chances and earn points/goals in just his first four professional games. On media day, you mentioned that you like to give players a 4-5 game warmup before making an assessment. What about Slavin's game has surprised you or is there a part of his game you didn't expect him to have?
King: Slavin is doing a lot of the little things right. He doesn't cheat the game, so his results have been positive.
The IceHogs had a good push and pace in the first period. What changed in the second to allow for Iowa to jump back into the game?
King: I loved our first period and felt good about the game. Then in the second, we decided to cheat the game and decided to play the game entirely different from the first period.
What do you mean by cheat the game? Cut corners?
King: Exactly. Cutting corners.
Evan Barratt took a difficult hit early in the third period and it was tough to see him get helped off the ice. Is he ok? What is his status?
King: Barratt blocked a shot then took a funny hit. I will talk with our medical staff and they will update me on what is happening with him. If he is out, that will hurt us.