Deep Thoughts with Derek King – Postgame Quotes: 3/27/21 at Chicago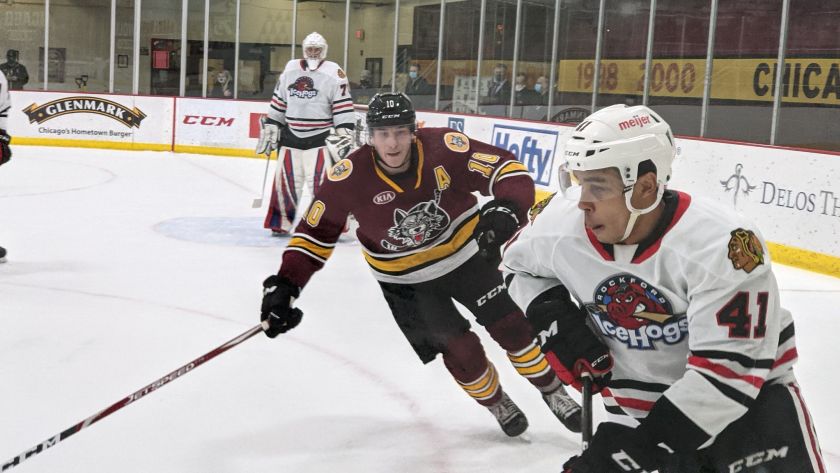 This season, after every Rockford IceHogs road game, Head Coach Derek King and broadcast Joseph Zakrzewski will break down the action and review the biggest headlines.
Tonight, the IceHogs fell 6-3 to the Chicago Wolves in Hoffman Estates, IL to open a home-and-home weekend series against their in-state rivals. Forwards Evan Barratt (one goal, one assist) and Chris Wilkie (two assists) recorded two-point games.
Game starts have been a common topic this season. The Wolves were able to find multiple goals in opening minutes of play tonight to throw off an IceHogs start. What did you see that they were able to take advantage of?
King: We gave that team too much respect and we were on our heels. It showed in our starts.
Pace of play and speed also played into tonight. Felt like a 60-minute game wrapped up in 45 min. How did the high-flying back-and-forth play to your style?
King: We can keep up, but we need to check better. That will slow Chicago down.
Goaltender Ivan Nalimov made his AHL and North American debut tonight and was pressed into action early. What was your take on his first game?
King: I thought he did a great job. We did not help by having slow starts to each period, but I thought he looked good.
You get Ian Mitchell down from Chicago today. 30+ games with the big club and playing recently. What are you and the coaching staff looking to help him with in his time with the IceHogs?
King: Just keeping him sharp and get him some quality ice time.