Deep Thoughts with Derek King – Postgame Quotes: 3/16/21 at Grand Rapids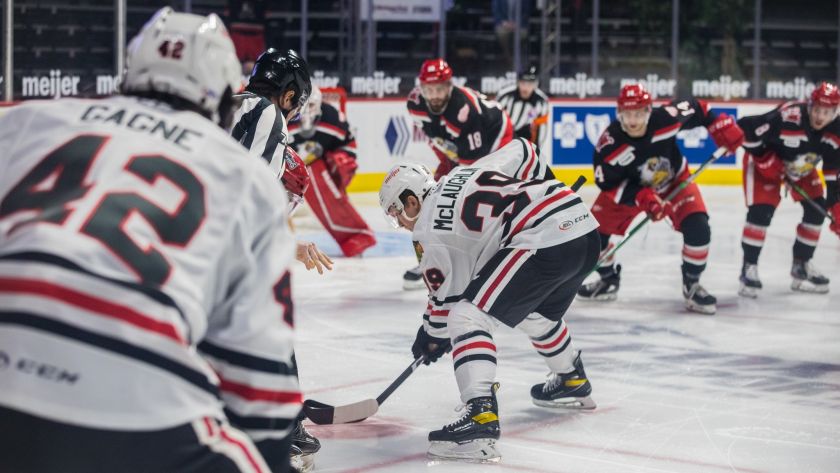 This season, after every Rockford IceHogs road game, Head Coach Derek King and broadcast Joseph Zakrzewski will break down the action and review the biggest headlines.
Tonight, the IceHogs recorded another 2-1 overtime win at Grand Rapids behind a career-high 46 saves from goaltender Matt Tomkins and a goal and an assist from forward Dylan McLaughlin. Tonight marks the second consecutive 2-1 overtime win at Grand Rapids led by Tomkins and McLaughlin after the two helped the club to victory on Saturday.
Goaltender Matt Tomkins is getting a lot of praise lately and rightfully so! How has he continued to amaze and improve with another career-high performance?
King: This is the most comfortable I've seen him play. He has spider senses or something. Very happy to see him succeed.
Dylan McLaughlin and his line have another solid performance tonight and both he and his linemates looked more confident/comfortable. What did you see?
King: Dylan is playing the game at both ends. When he skates, he is a fun player to watch. I liked their line. They read off each other well.
We saw the return of Teply and the season debut of Lindholm tonight. What were your impressions of them in their first games in a long while?
King: Lindholm is a pro. He calms the game down. Great having a guy like that in your lineup. Teply was good for his first game in a while. Just need to get a few more games under his belt. Good having both in the lineup.
Now you have a confident team with three overtime wins in their last four games preparing to battle an Iowa Wild club that is looking to snap a winless skid. How do you quickly turn the corner and stay mentally sharp?
King: We stay to our game plan. Keep games close and hopefully get to overtime. It seems to be our niche.