DARLING STRONG, HOGS FALL SHORT IN OT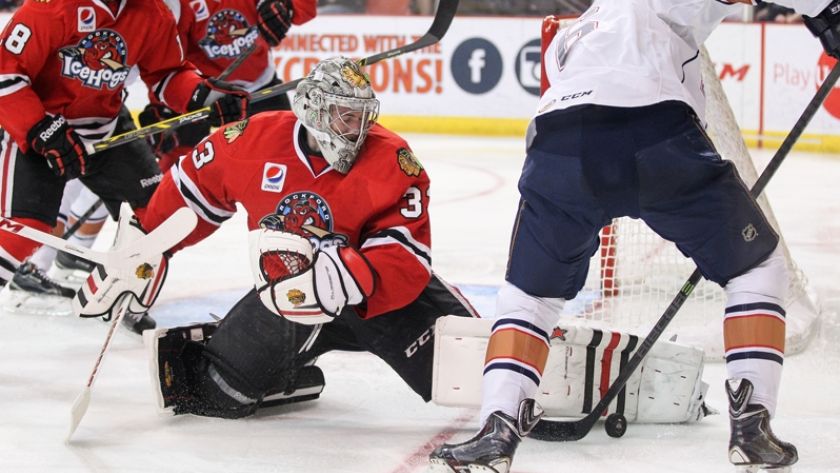 Oklahoma City, Okla. – After putting up 59 shots on goal in their last game, the Rockford IceHogs (18-8-3-1) offense was smothered by the Oklahoma City Barons (17-7-2-2) as they dropped a 3-2 game with one second remaining in overtime in Oklahoma City.

Through 40 minutes of play on Saturday, the Barons carried a 1-0 lead and a 31-11 shots advantage. The deficit could have been worse for Rockford if it wasn't for the play of goaltender Scott Darling. In his first start after a recent stint with the Chicago Blackhawks, Darling made numerous key saves in the first two frames to keep the IceHogs in it.

And that gave Rockford life as they began the third period with a 5-on-3 advantage. The IceHogs cashed in to tie the contest as Mark McNeill found Teuvo Teravainen just 30 seconds into the period.

Then, with another power play, Pierre-Cedric Labrie gave the IceHogs the 2-1 lead as he cranked home a rebound from Ville Pokka's shot 2:32 into the final frame.

Oklahoma City rallied however, as Jason Williams knotted the game back up at 2-2 with 7:41 left in the game. Andrew Miller sent a pass to Williams and he worked around two defenders before depositing his 11th goal of the season past Darling.

Rockford pressed late but Oklahoma City's Laurent Brossoit was clutch down the stretch, stopping McNeill with 11 ticks remaining and Cody Bass just as the clock expired to force overtime.

The extra session saw plenty of back and forth action with both squads getting great looks to find the winner, but Williams gave Oklahoma City the extra point with his second of the night. With T.J. Brennan in the box for a delay of game, Matthew Ford found Williams and he shelved the game-winner with two seconds remaining to knock off Rockford 3-2.

Darling was tagged with a loss despite turning away 44 of the 47 shots he faced. Brossoit earned his seventh win on the campaign by stopping 26 chances.

The IceHogs and Barons will have a rematch at the Cox Convention Center on Sunday at 2 p.m.

Next Home Game: Friday, Dec. 26 vs. Iowa Wild. Puck drops at 7 p.m. The IceHogs return home from a six-game swing on the road to take on the Wild at the BMO. Fans 21-and-over can come out early for another Blues Flame Lounge Pre-Game Party, where they can enjoy free appetizers, live music and drink specials. Doors open at 5:15 p.m.