COMEBACK STYMIED AS HOGS FALL 2-1 TO WILD IN OT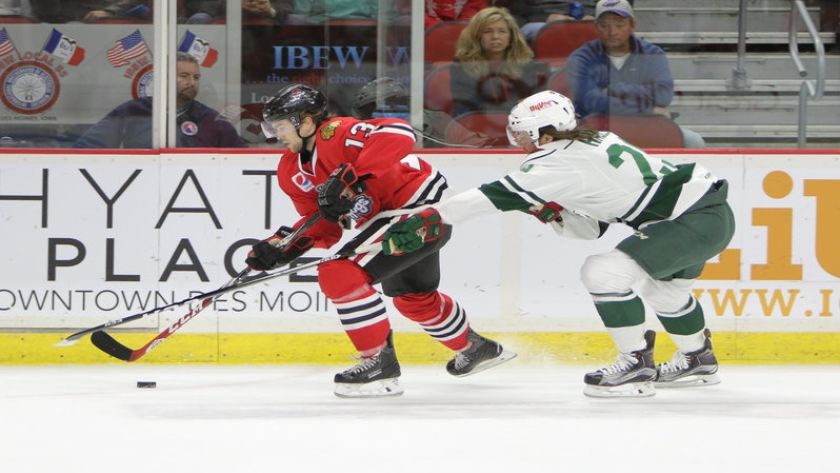 Des Moines, Iowa - The Rockford IceHogs (4-6-1-0) forced overtime with a late third period tally, but Grayson Downing ended Rockford's comeback bid as he struck 1:36 into the sudden death frame to boost the Iowa Wild (5-6-0-0) to a 2-1 win on Sunday at Wells Fargo Arena.
The IceHogs pressured in overtime, but could not find a way to slip a shot past Steve Michalek, who finished the contest with 49 saves. After a three-on-two rush into the zone, Gustav Olofsson blocked a pass that sprung Downing on the game-ending breakway. He cut to his backhand and lifted a shot under the crossbar for his second goal of the campaign.
A strong third period, however, helped ensure a point for Rockford in their third game of a four-game road trip. On the team's 45th shot of the game and 15th of the third period, Cameron Schilling found the back of the net. Mark McNeill bumped a rebound back to Spencer Abbott at the left circle, and he found Schilling at the middle of the blue line for a one-timer that hit the bottom right corner of the cage with 5:01 left in the period. The goal snapped a 188:01 even-strength goalless drought for the IceHogs on the road, dating back to a 7-3 defeat to the Chicago Wolves on Oct. 29.
A late first-period power play helped the Wild gain an important 1-0 lead over Rockford. Alex Tuch won a faceoff back to Mike Reilly, and he fed Teemu Pulkkinen on the left circle. Pulkkinen fired a one-time blast to the top right corner of the net to give Iowa a lead heading into the second period.
Iowa nearly doubled their lead on their second power play of the game in the middle frame, but a left pad save by Johansson kept the score at 1-0. Despite a second straight period with 14 shots on goal, the IceHogs continued to trail the Wild going into the third while outshooting the hometown squad 28-17 through 40 minutes of play.
Rockford did not receive a power play chance in the game. Johansson finished the contest with 20 saves on 22 shots while Michalek stopped 49 of the 50 he faced.
Next Home Game: Saturday, Nov. 12 vs. Charlotte Checkers. Puck drop is scheduled for 7 p.m. The IceHogs take on the Charlotte Checkers in the third of four season meetings. It is also Brovember Night in support of local prostate cancer research and education.