COLONIAL CUP FLASHBACK: WINGS FORCE DECISIVE GAME 7 WITH 6-2 WIN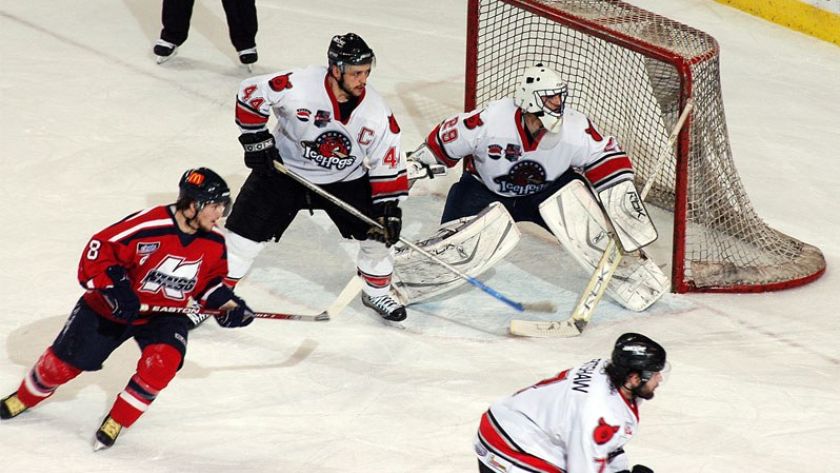 KALAMAZOO, MI. – Continuing the streak of the home team winning each of the first five games of the Colonial Cup Championship series, the Kalamazoo Wings blew the doors off, taking Game 6 by a 6-2 score.
The Wings led off the scoring with a goal by Derek Ryan, but the lead didn't last long. Ten seconds later, Chaz Johnson, off a pass from Kevin Ulanski, tied it up at 1-1 only six minutes into the game.
Kalamazoo winger Nick Bootland doubled the lead at 11:55 with a pass from Tyler Willis and Jeff Brown. The next eight minutes were silent from both sides ending the first period with a 2-1 Kalamazoo lead.
The Johnson-Ulanski duo kept going for the Hogs with Ulanski scoring after only 21 seconds elapsed in the second period. Ulanski and Johnson both ended the night with one goal and one assist.
Rockford kept the scoring even until midway through the second period when Jeff Brown scored the third goal for the Wings, setting the stage for the one-sided victory.
Lucas Drake kept the energy going for the Wings when he was all alone on a shorthanded goal midway through the second period. Kory Karlander netted back-to-back goals with a strike early in the third period, and then he finished off the Hogs on an empty-netter at 13:10.
Kalamazoo goaltender Ryan Nie finished the game with 24 saves off of 26 shots to earn his 11th playoff win.
The teams head back to Rockford for the decisive Game 7 of the Colonial Cup Championship on May 24th.
Season Tickets for 2017-18 on Sale Now: Don't miss a moment of the action by reserving your seats for the IceHogs 19th season of professional hockey and 11th as the top AHL affiliate of the Chicago Blackhawks. Opening night is Oct. 14 and ticket packages begin as low as $105 for a seven-game mini pack. Please contact us at (815) 847-6399 or visit icehogs.com to claim your spots for this upcoming season.