COLONIAL CUP FLASHBACK: JASON RALPH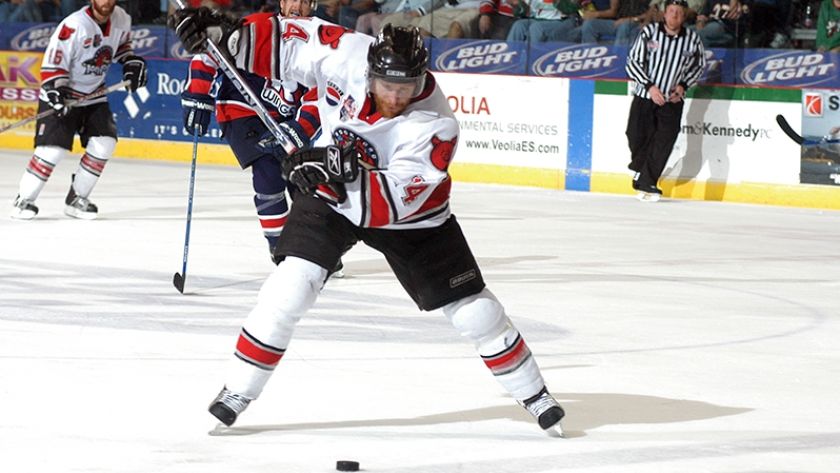 During his three-year tenure with the Bakersfield Condors, of the then-West Coast Hockey League, there was a big obstacle Jason Ralph could not overcome: Steve Martinson and the San Diego Gulls.

After completing his four-year collegiate career at Union College, Ralph turned to the pro game and spent his first three seasons with the Condors. Martinson's Gulls were, however, dominating the now-defunct WCHL, winning five championships in eight years. Twice in Ralph's three-year tenure in Bakersfield the Gulls knocked the Condors out of the postseason.

"(Martinson) always had really tough teams," recalled Ralph. "They always had a combination of the first line was the best line in the league and his third line was always the toughest line in the league. My second year in Bakersfield (2002-03) was when I had my first really good year, and I was asked to fight every shift against San Diego. He has those type of teams that aren't only talented, but they are tough. Plus the players buy into what he is selling and the players believe in him."

Following his third season in Bakersfield, Ralph felt it was time to move on and seek a new opportunity in professional hockey. The 6'-0 winger from Carp, Ont. drew some interest from the United Hockey League, but it wasn't the Rockford IceHogs who reached out to him first.

"I was really close to signing with the team in Missouri (River Otters) with (Head Coach) Kevin Kaminski, and everything he was saying about going there sounded good and made sense," said Ralph. "Kaminski knew me because he coached in Long Beach while I was in Bakersfield. Finally I called him and told him that I was going to Rockford and he asked why? I said Steve Martinson is the coach.

"I was so sick of playing against that guy. If I'm going to the United League, I'm playing on his team and not against him. Anyone who played against Martinson knew that you were always going to be in for a tough hockey game every time you played them."

Ultimately, Ralph inked a deal with the IceHogs and instead of continuing to battle a Martinson led team, he joined it. Ralph was thankful he did as the "Martinson Effect" kicked in immediately during year one in Rockford. The 2004-05 IceHogs club featured four different players who would score over 20 goals and record over 100 penalty minutes, including Ralph.

In Ralph's first two seasons with the IceHogs, the team failed to reach the Colonial Cup Finals, despite nearly winning 100 games over the two-year span. And season three in 2006-07 didn't exactly start out well for Ralph and the IceHogs.

Returning from off-season shoulder surgery, Ralph missed the first three months of the regular season. During his time off, he served as assistant coach on the bench, but the team struggled on the ice without him. After a 2-0 loss to the Chicago Hounds on Dec. 22, the IceHogs record sat at just 12-12-2.

But like a light switch, the tides turned the very next night. The IceHogs headed into the Christmas break with a 4-2 win over Flint and would go 36-10-5 the rest of the way.

"I was helping Steve coach since I wasn't able to play and remember doing quite a bit of media and being asked if I was worried or upset with how things were shaping up," said Ralph. "My reply was, 'When do you want to peak? Do you want to win the first 30 games, or the last 30 games?'

"I can't explain what happened that turned us around, but maybe we just figured each other out, jelled and believed in each other a little more and it paid off long term."

The slow start could also have been attributed to the fact that it was announced in November of 2006 that the IceHogs would be leaving the UHL and joining the American Hockey League as the top affiliate of the Chicago Blackhawks. This put all the players, coaches and hockey operations staff in a lame-duck situation.

Think the movie "Major League," only the hockey version.

Since every player was under a one-year contract, Ralph didn't think the reality that the team would be broken up at season's end deterred the club on the ice, but merely served as a brief outside distraction.

"I was certainly disappointed that it was going to be our last season in Rockford. I married a local girl and had the team stayed, I would have liked to have played another year. The contracts were basically weekly contracts in the UHL and a certain amount of guys were looking to move up to the AHL anyways. It was almost: 'let's make the best of it and let's go out with a bang.'"

The team battled through the distractions and into the postseason, finishing behind only the Fort Wayne Komets in the regular-season standings. After dispatching the rival Quad City Mallards in five games, the IceHogs used the same amount of contests to knock off Fort Wayne in the semifinals to earn their first-ever visit to a championship round.

After the IceHogs Game 7 win in the Colonial Cup Finals, Ralph tried to soak it all in as much as possible as he anticipated that it would be his final game as a pro. With the majority of the team already transitioned into the locker room to carry on the postgame celebration, Ralph remained on the ice, perched on top of one of the goals, savoring the championship and the moment.

"I think it was an end of an era for me," said Ralph. "I really thought it was going to be my last game. I did really relish it and I was treating it like it was my last game. I wish I would have had a few more mementos from that."

With his wife Katie finishing up her college degree, Ralph ended up signing on with the Bloomington PrairieThunder at the beginning of the 2007-08 season. He appeared in 17 games before finally calling it a career on the ice before Christmas.

"I was having fun playing professional hockey, got to meet some really awesome people, made some really good connections and I think it's led into my next professional career in business," commented Ralph. "If you're a captain of a hockey team and can help manage 20 or so hockey players, I don't know if there is a better exercise for management than that!"

Ralph now lives in Ottawa with his wife Katie, daughter Riley (5) and sons Jack (4) and William (17 months). The former winger traded in ice rinks for life in real estate where he currently is a Managing Partner at Royal LePage Team Reality.
Season Tickets for 2017-18 on Sale Now: Don't miss a moment of the action by reserving your seats for the IceHogs 19th season of professional hockey and 11th as the top AHL affiliate of the Chicago Blackhawks. Opening night is Oct. 14 and ticket packages begin as low as $105 for a seven-game mini pack. Please contact us at (815) 847-6399 or by visiting icehogs.com to claim your spots for this upcoming season.