Colliton Impressed with Pace of Camp Through First Days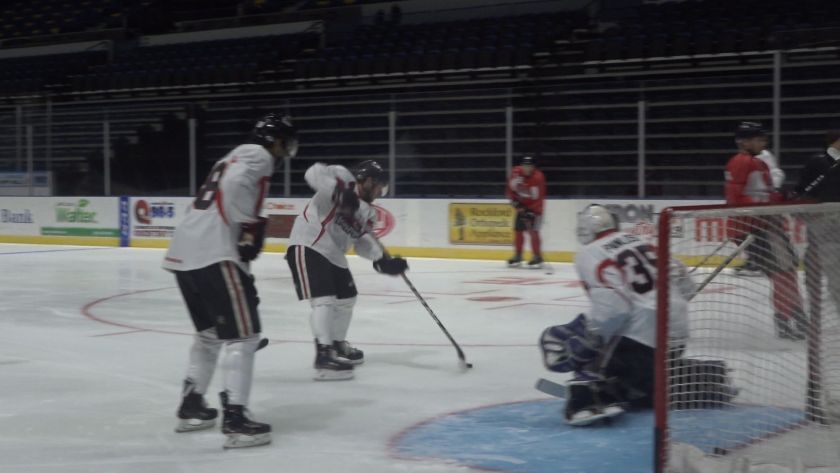 Head Coach Jeremy Colliton on training camp through three days:
It's been good. Pretty good pace. With the numbers, we haven't had a lot of guys in each session so it's been good. A lot of teaching time, but we can also give the proper workload and condition. We are trying to build the base of our game. We want to used this time the best we can.
Colliton on Importance of the two scrimmages:
It's an opportunity for guys to stake their claim and where they belong in the lineup and if they can help us. We are not playing preseason so we have to treat it serious. We expect them to battle and it's going to be fun to see who looks like they can help us.

Colliton on defensemen Carl Dahlstrom and Joni Tuulola joining the IceHogs from Blackhawks:
Dahlstrom had a great year and came a long way. He showed that he is close to playing in the NHL. I'm sure he's disappointed to not make the Hawks out of camp, but we want him to continue to grow as a player. He's a great kid and works hard and will be a big help to us. Tuulola left a good impression at the end of last season and had a good camp. Now he's got to show that he can be depended on here and play hard. Be clean with the puck and take as many minutes as he can for us.

Day 3 Camp Notes:
- Good morning from high above center ice at the BMO! Day 3 is underway with Team B taking the ice for the opening session. If you need a refresher:
FWs: Welychka, Broadhurst, Maloney, Sikura, Knott, Schmalz, Louis, Schroeder, Dufour
D: Powers, Campbell, Shurhamer, Raddysh, McArdle, Carlsson
G: Lankinen, Pawloski
- After warmups, the squad breaks into two groups. Lankinen works on playing the puck off of dump ins and communicating with the defense. Schurhamer and Carlsson working together along with Campbell and McArdle. Powers and Raddysh paired up.
- Forward group working with Jeremy Colliton and Derek King on net-front presence and movement from the top of the crease to below the goal line.
- Forwards Graham Knot, Tyler Sikura and Matt Schmalz, a pro tryout to IceHogs camp, working on faceoff position and adjusting attacked with the forehand and backhand.
- Practice opens up to full ice with 2-on-1s through center ice. Lankinen continues to work on playing the puck below the goal line. Forward Terry Broadhurst working well on rushes with Graham Knott.
- Competition ramps up with 2-on-1 races to the puck and then 2-on-2 battles in the offensive zone. Teams separated in Red and White jerseys. Pawloski in net while Lankinen works on playing the puck behind the net. Clearly a major focus for the Blackhawks/IceHogs coaching staff. Blackhawks Goaltending Development Coach Peter Aubry having lengthy conversations with Lankinen.
- Team B session comes to a close.
- Team A comes out flying for the second on-ice session after working with the strength and conditioning team during Team B's skate. Do not see forward Mathew Thompson (no. 38) on the ice. A little banged up yesterday. Hope to have an official update soon.
Team A:
FWs: Moynihan, Iacopelli, Boomhower, Sandler, Nilsson, Noel, Thompson, Samuelsson, Bondra, Kurker
D: Manning, Snuggerud, Gilbert, DeBrincat, Hillman
G: Tomkins, Iles
- Spirited and aggressive 2-on-1 rushes with this Team A group. A lot of shouting/direction. One-on-one drills pick up the pace of camp down the wings.