Collin Delia Named IceHogs' 2019-20 IOA/American Specialty AHL Man of the Year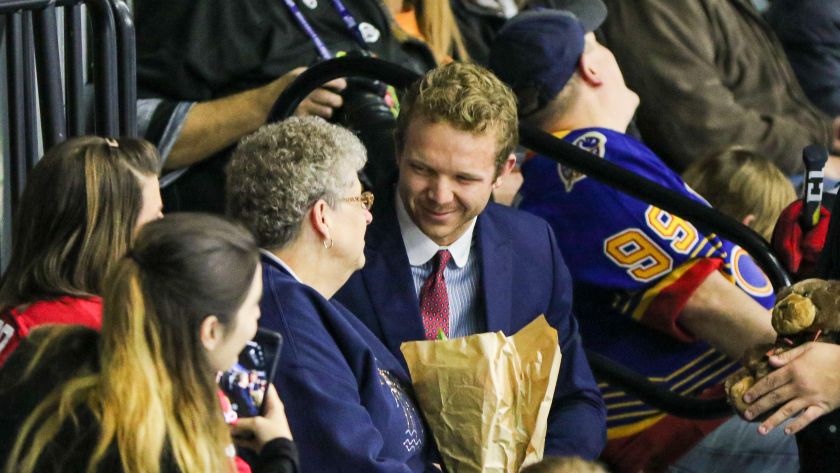 ROCKFORD, Ill. – The Rockford IceHogs, proud American Hockey League affiliate of the Chicago Blackhawks of the National Hockey League, are proud to announce that Collin Delia has been named the team's winner of the IOA/American Specialty AHL Man of the Year award for his outstanding contributions to the Rockford community during the 2019-20 season.
Currently in his third season with the IceHogs, Delia has fully embraced his leadership role within the organization and community, earning his second selection as the IOA/American Specialty AHL Man of the Year (2017-18 season).

Over the course of the 2019-20 campaign, the Rancho Cucamonga, California, native helped raise over $3,700 for The Autism Program of Easterseals and the Fatherhood Encouragement Project while also donating his time and influence to see these community initiatives succeed in their mission.
With a passion for LEGO since he was a child and close connection with the Autism Program of Easterseals in Rockford, Delia took personal interest in this season's Autism Awareness Night and LEGO Night on Jan. 25, donating over $550 worth of LEGO playsets to the program and enjoyed an afternoon building with the children in the program. He also completed a two-hour build of a two-foot tall, 1,767-piece LEGO Empire State Building set and contributed the sculpture and an autograph stick to the night's auction, generating $600 for the Easterseals program.

During the Holiday season, Delia and his teammates joined the Fatherhood Encouragement Project for a Holiday shopping spree for underprivileged children and families in the Stateline community. Alongside the IceHogs Charitable Foundation, Delia and the team combined to donate over $2,600 to the program.
Delia is now one of 31 finalists for the AHL's 2019-20 Yanick Dupre Memorial Award, honoring the overall IOA/American Specialty AHL Man of the Year. The league award is named after the former Hershey Bears forward and AHL All-Star who died in 1997 following a 16-month battle with leukemia. The winner of the Yanick Dupre Memorial Award will be announced by the American Hockey League at a later date.