CHICAGO CLOSES TOURNAMENT WITH SHOOTOUT LOSS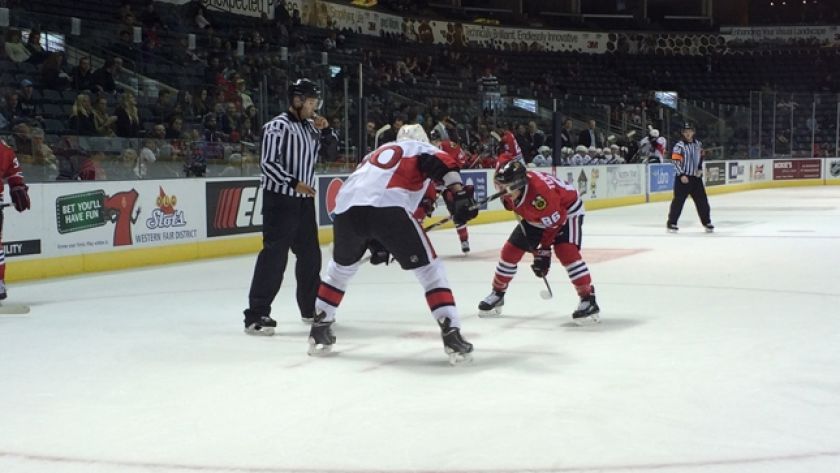 London, Ontario – One thing the Chicago Blackhawks rookie squad can take away from the 2014 Rookie Tournament is that they got to work on every aspect of a game, especially in overtime and shootout situations.

For the second straight night the Blackhawks found themselves playing extra hockey and unfortunately it finished the way it did the previous night with a 5-4 shootout loss. Monday's shootout loss to the Ottawa Senators completed the tournament for Chicago as they finished with a 0-1-0-2 record.

Mark McNeill finished Monday's contest with two goals and one assist, while linemate Teuvo Teravainen dished out three assists including the primary helper on both of McNeill's markers.

Defensemen Viktor Svedberg and Trevor van Riemsdyk also finished the night with multipoint efforts. Svedberg chipped in a goal in the first period and helped setup McNeill's game-tying third period tally, while van Riemsdyk had two assists.

Box Score
1
2
3
OT
TOTALS
Chicago Blackhawks
2
0
2
0
4
Ottawa Senators
1
2
1
0
5
Scoring Summary:

Period 1:
Chicago - Mark McNeill (Teuvo Teravainen, Trevor van Riemsdyk) 11:24
Ottawa - Ryan Dzingel (Vincent Dunn, Francis Perron) 15:20
Chicago - Viktor Svedberg (Alex Broadhurst, Trevor van Riemsdyk) 19:57

Period 2:
Ottawa - Francis Perron (Darren Kramer) 1:36
Ottawa - Francis Perron (unassisted) 14:10

Period 3:
Chicago - Brett Welychka (Mark McNeill, Teuvo Teravainen) 1:27
Ottawa - Darren Kramer (Vincent Dunn) 4:39
Chicago - Mark McNeill (Teuvo Teravainen, Viktor Svedberg) 10:51

Shootout:
Chicago - Teravainen (no goal) | Ottawa - Prince (goal)
Chicago - McNeill (goal) | Ottawa - Dzingel (no goal)
Chicago - Svedberg (no goal) | Ottawa - Perron (no goal)
Chicago - Broadhurst (no goal) | Ottawa - Guptill (no goal)
Chicago - Hartman (no goal) | Ottawa - McCormick (no goal)
Chicago - Danault (no goal) | Ottawa - Paul (goal)

Game 3 lineup vs. Ottawa Senators
Alex Broadhurst - Teuvo Teravainen - Mark McNeill
Garret Ross - Dennis Rasmussen - Phillip Danault
Brett Welychka - Matt Carey - Ryan Hartman
Chadd Bauman - Cory Thorson - Jamie Wise

Kirill Gotovets - Stephen Johns
Viktor Svedberg - Trevor van Riemsdyk
Dillon Fournier - Paul Swindlehurst

Mac Carruth