CATCH BRENNAN, MCNEILL IN AHL ALLSTAR CLASSIC TONIGHT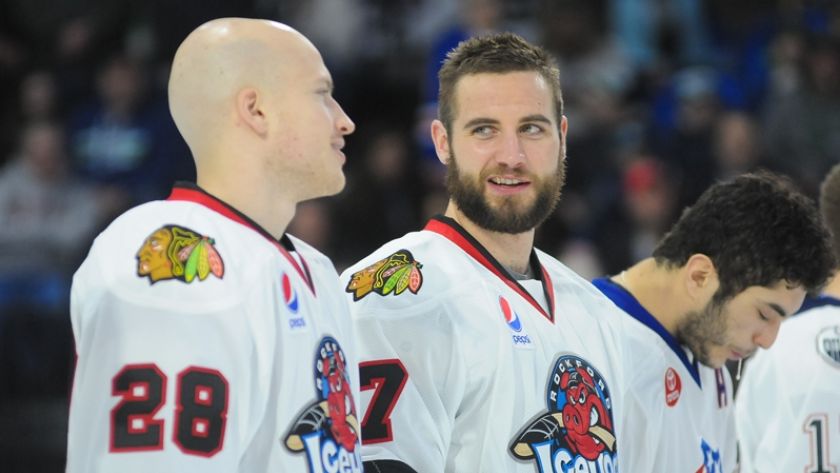 Rockford, Ill. – Fresh off a 3-0 victory on Saturday night most of the Rockford IceHogs are now enjoying a short break during the 2015 AHL All-Star festivities. Forward Mark McNeill and defenseman T.J. Brennan are back in action tonight however, as they represent the IceHogs and the Western Conference in the 2015 AHL All-Star Classic at 6 p.m. in Utica, N.Y.

The league's midseason showcase can be seen live at 6 p.m. in the Rockford area on WIFR's 23.2 Antenna TV, or with a one-hour delay on Comcast SportsNet Chicago (Comcast channel 436) beginning at 7 p.m. To find a listing in your area, click here.

The game comes on the heels of the 2015 All-Star Skills Competition last night in which the Eastern Conference picked up a 15-11 victory over the Western Conference at the historic Utica Memorial Auditorium.

McNeill teamed up with Grand Rapids' Teemu Pulkkinen and fired four pucks past Manchester's J.F. Berube to help the West earn a point in the AHL Live Rapid Fire competition while also competing in the Turning Stone Resort Casino Accuracy Shooting and the Panasonic Breakaway Relay. Brennan saw action in the Turning Stone Resort Casino Pass and Score event and Breakaway Relay. The Hogs' d-man was also one of four shooters to top 100 mph with his 100.4 rocket in the CCM Hardest Shot.

Click here for the full skills competition scorecard.