BLOG HOGS - LOST AT SEA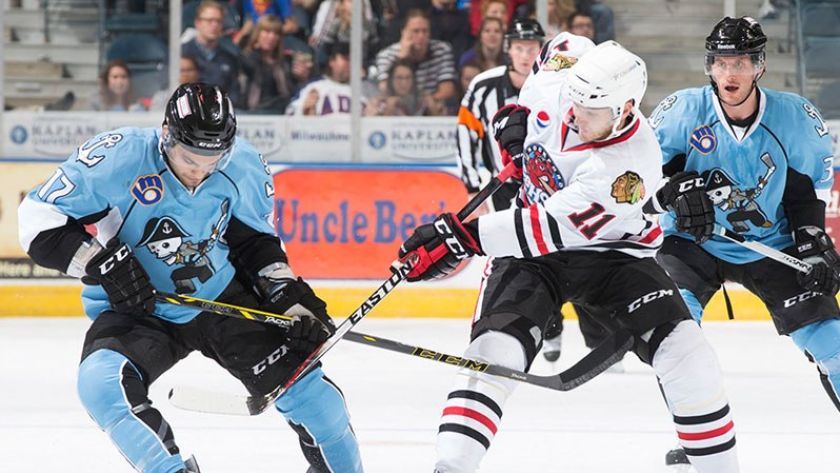 Trying to solve why the Hogs can't solve Milwaukee

Let's rewind to last week for a second: the S.S. IceHogs was cruising along on the riptide of an eight-game winning streak, with an all-time franchise record in their sights. That was until they met the scourge of the Midwest Division, the Milwaukee Admirals, who landed a pair of blows across the IceHogs' bow, forcing them to retreat to Port Rockford with two straight losses.

All these silly nautical puns aside, the more serious matter is that the IceHogs' neighbors have been a significant thorn in their side. Milwaukee's home-and-home sweep this past weekend has left Rockford the losers of eight-straight and 10 of their last 15 against the Admirals, dating back to last season.

While it might be tempting to play the "they have our number" card when trying to explain the Hogs' recent struggles with Milwaukee, the actual reason may be due to a unique matchup problem the Admirals have posed. A problem which Rockford is working to alleviate, heading into its fourth meeting of the season with the Ads, this Saturday at the BMO.

Under the current coaching regime, the IceHogs have been adept at playing a skilled puck possession game. Rockford is playing their best when they are able to hold sustained offensive pressure on their opponents, allowing the talent of their players to lead to scoring opportunities, goals and ultimately wins.

Sunday's 3-2 win against Texas was a perfect example of the IceHogs playing their style to perfection. While the score might not have indicated it, the IceHogs held a suffocating lead in zone time, which enabled players like Teuvo Teravainen and T.J. Brennan to do some damage on a Texas team that received an otherworldly performance from goaltender Jack Campbell.

The Admirals, on the other hand, have consistently found a way to make it difficult for Rockford to carry out its game plan. A team that can skate as well as the IceHogs, Milwaukee typically relies more on a disciplined team game rather than letting their individual skill, which might not be quite up to par with teams like Rockford, do the heavy lifting.

Milwaukee has been able to gain their slight edge over the IceHogs in recent matchups when they use their systems to win the battle for the neutral zone. While they do not completely pack it in and play a full defensive trap between the blue lines, the Admirals have found a way to disrupt Rockford's possession-oriented game just enough to give them an advantage.

When the IceHogs are unable to move the puck efficiently out of their own end and into the offensive zone, it is difficult to fully establish their free-wheeling, creative style of play. Rockford likes to play with a breakneck pace and with a high flow, which can be stymied if their opponent finds a way to bottle up the neutral zone and force turnovers.

Considering the most recent games the two teams have played, it is not because the IceHogs have been severely outplayed that they have come out on the short side. They just haven't been able to find a way to circumnavigate through the Admirals' neutral zone road blocks and, as a result, they haven't gotten to enjoy the offensive fluidity as they have showcased against other teams.

Factor in a few intangibles from the first three Rockford-Milwaukee games this season, such as defensive miscues by the IceHogs, opportunistic scoring by the Admirals (two things that are not mutually exclusive), and most recently, a pair of stellar games by Magnus Hellberg, and the result has been a string of Milwaukee victories.

But fret not, IceHogs fans, as even with the Admirals' recent successes against Rockford, it is important to realize that through the years, the all-time series between the two teams has been like a pendulum. Momentum has shifted from team-to-team over time, with the IceHogs' current skid coming after a stretch from 2011-2013 where they held a commanding 17-5-1-1 record over their Wisconsin rival. The law of averages makes it extremely difficult for one team to dominate another for a long period of time, especially when they play each other 10-12 times a season like Rockford and Milwaukee do.

The Rockford faithful can also rest assured that Coach Dent and Co. will make whatever strategic adjustment are necessary to turn the tide against Milwaukee this season. And with the IceHogs and Admirals jockeying for position in a stacked Midwest Division, with nine more meetings on the docket against one another, it is no secret that this particular matchup can have massive ramifications on playoff positioning come April.

After falling on back-to-back nights last weekend, the IceHogs took the first step in righting the ship on Sunday with a win over Texas, and will continue the process this week in practice leading into Friday's home matchup with the Iowa Wild. While they are in no way overlooking Friday's contest, it is apparent that the crew of the S.S. IceHogs will have an extra chip on their shoulders when Saturday rolls around and those marauders from Milwaukee come to town. Rockford knows that it is time to batten down the hatches and reclaim the high seas of highway I-94, a passage that has been under the control of the Admirals' pirate ship for far too long.