BLOG HOGS - HOME SWEET HOME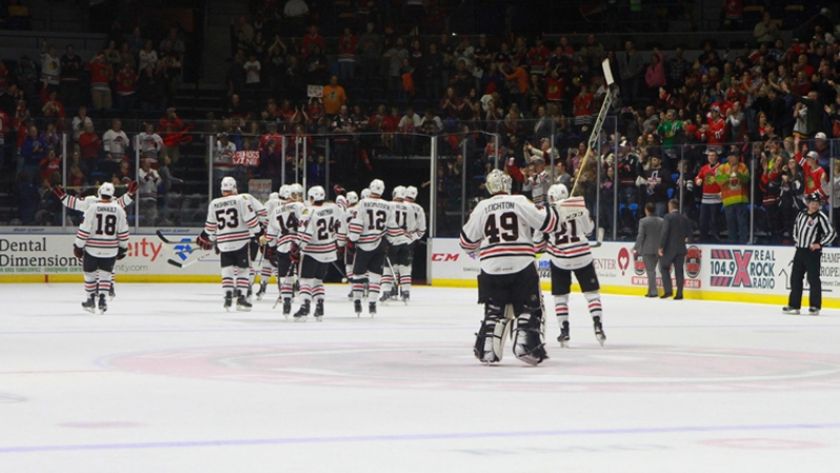 After a road-heavy start, the surging Hogs are ready to spend some quality time at the BMO

The last two and a half weeks have been a fantastic time to be a fan of the Rockford IceHogs. Not only have they been able to string along eight wins in a row, breaking their AHL franchise record in the process, they have been able to deliver victories in just about every way possible.

They have had to pull of dramatic comebacks and prevent dramatic comebacks, they have won in overtime and in dominant fashion, they have had their goaltender steal a game or two just as they have won playing fire-wagon hockey. What is more remarkable than the Hogs finding so many different ways to come out on top this early in the season is the fact they have done so while spending most of their time away from home.

Already in possession of first place in the Midwest Division, the IceHogs will finally get unpack the suitcases and enjoy a November schedule that is laden with home games. What is even more exciting for the Hogs and their fans is despite their impressive record there is still plenty to improve upon moving forward for the young Rockford club.

BMO-Bound

Relief has finally arrived for what could only be considered a grueling travel schedule to open the season for the IceHogs. After starting the campaign with eight of 13 games on the road, including lengthy trips out east and to Texas, Rockford will now play eight of their next 12 at the BMO. Even more, the four road contests during that stretch are in nearby Chicago and Milwaukee. The Hogs don't have to leave the upper-Midwest until late December, when they visit Oklahoma City on Dec. 20-21.

Typically for a hockey team to find long-term success they hope to do the bulk of their winning at home while fielding at least a .500 record on the road. So far this year the IceHogs have done much better than that, winning six of their first eight games away from Rockford, a mark that ties them with Utica for the best road record in the AHL. For another comparision, the IceHogs only won 11 road games last season, and they are already on pace to eclipse that mark by mid-December.

Not Yet Satisfied

Perhaps the most promising aspect about where the IceHogs are at as a team through five weeks is not how good they have been during their current streak, but how many areas the team can still improve on. While the players and coaches have been happy with the results of their games, it is clear, when listening to them talk to the media, that they believe that they have not begun to play their best hockey yet-something that could be troubling for the rest of the league.

One area in which the IceHogs have struggled so far has been coming strong out of the gates. All too often it seems like opponents have been able to get the jump on Rockford in the early stages of a period. Through 13 games, the IceHogs have surrendered eight goals in the first five minutes of a period, five of which came in the opening frame.

Luckily for Rockford, they have been able to respond to early adversity, as oddly enough they have an impressive 6-0-0-0 record when giving up the game's first goal. But the IceHogs know that the law of averages holds that spotting teams early leads will eventually come back to bite them, so they will need to work on tightening up their play in the opening minutes of a period.

Another aspect that could be improved is their net presence in the defensive end. Both Michael Leighton and Scott Darling have fared extremely well on first-shot opportunities, but the opposition has been able to find scoring on a consistent basis on the rebounds.

Part of the onus of solving this problem can lie on the goalies for better controlling the puck off of their body, limiting the second-chance opportunities. But rebounds are inevitable, and when they do occur the defense and net-front center need to step in and contain the attacking team while clearing loose pucks.

Iowa was able to climb out of a 4-0 hole and were inches from tying the game last Thursday by out-muscling the IceHogs in tight and scoring some greasy goals. If Rockford can find a way to let their goalies make the first save and lock things down from there, they will be that much tougher to score on.