BLACKHAWKS TO HOST 2014 PROSPECT CAMP FROM JULY 13-18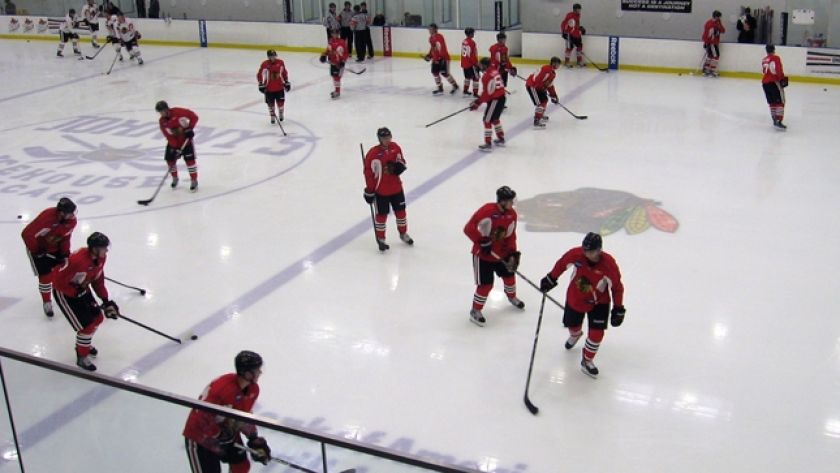 The Chicago Blackhawks will conduct their 2014 Prospect Camp at Johnny's IceHouse West in Chicago (2550 W. Madison St.) from Sunday, July 13 to Friday, July 18.

The camp roster of 62 invites is highlighted by all nine of Chicago's 2014 National Hockey League Draft selections, including first-round pick Nick Schmaltz, as well as former first-round selections Teuvo Teravainen (2012) and Illinois native Ryan Hartman (2013). Additional Illinois natives include John Hayden (2013 NHL Draft, 74th overall), Anthony Louis (2013 NHL Draft, 181st overall), Vincent Hinostroza (2012 NHL Draft, 169th overall) and Alex Broadhurst (2011 NHL Draft, 199th overall).

On-ice sessions will begin on Sunday, July 13, and will run from approximately 9:00 a.m.-3:00 p.m. CT at Johnny's IceHouse West. On Monday, the camp will be split into three groups that will each practice for 75 minutes starting at approximately 10 a.m. Scrimmages will be conducted Tuesday-Thursday (three 20-minute periods). The group will hold one practice on Friday beginning at approximately 10:45 a.m.

All on-ice sessions at Johnny's IceHouse West are open to the public.
2014 Prospect Camp On-Ice Schedule
All on-ice activities will take place at Johnny's IceHouse West (2550 W. Madison St., Chicago). Times are flexible and subject to change on short notice.

Sunday, July 13
9:00-10:00 a.m.: Practice (Entry-Level Contracts)
12:30-1:30 p.m.: Practice (Groups TBD)
2:00-3:00 p.m.: Practice (Groups TBD)

Monday, July 14
10:00-11:15 a.m.: Practice (Team A)
11:30 a.m.-12:45 p.m.: Practice (Team B)
1:15-2:30 p.m.: Practice (Team C)

Tuesday, July 15
10:00-11:15 a.m.: Practice (Team A)
11:30 a.m.: Scrimmage - Team A vs. Team B (Three 20-minute periods)
1:15-2:30 p.m.: Practice (Team C)

Wednesday, July 16
10:00-11:00 a.m.: Practice (Team B)
11:30 a.m.: Scrimmage - Team A vs. Team B (Three 20-minute periods)
1:15-2:30 p.m.: Practice (Team C)

Thursday, July 17
10:15 a.m.: Scrimmage - Team A vs. Team B (Three 20-minute periods)
1 p.m.: Positional practice

Friday, July 18
10:45 a.m.-12 p.m.: On-ice skills and games