BLACKHAWKS ROOKIES FALL IN TOURNAMENT OPENER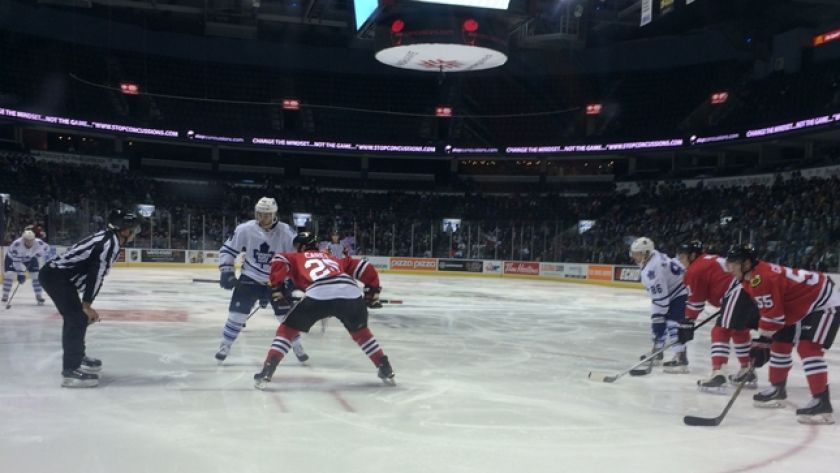 London, Ontario – The Chicago Blackhawks responded twice when their opposition scored to go ahead but couldn't a third time as they dropped a 4-2 contest to the Toronto Maple Leafs to begin the 2014 Rookie Tournament in London, Ontario.

Toronto's Ryan Rupert opened the scoring in the first period as he found the back of the net with 4:21 remaining in the frame to put the Maple Leafs ahead 1-0.

A battle with Phillip Danault and Ryan Van Stralen in front of the Toronto net resulted in Van Stralen locating the loose puck and chipping it in to even the score at 1-1 in the second period.

However, the Maple Leafs reclaimed their advantage when Matt Finn tallied to make it a 2-1 game. But once again Danault and Van Stralen connected to tie the game at two a piece to close out the middle frame. Danault found Van Stralen streaking to the net for an easy tap in and his second tally of the game.

The third period was all Toronto though. Josh Leivo and David Broll both found the back of the net and the Blackhawks were unable to respond in the final 20 minutes.

Elmhurst, Illinois native Garret Sparks made 32 saves for the Maple Leafs to pickup the win.

The Blackhawks rookies are back in action on Sunday as they battle the Pittsburgh Penguins at 1 p.m.


Box Score
1
2
3
TOTALS
Chicago Blackhawks
0
2
0
2
Toronto Maple Leafs
1
1
2
4
Scoring Summary:

Period 1:
Toronto - Ryan Rupert (Eric Knodel, Cody Donaghey) 15:39

Period 2:
Chicago - Ryan Van Stralen (Phillip Danault, Kirill Gotovets) 5:37
Toronto - Matt Finn (Brett Findlay, David Broll) 10:11
Chicago - Ryan Van Stralen (Phillip Danault, Chadd Bauman) 18:20

Period 3:
Toronto - Josh Leivo (Cody Donaghey, Frederik Gauthier) 5:00
Toronto - David Broll (William Nylander, Matt Finn) 14:07

Game 1 lineup vs. Toronto
Alex Broadhurst - Teuvo Teravainen - Mark McNeill
Garret Ross - Dennis Rasmussen - Ryan Hartman
Jaime Wise - Matt Carey - Cody Caron
Ryan Van Stralen - Phillip Danault - Chadd Bauman

Viktor Svedberg - Stephen Johns
Dillon Fournier - Trevor van Riemsdyk
Kirill Gotovets - Justin Holl

Mac Carruth