BLACKHAWKS PROSPECTS CLAIM TOURNAMENT CHAMPIONSHIP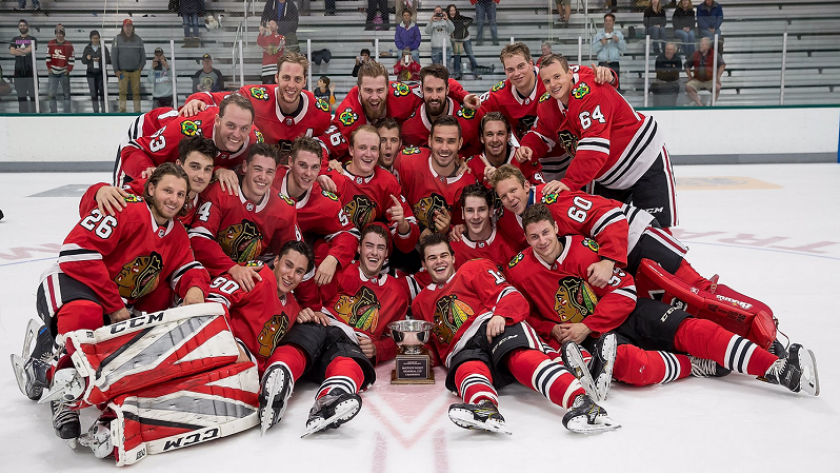 TRAVERSE CITY, Mich. -- Alex DeBrincat scored the game-tying goal in the second period and knocked in the game-winner at 1:32 into overtime to help the Chicago Blackhawks prospect team defeat the Columbus Blue Jackets prospects, 3-2, and win the 2017 NHL Prospect Tournament championship.

DeBrincat scored at least one goal in each of his four games, and finished with a tournament-best five total goals.

The reigning Ontario Hockey League Most Valuable Player rushed the net during overtime and pulled up short just as a loose puck caromed off the opposing goalie and bounced up into the air. With the puck in mid-flight, DeBrincat swiped at it and knocked the disc behind Columbus' netminder for the game-winning tally that gave the Blackhawks the franchise's first championship at the Traverse City Tournament.

Defenseman Luc Snuggerud tallied an assist on the game-winner for his sixth point in two games and seventh total tally of the tournament.

Both Chicago and Columbus actually found themselves fortunate to enter overtime, even to begin with, and relied heavily on impressive penalty killing midway through the third period. Robin Press was called for interference to put the Blue Jackets on the man-advantage, and after the Blackhawks killed off roughly a minute of the power play, Columbus forward Vitaly Abramov was whistled for tripping.
With the score tied and clock winding down in regulation, the two respective special-teams units dug in to successfully fend off several excellent scoring chances, preserving the tie to reach overtime.
DeBrincat seemed to will prospects team forward tonight when it needed it most. The winger also combined with Radovan Bondra to complete the Blackhawks early comeback, erasing a 2-0 deficit in the second period. Bondra scored off a pass from Robin Press and DeBrincat rifled home his first goal of the contest to tie the game just before the end of the second period.
Despite allowing two quick goals on his first three shots, Goalie Matt Tompkins settled in to turn away each of his final 15 shots. He made key stops on several breakaways late in the second and third periods to pick up his second win of the tournament.