BLACKHAWKS NAME KING AS ROCKFORD INTERIM HEAD COACH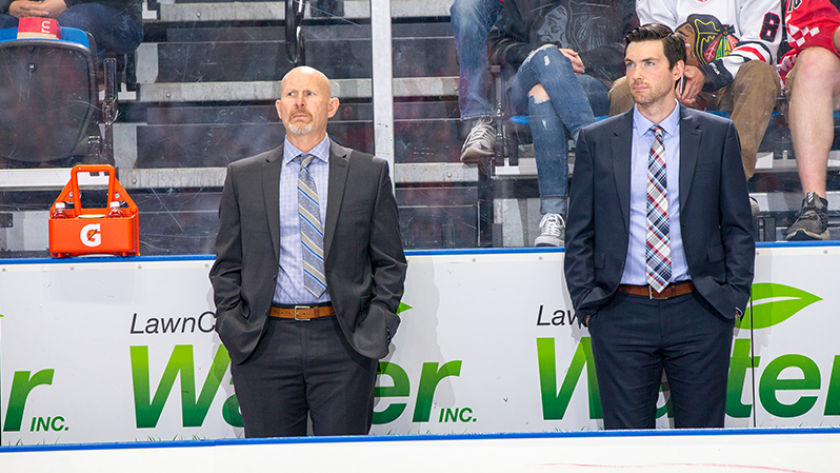 ROCKFORD, Ill - The Chicago Blackhawks announced today that Derek King will serve as interim head coach with the Rockford IceHogs of the American Hockey League. Assistant Coach Sheldon Brookbank will remain as assistant coach. King replaces Jeremy Colliton who was named head coach of the Chicago Blackhawks earlier today.
King, 51, was named assistant coach of the IceHogs on July 7, 2016 and is currently in his third season with the team. Prior to joining the Blackhawks organization, he worked as assistant and associate coach with the Toronto Marlies of the AHL from 2009-15. With the Marlies, he helped the team win one Western Conference Championship (2012) and three North Division Championships (2012, 2013, 2014).
The Hamilton, Ontario, native had a 14-year National Hockey League career that began with the New York Islanders during the 1986-87 season. After 11 seasons with the Islanders, King also played with the Hartford Whalers and Toronto Maple Leafs. His last stop in the NHL came during the 1999-2000 season, playing for the St. Louis Blues.
King totaled 261 goals and 351 assists in 830 career NHL games. In 47 career Stanley Cup Playoffs games, he recorded 21 points (4G, 17A). He was originally selected as the 13th overall pick in the 1985 NHL Draft by the New York Islanders.
NEXT HOME GAME: Wednesday, Nov. 7 vs. Iowa Wild | 10:30 a.m.
The IceHogs host the Iowa Wild this Wednesday for their annual School Day Game. Kids from local area schools are invited to take a break from the classroom and come learn with the IceHogs.