BAUN LOOKS TO EXPAND UPON SUCCESSFUL CAMPAIGN WITH ROCKFORD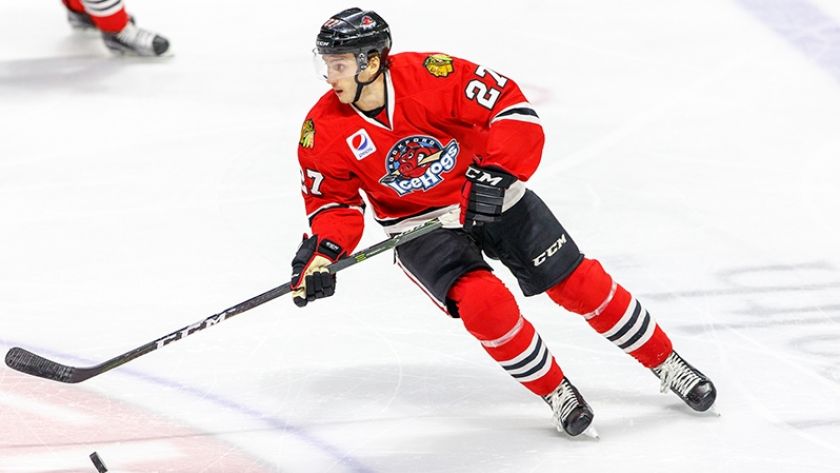 Rockford, Ill. – Just a handful of games into his rookie campaign, Kyle Baun suffered a wrist injury that caused the Rockford IceHogs' forward to miss nearly three months of the 2015-16 season.
The 2016-17 campaign told a different story for the 6-2, 214 lbs. forward. Baun, who followed a nine-point rookie year with a team-high 34 points and award as the IceHogs "Most Improved Player" last season, looks to expand on that success in 2017-18.
Baun's suffered his wrist injury on Nov. 14, 2015, during his 12th game of the season, and kept him out until Feb. 6, 2016 – a total of 32 games. Being absent from that much hockey provided a unique challenge, for the forward, especially with the injury occurring at such an early point in the season.
"It was really tough because you train all summer to get in shape and then you have an injury like that where you're going to be out for two to three months, all that summer training that you worked so hard to get in shape for you lose," Baun said.
Being in game-shape is important, Baun acknowledged, but being prepared physically for the rigors of hockey is only a part of the process.
"It's almost tougher mentally than it is physically; I think the biggest thing was confidence," Baun said. "I had a bit of a slow start, but as the season went on and I started getting a couple points. I started getting my confidence back and started feeling more comfortable out there and the rest kind of took care of itself."
His success was present throughout the 2016-17 season. And with a successful comeback last year, he looks to improve upon his successful campaign in the future. As more and more former IceHogs, such as Ryan Hartman, Tanner Kero and Vinnie Hinostroza, head to the Chicago Blackhawks to play at the NHL level, Baun hopes to see himself there soon.
"It's awesome to see how well those guys have done up there. To see where Kero is now and see him contributing is awesome," Baun said, as they both came to Rockford the same year. "I'm really happy for him and it shows that doing well at this level translates well at the next level. Hopefully I can continue to progress here and hopefully get an opportunity next year."
Baun's success was present on the ice as well as off. P.C. Labrie recruited the Toronto, Ont. native to co-found the IceHogs' Anti-Bullying Campaign, and still continues to reach out and help the Rockford community.
"P.C. is a great mentor and he helped me out with that stuff. The fans come here and give their support all year and one good way to use our extra time is to help out in the community," Baun said. "At the end of the day if you can help out at least one person it's good."
After leading all IceHogs with 34 points last season, Baun was focused on the future heading into the offseason. And while he enjoyed some much-deserved time off at the conclusion of the 2016-17 regular season, he's gearing up for another strong campaign in 2017-18.
"First off I need to reset a little bit, take some time away… but the season wears on you mentally. From there just get back into training," Baun said. "Coming in the best shape possible is a big part in being confident and it's important to be prepared. Failing to prepare, is preparing to fail."
Season Tickets for 2017-18 on Sale Now: Don't miss a moment of the action by reserving your seats for the IceHogs 19th season of professional hockey and 11th as the top AHL affiliate of the Chicago Blackhawks. Opening night is Oct. 14 and ticket packages begin as low as $105 for a seven-game mini pack. Please contact us at (815) 847-6399 or visit icehogs.com to claim your spots for this upcoming season.