Admirals Sink IceHogs with Offensive Explosion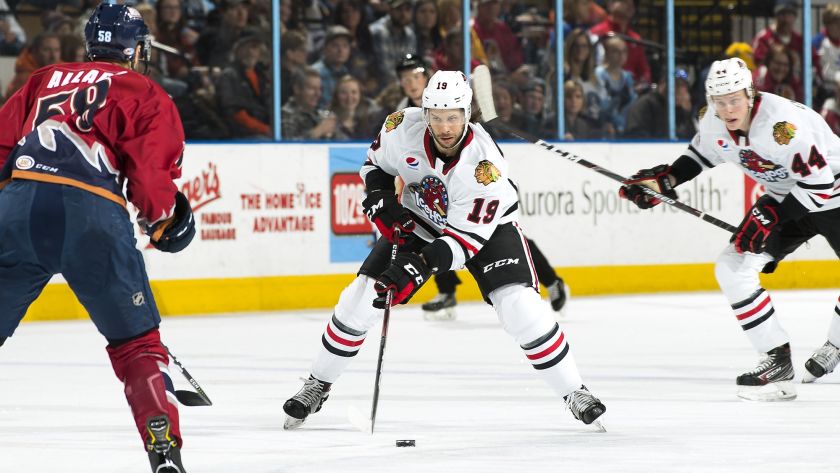 1st
2nd
3rd
Final

—
—
—

—
—
—

Tuesday, July 27
ROCKFORD, Ill. - Garrett Mitchell and Joseph Cramarossa each scored for the Rockford IceHogs, but the Milwaukee Admirals' high-powered offense proved too much to overcome as the Ads skated to a 7-2 victory at UW Panther Arena on Saturday night.
The IceHogs held the Admirals to just one goal in the first period, as Tommy Novak beat Matt Tomkins 12:14 into the opening frame to give the home team the 1-0 lead.
Milwaukee built on that lead 5:46 into the second stanza when Michael McCarron netted a power-play goal, but Garrett Mitchell scored four minutes later for Rockford to cut the Admirals' lead in half. MacKenzie Entwistle dished a saucer pass over to Mitchell, who powered a wrister past Troy Grosenick to get Rockford on the board and make it 2-1.

The Admirals would add three more tallies in the second period, though, as Mathieu Olivier, Eeli Tolvanen and Yakov Trenin all buried to make it 5-1 entering the second intermission.
Joseph Cramarossa scored just 57 seconds into the third when he slapped home a shot from the slot to give the IceHogs a fighting chance, but it was all Admirals from there.
Trenin added another tally on Tomkins before Tomkins took matters into his own hands, going toe-to-toe with Grosenick in a rare goalie fight. Trenin later netted a third goal when he beat Collin Delia to complete the hat trick and make it 7-2.
The IceHogs head to Chicago to take on the Wolves at 3 p.m. on Sunday afternoon, with both teams tied for the fourth and final playoff spot.
---
GAME NOTES
The IceHogs fell to the Milwaukee Admirals Saturday after being down 1-0 heading into the first intermission...Rockford boasts a record of 10-3-1-0 this season when leading after the opening frame but is just 9-11-0-2 when tied after one and 7-13-0-0 when trailing after one for a combined 16-24-0-2 when entering the first intermission tied or trailing.

Garrett Mitchell's goal tonight gives the veteran forward three goals and an assist for four points in his last five appearances.
Matt Tomkins' fight with Troy Grosenick was not the first fight of his professional career...He also fought when he was a member of the Indy Fuel.