ABBOTT HELPS WEST TAKE SKILLS COMPETITION VICTORY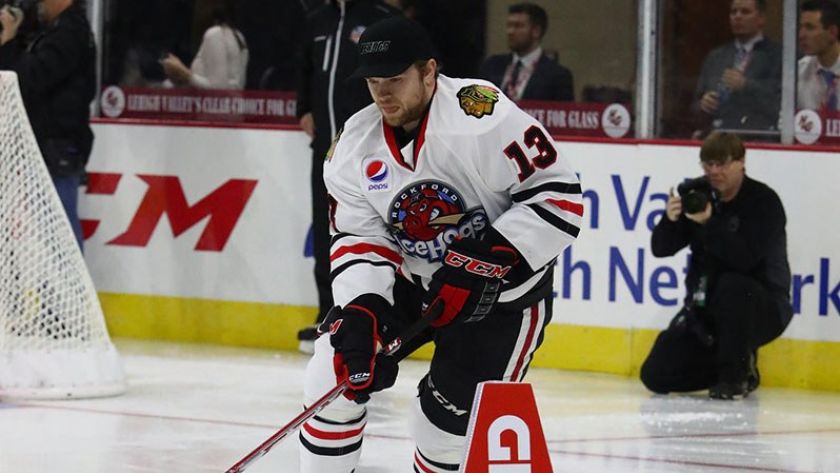 ALLENTOWN, Pa. … The Western Conference came from behind to defeat the Eastern Conference, 15-11, in the 2017 AHL All-Star Skills Competition presented by Giant Food Stores and Velaspan at PPL Center on Sunday night.
Troy Grosenick of the San Jose Barracuda, Jack Campbell of the Ontario Reign, Anton Forsberg of the Cleveland Monsters and Michael Leighton of the Charlotte Checkers combined to deny all 20 East attempts in the evening's final event, the ExteNet Systems Breakaway Relay.
Spencer Abbott helped the West earn victories in the Sher-Wood Puck Control Relay and ExteNet Systems Breakaway Relay.
Kyle Wood of the Tucson Roadrunners won the CCM Hardest Shot event with a shot clocked at 99.3 miles per hour, and fellow rookie defenseman Devon Toews of the Bridgeport Sound Tigers took the CCM Fastest Skater title with a lap of 13.478 seconds, the second-fastest in event history.
Rochester Americans forward Cole Schneider won the Giant Food Stores/Velaspan Accuracy Shooting crown, hitting four targets in five attempts, and Rochester teammate Linus Ullmark was the CCM Top Goaltender for the night after stopping 15 of 18 shots in the three goaltending events.
The West took three of four points from the Sher-Wood Puck Control Relays, with Jordan Oesterle of the Bakersfield Condors and Jordan Weal of the hometown Lehigh Valley Phantoms winning their individual heats.
The 2017 AHL All-Star Classic presented by Capital BlueCross continues on Monday with the AHL Hall of Fame Induction and Awards Ceremony at 11 a.m., featuring the induction of Billy Dea, Bryan Helmer, Rob Murray and Doug Yingst as the AHL Hall of Fame Class of 2017 and also celebrating honorary All-Star Classic captains Daniel Briere and Terry Murray.
The league's mid-season showcase wraps up Monday night at 7 p.m. ET with the 2017 AHL All-Star Challenge, a round-robin tournament among the league's four divisions played at 3-on-3. Check theahl.com for air times and channels along the AHL All-Star Classic television network.
Next Home Game: Tuesday, Feb. 7 vs. Chicago Wolves. The IceHogs return to the BMO for a Fas Fuel Winning Weekdays and WXRX Dollar Days game against Illinois Lottery Cup rival, the Chicago Wolves (7 p.m.).