2014 NHL DRAFT: 27th OVERALL SELECTIONS THROUGH THE YEARS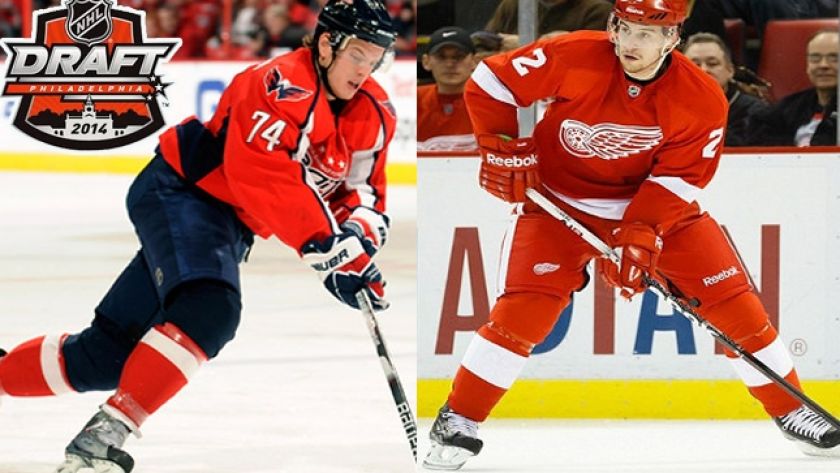 Rockford, Ill. - The Blackhawks are set to pick at the 27th spot in this month's NHL Entry Draft after losing to the Los Angeles Kings in the Western Conference Finals on Sunday, Jun. 1. This weekend, the Blackhawks will make their draft selections beginning with the first round on Friday.
In order to scope out previous year's selections, IceHogs.com is taking readers back through the past 20 years of every player chosen at the 27th overall slot. Player descriptions will list past and recent accomplishments.
A breakdown of the 27th pick by position over the past 20 years is as follows: four forwards, two goalies, four centers, and the most popular position being defense with 11 selections.
Notable 27th selections include John Carlson (Washington-2008), Brendan Smith (Detroit-2007), Scott Gomez (New Jersey-1998), and Ben Clymer (Boston Bruins-1997).
Out of all of the players selected at the 27th overall spot over the past 20 years, they have averaged 245 appearances in NHL regular season games. In addition, players that have been selected at that spot over that time period have averaged 78 points in their careers thus far. Overall, 15 of the 21 players selected from 1993-2013 have played in the NHL.
The following are the players over the last 20 years to be picked in the 27th slot in the NHL Draft.

27th Overall NHL Entry Draft Picks:
2013: Marko Dano (C) Columbus Blue Jackets – From 2010-12, Dano played for the Slovakian team, Trencin Dukla. During his time playing with Trencin, Dano played in 40 games accumulating four goals and seven assists. Dano then played for the Bratislava Slovan (KHL) during the 2012-13 and 2013-14 seasons. There, he appeared in 78 games and scored six goals and six assists. In the 2013 World Cup Championship, Dano represented Slovakia. The Slovakia native then transitioned to playing with the Springfield Falcons in the AHL in 2013-14 after beginning the campaign with Bratislava. With the Falcons, he appeared in ten games, notching two goals and four assists.

2012: Henrik Samuelsson (C) Phoenix Coyotes- During his junior career with the Edmonton Oil Kings (WHL), Samuelsson has played 162 games racking up 75 points and 123 assists. In the 2013-14 season, Samuelsson appeared in 21 post season games totaling 23 points (8g-15a) along with appearing in 65 regular season games racking up 95 points (35g-60a). During the Memorial Cup, Samuelsson was the top scorer boasting two goals and three assists. In 2011-12 Samuelsson made an appearance with the MODO Hockey Ornskoldsvik (SEL) registering two assists. Samuelsson was also a part of the U.S. National Development Team (USHL) in 2010-11.

2011: Vladislav Namestnikov (C) Tampa Bay Lightning – In Feb. 2014, while playing for the Tampa Bay Lightning (NHL), Namestnikov made his NHL debut playing against the Detroit Red Wings. With the Lightning, Namestnikov played in four regular season games (0g-0a). Namestnikov previously played for the Syracuse Crunch (AHL) in the 2013-14 and 2012-13 seasons. Namestnikov ranked first on the Crunch for points (48) and tied for first for assists (29). Namestnikov also played for the London Knights (OHL) in the 2010-11 and 2011-12 seasons.

2010: Mark Visentin (G) Phoenix Coyotes - Visentin made his NHL debut while playing against the San Jose Sharks in the 2013-14 season. While playing for the Portland Pirates (AHL) in the 2013-14 season, Visentin achieved a 14-9-6 record and had a .902 save percentage. Visentin also played one game with the Gwinnett Gladiators (ECHL) and the Niagara IceDogs (OHL). Visentin was named the OHL Goaltender of the Year in 2010-11.

2009: Philippe Paradis (LW) Carolina Hurricanes – Since playing for the Rockford IceHogs (AHL) in the 2010-11, 2011-12, and 2012-13 seasons, Paradis made an appearance with the Toledo Walleye and the Syracuse Crunch. During the 2013-14 season playing for the Crunch, Paradis played a total of 56 regular season games and tallied 15 points (6g-9a). Paradis also played for the Prince Edward Island Rocket (QMJHL) in the 2010-11 season, the Toronto Marlies (AHL) in the 2009-10 season, and the Shawinigan Cataractes (QMJHL) in the 2007-08, 2008-09, and the 2009-10 seasons.

2008: John Carlson (D) Washington Capitals – This past season, Carlson appeared in all 82 games with the Capitals (NHL). In those games, he tallied 37 points (10g-27a). In total, Carlson has appeared in 316 NHL games with Washington.

2007: Brendan Smith (D) Detroit Red Wings – Smith began his pro career with the Grand Rapids Griffins (AHL) in the 2010-11 and 2011-12 seasons, and then was recalled from loan to play for the Detroit Red Wings (NHL) for the 2012-13 and 2013-14 seasons. Smith played 71 regular season games recording 19 points (5g-14a) in 2013-14 for Detroit. Smith also played five post-season games (0g-0a). Smith began his hockey career playing for the Wexford Raiders (OPJHL) and the St. Michael's Buzzers (OPHJL). Smith also played at the University of Wisconsin (WCHA).

2006: Ivan Vishnevskiy (D) Dallas Stars – In the 2010-11 season, Vishnevskiy skated with the IceHogs totaling 46 games and scoring 15 points (5g-10a). This past season, Vishnevskiy played for the Ufa Salavat Yulayev registering seven points (4g-3a). He has appeared in five NHL games with Dallas since being drafted and has tallied two points (2a).

2005: Joe Finley (D) Washington Capitals - In the 2013-14 season, Finley played for the Bridgeport Sound Tigers (AHL) appearing in 29 games and tallying two points (2a). In the NHL, Finley played for the Buffalo Sabres (NHL) in the 2011-12 season, and the New York Islanders (NHL) in the 2012-13 season. Finley has appeared in 21 NHL games notching an assist.

2004: Jeff Schultz (D) Washington Capitals – Since being drafted, Schultz has played in 399 NHL games for the Washington Capitals racking up 75 points (11g-64a). In the 2013-14 season, Schultz played for the Manchester Monarchs (AHL) making an appearance in 67 regular season games, recording 13 points (2g-11a). Schultz also played for the Los Angeles Kings in seven post-season games (0g-0a).

2003: Jeff Tambellini (RW) Los Angeles Kings – Tambellini played in 45 regular season games for the Modo Hockey Ornskoldsvik (SweHL) last season. He recorded 20 points (13g-7a) for the Ornskoldsvik. He has played in 242 NHL games with the Los Angeles Kings, New York Islanders, and Vancouver Canucks. Tambellini has tallied 63 points (27g-36a) during his NHL career.

2002: Mike Morris (F) San Jose Sharks – After playing for Northeastern University (H-East) for four seasons, Morris appeared with the Worcester Sharks (AHL) in the 2007-08 and 2008-09 seasons. Due to post-concussion syndrome, Morris did not play in the 2005-06 season. Morris also missed the majority of the 2007-08 season due to a sports-related hernia injury. In addition, he missed a portion of the 2008-09 season due to a concussion which occurred on Nov. 23.

2001: Jeff Woywitka (D) Philadelphia Flyers – In Woywitka's 15 year career, he has appeared in 278 NHL regular season games and four NHL post-season games with the St. Louis Blues, Dallas Stars and New York Rangers. He chalked up 55 points (9g-46a). This past season, Woywitka played for the Augsburg Panthers (DEL) tallying nine points (3g-6a).

2000: Martin Samuelsson (RW) Boston Bruins – Samuelsson last played for the Malmo Redhawks (Swe-1) in the 2007-08 season. He played in 41 games and scored eight points (4g-4a). Samuelsson appeared in 14 NHL games and recorded one point (1a) with the Boston Bruins.

1999: Ari Ahonen (G) New Jersey Devils – Ahonen played with the Astana Barys (KHL) recounting a record of 19-12-5 and a save percentage of .914. Ahonen's last tour in the AHL was with the Albany River Rats where he played a total of 178 games during his AHL career.

1998: Scott Gomez (C) New Jersey Devils – During his career, Gomez has played an astonishing total of 987 games in the NHL and he racked up 713 points (173g-540a). Last season, he played for the Florida Panthers (NHL) where he tallied 12 points (2g-10a). He has also played for the San Jose Sharks (NHL) and the Alaska Aces (ECHL) in the 2012-13 season, and the New York Rangers (NHL) in the 2007-09 seasons. Gomez started his NHL career with the New Jersey Devils in 1999.

1997: Ben Clymer (D) Boston Bruins – Clymer last played in 2009-10 with the Ingolstadt ERC (DEL). He played in 37 games and chalked up 32 points (8g-24a). Throughout his 15 year career, Clymer played in 438 NHL games and recorded 129 points (52g-77a). Clymer played with two NHL teams: the Tampa Bay Lightning and the Washington Capitals.

1996: Cory Sarich (D) Buffalo Sabres – The Saskatchewan, Canada native has played for a staggering 19 years in nine different leagues. Sarich has played in a total of 969 NHL games racking up 158 points (21g-137a). This past season, Sarich played for the Colorado Avalanche (NHL) appearing in 54 games and scoring one goal and nine assists.

1995: Marc Moro (D) Ottawa Senators – Moro retired after the 2006-07 season when he played with the Toronto Marlies (AHL). During his last season playing hockey, Moro appeared in 79 regular season games, and totaled seven points (2g-5a). Throughout his 14 year career, Moro played in 30 NHL games.

1994: Rhett Warrener (D) Florida Panthers – After his 16 year career, Warrener retired after the 2007-08 season playing with the Calgary Flames (NHL). He missed the entire 2008-09 season because of a shoulder injury. Warrener played in a total of 714 NHL regular season games while tallying 24 goals and 82 assists.

1993: Radim Bicanek (D) Ottawa Senators – This past season marks the 21st year Bicanek has played professional hockey. In 2013-14, Bicanek played with the Karlovy Vary HC (Czech). He played a total of 51 games and scored two goals and seven assists. Bicanek has played a total of 122 NHL regular season games recording a total of 12 points (1g-11a), and seven post season games.

Check out IceHogs.com all week as we preview the 2014 NHL Entry Draft:
Monday, June 23rd: Draft Breakdown at 27th pick
Tuesday, June 24th: Mock Drafts
Wednesday, June 25th: Breakdown of the Blackhawks first overall picks over the past 20 years
Thursday, June 26th: How the draft has impacted Rockford
Friday, June 27th: Update on the progress of Chicago's draft picks from the 2012 and 2013 drafts

Season Tickets for 2014-15 Now on Sale: Reserve your seats today for the IceHogs 16th season of professional hockey and eighth as the AHL affiliate of the Chicago Blackhawks. Call (815) 847-6399 or visit icehogs.com to find a ticket package that fits your needs.