13 ICEHOGS ALUMNI REMAIN IN THE STANLEY CUP PLAYOFFS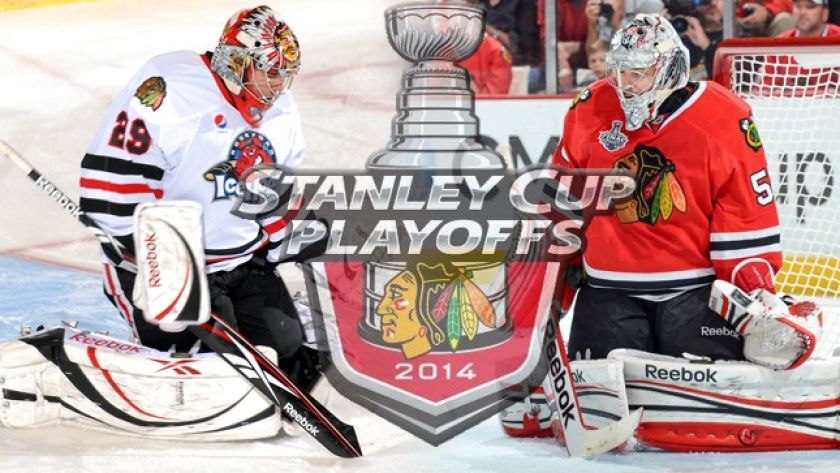 Rockford, Ill. – With the 2014 Stanley Cup Playoffs Conference Finals underway, the number of former Rockford IceHogs remaining in the hunt for the Stanley Cup is now 13, with 12 of those IceHogs alumni donning the Chicago Blackhawks sweater and one suiting up for the New York Rangers.

The list of players remaining is led by Blackhawks goaltender Corey Crawford. The 29-year-old showcases a 9-4 record thus far in the Stanley Cup Playoffs, and paces all NHL goaltenders with a 1.90 goals against average (min. 5 games) and ranks third with a .933 save percentage (min. 5 games). Crawford back stopped the Blackhawks to a 3-1 victory over the Los Angeles Kings in Game One of the Western Conference Final.

Not only is Crawford blocking shots, but former Hogs defenseman Niklas Hjalmarsson ranks second in the NHL in blocked shots with 42 – just three behind Rangers blueliner Dan Girardi (45), who has played in three more games. Hjalmarsson has recorded three helpers as well.

Defenseman Nick Leddy has laced up in 12 of 13 postseason tilts, notching three assists. The Eden Prairie, Minn. native has contributed to a Blackhawks power play that has converted on seven of 35 attempts (20.0%), with all three of his assists coming on the man-advantage.

Adding to the power play as well are forwards Bryan Bickell (2 PPG), Andrew Shaw (1 PPG) and Brandon Saad (1 PPG). Limited to just seven games thus far due to injury, Shaw has recorded a pair of goals and a pair of assists. Bickell (6g-3a) and Saad (3g-6a) have combined for 18 points, with Bickell also leading the team in hits with 49.

Other Hogs contributing to the Hawks success include the reunited fourth line of former Hogs: Brandon Bollig, Marcus Kruger and Ben Smith. Kruger has been a cog in a Blackhawks penalty kill that ranks first in the NHL with a 91.7% kill rate. The Stockholm, Sweden native has also added a goal and two assists in all 13 games. Also seeing time on the penalty kill is Smith, who has also appeared in each Stanley Cup Playoff contest, and has added a goal and a pair of assists, to go along with a +4 plus/minus rating. Bollig has appeared in 10 games and has 26 hits to his credit.

Also appearing in 10 games is forward Kris Versteeg, who's potted a goal and two assists while firing off 12 shots on goal.

The final two Hogs who have laced up for the Hawks in the postseason, also appeared in games for the Hogs this season: forwards Jeremy Morin and Joakim Nordstrom. Nordstrom has appeared in seven Stanley Cup Playoff games while Morin has skated in two outings.

The former IceHog skating for the Rangers is defenseman Kevin Klein, who played for the IceHogs during the UHL era. Klein has suited up in each of New York's 16 Stanley Cup Playoff games, recording one goal and three assists, and also ranks tied for second in the NHL with a +7 plus/minus rating.

The number of former Hogs to play in the Stanley Cup Playoffs could increase, with goaltender Antti Raanta backing-up Crawford, but has yet to see any ice-time. Also on the Blackhawks active roster, but have not played in a game, are defenseman Klas Dahlbeck and goaltender Jason LaBarbera. Forwards Colin Fraser of the Los Angeles Kings and Mike Blunden of the Montreal Canadiens were recalled as Black Aces for their respective clubs.

Game two between the Blackhawks and Kings is tonight at 7 p.m. and can be seen live on NBC Sports Network.

Season Tickets for 2014-15 Now on Sale: Reserve your seats today for the IceHogs 16th season of professional hockey and eighth as the AHL affiliate of the Chicago Blackhawks. Call (815) 847-6399 or visit icehogs.com to find a ticket package that fits your needs.