WOLVES TOP ICEHOGS IN OVERTIME TO OPEN PRESEASON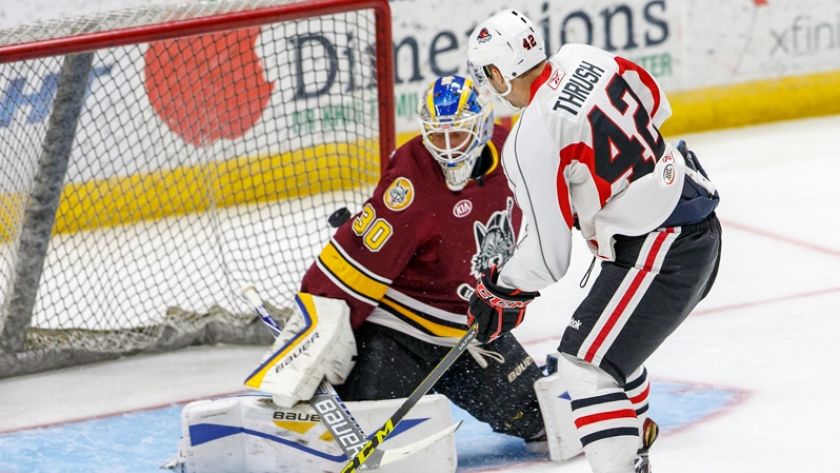 Rockford, Ill. – In the first preseason game of the season, Rockford IceHogs Head Coach Ted Dent had to be happy his team got to work on all facets of the game.

The only downfall to the night was the outcome. After the IceHogs came back from a two-to-zero hole early in the third period, the visiting Chicago Wolves tallied twice in a shootout to knock off Rockford 3-2 in the skills competition.

Despite the IceHogs outshooting the Wolves 14-4 through the first 20 minutes of play, it was Chicago that carried a 1-0 lead into the first break. Defenseman Brett Ponich lofted a puck into the IceHogs zone that took a bad bounce and snuck past goaltender Mark Visentin to put the Wolves in front at 18:29 in the first period.

Chicago padded their lead 1:52 into the middle frame when Zach Cohen found the back of the net and made it a 2-0 score.

The IceHogs were finally able to crack Jordan Binnington just over three minutes later to cut the lead in half at 2-1. Patrick Koudys fired a shot that Binnington blocked down but Casey Thrush found the puck on the doorstep, kicked it to his stick, and flipped it in at 5:05.

Rockford's all-time goal scorer Jeremy Morin tied the game up at 2-2 to start the third period. A Daniel Ciampini rebound found Morin's stick and he blasted the second attempt to back of the cage just 36 seconds into the third.

The IceHogs had a chance to complete the comeback on the power play with a minute left in regulation. However, Binnington held strong for Chicago to close out the regulation time, and again in overtime to keep Rockford off the board.

Evan Trupp and Jordan Schmaltz both scored in the shootout while Corey Tropp and Chris DeSousa missed on their chances.

Visentin stopped 23 of the 25 shots he faced while his counterpart, Binnington, turned away 35 shots.

Next Home Game: Saturday, Oct. 17 vs. Texas Stars. The IceHogs open their 17th season at the BMO against Texas at 7 p.m., and the first 5,000 fans to the game will get an IceHogs calendar courtesy of Mulligan's. For tickets visit IceHogs.com or call (815) 968-5222.