WOLVES OUTLAST HOGS IN SEE-SAW REGULAR-SEASON FINALE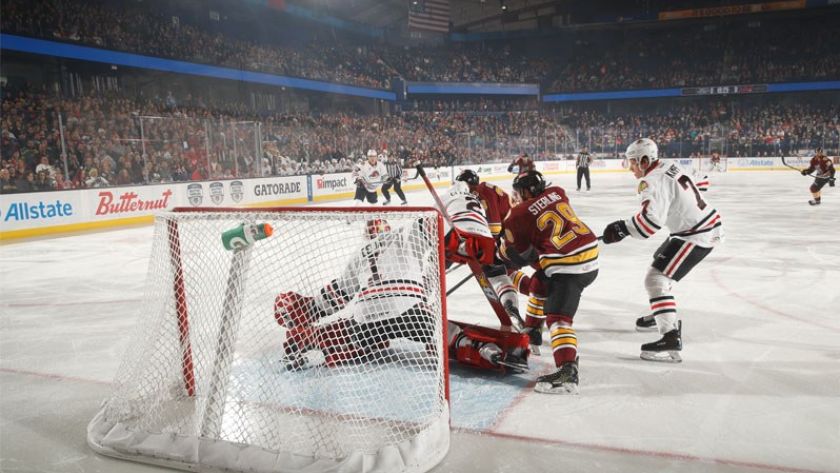 ROSEMONT, Ill. – Philip Holm and Brett Sterling scored just 1:15 apart to erase a 4-3 third-period deficit and push the Chicago Wolves to a 5-4 victory over the Rockford IceHogs at Allstate Arena on Saturday night. The Wolves dropped the Hogs for the second consecutive outing ahead of the teams' impending first-round playoff matchup.
Holm skated down the right wing and wired a shot over netminder Collin Delia's shoulder and into the net to knot the score at four 7:28 into the stanza. Brett Sterling then put the Wolves ahead for the third and final time in the affair at 8:43. Max Lagace shut the door for the remainder of the game to seal Chicago's second win over Rockford in as many nights, and help the Wolves capture the 2017-18 Illinois Lottery Cup.
Chicago also opened the scoring with Teemu Pulkkinen's 28th marker of the season, but Anthony Louis and Tyler Sikura responded for Rockford fewer than five minutes later. Louis corralled a pass from David Kampf and rifled a shot past Lagace to get the Hogs on the board, and Sikura banked the puck off of Lagace's back and into the net four minutes later to provide Rockford's first lead of the game.
Pulkkinen struck again for the Wolves before the end of the opening 20 minutes to level the scores heading into the break, and Tomas Hyka found twine to put Chicago ahead once more midway through the second period. But, just 71 seconds later, Matthew Highmore tapped home a loose puck, and the game was even once more.
With the second period winding down, Robin Norell blasted his second goal of the season past Lagace and sent the IceHogs into the intermission with a 4-3 advantage, before Chicago's quick blitz in the third period.
Delia finished with 14 saves on 17 shots, while Lagace turned aside 33 of 37 pucks for the Wolves.
The IceHogs concluded the regular season with a record of 40-28-4-4 and will enter the Calder Cup playoffs as the No. 4 seed against the top-seeded Wolves, with the series beginning in Rosemont on Saturday, April 21. Rockford is guaranteed a home contest for Game 2 (Ticket A) in the series on Sunday, April 22. Tickets for Sunday's playoff game will go on sale on Monday morning at 10 a.m.
Next Home Game: Sunday, April 22 vs Chicago (Calder Cup Playoffs | Game 2/Ticket A)
The Rockford IceHogs open up their home slate of the 2017-18 Calder Cup Playoffs with Game 2 (Ticket A) against the Chicago Wolves. Tickets can be purchased at IceHogs.com, by calling (815) 968-5222 or in-person at the BMO Harris Bank Center Box Office beginning Monday morning at 10 a.m.