WESTERN CONFERENCE PLAYOFF PICTURE TIGHTENS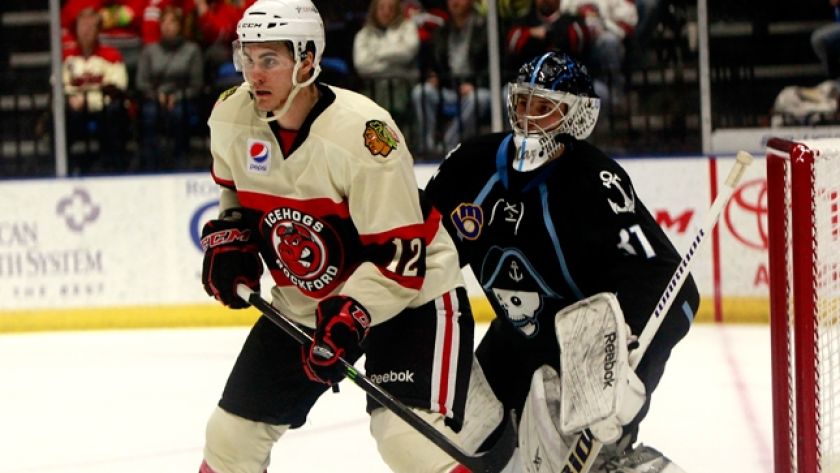 Week 23 Results
Tuesday, Mar. 4: Rochester 2 vs. Rockford 4
Friday, Mar. 7: Rockford 3 at Milwaukee 8
Saturday, Mar. 8: Milwaukee 6 vs. Rockford 2

Week 24 Schedule
Friday, Mar. 14, at Milwaukee, 7 p.m.

Week 23 Recap:
After a mid-week win over Rochester, the IceHogs looked to gain seperation in the Western Conference playoff race. However, the Hogs instead lost some ground, losing twice to their Midwest Division rival Milwaukee Admirals who hold the eighth and final playoff spot in the standings. Positioned in sixth place heading into the weekend, the IceHogs dropped to seventh and are now just two points ahead of Milwaukee. The two Midwest Division rivals will meet again Friday in Rockford's lone Week 24 tilt.

Bacon Bits:
-Rockford had their team AHL record eight-game home point streak come to an end on Saturday against Milwaukee
-Goalie Jason LaBarbera also had his six-game home winning streak snapped on Saturday
-Winger Jeremy Morin saw his team season-high 13-game point come to an end on Friday in Milwaukee, but marked an assist on Saturday
-During his 13-game hot streak, which is tied for the longest in the AHL this season, Morin totaled 11g-9a-20pts
-After Saturday's game against Milwaukee, Rockford began a stretch of just one game in 12 days running into 3/21/14 at Chicago
-Winger Pierre-Marc Bouchard has a four-game point streak, notching 1g-4a-5pts dating back to 3/1/14
-In 12 games with Rockford this season, Bouchard has 2g-12a-14pts
-Over their last five games, Rockford's penalty kill has a kill rate of 52.2%, giving up 11 power play goals on 23 shorthanded situations
-Overall this season, Rockford's penalty kill is last in the AHL at 72.6%, 5.9% lower than the next closest team (Oklahoma City)
-In their two games over the weekend against Milwaukee, Rockford had a combined plus/minus of -36
-During their previous 13 games before Friday's tilt in Milwaukee, the IceHogs had a combined plus/minus +139
-Friday's game in Milwaukee featured an IceHogs season high 54 minutes of penalty time and 108 combined PIMs

Hot Hog: Week 23
Right Wing Pierre-Marc Bouchard

Forward Pierre-Marc Bouchard had a point in all three games for Rockford during Week 23 and is currently riding a four-game point streak overall. Bouchard began the week by marking an assist in Tuesday's 4-2 win over Rochester in Rockford. On Friday, Bouchard again found the stat sheet via the helper in Milwaukee before notching his eighth goal of the season on Saturday, and second with Rockford, against the Admirals. Overall this season, the veteran winger has 2g-12a-14pts in 12 games and 8g-23a-31pts in 32 games combined with Rockford and the Bridgeport Sound Tigers.

Upcoming Games: Week 24
Friday, Mar. 14 at Milwaukee Admirals at 7 p.m.: The IceHogs meet up with the Milwaukee Admirals for the third straight game. Milwaukee has bested the IceHogs in the last two head-to-head matchups and the IceHogs carry a record of 4-5-0-0 this season against their Midwest Division rivals.

The IceHogs Broadcasting Network:
Catch every IceHogs game, home and road, in 2013-14 on WIFR's 23.2, "Antenna TV." The games can also be viewed on Comcast Cable Channel 436 or Mediacom 101 in the Rockford market and online through AHLlive.com. Fans can listen to the action for free on AHLlive.com. For a complete listing of TV stations carrying IceHogs games, visit IceHogs.com. Every broadcast will start with the IceHogs Warmup 30 minutes prior to puck drop.

Tickets On Sale for 2013-2014!
IceHogs individual game tickets are now on sale! Call (815) 968-5222 to reserve your seats for any IceHogs regular season game during the 2013-14 season. Tickets can also be purchased online at IceHogs.com, in person at the BMO Harris Bank Center Box Office in downtown Rockford, or any Ticketmaster outlet, including Wal-Mart. Tickets start at just $8.