WESTERN CONFERENCE LEADING HOGS EXTEND POINT STREAK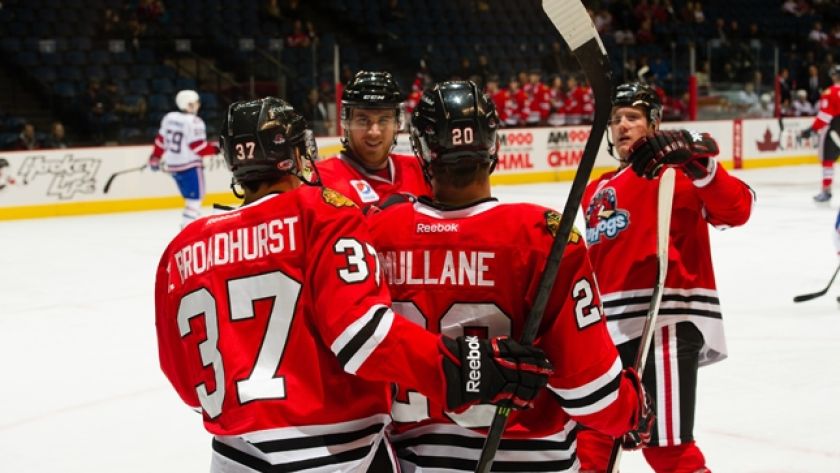 Week 4 Results
Tuesday, Oct. 22: Rockford 4 at Hamilton 5 (OT)
Wednesday, Oct. 23: Rockford 3 at Toronto 2
Saturday, Oct. 26: Rockford 2 vs. Charlotte 1 (SO)
Sunday, Oct. 27: Rockford 4 vs. Texas 2


Week 5 Schedule
Thursday, Oct. 31 vs. Charlotte, 7:00 p.m.
Friday, Nov. 1 at Milwaukee, 7:00 p.m.
Sunday, Nov. 3 vs. Grand Rapids, 4:00 p.m.

Week 4 Recap:
With two games on the road and the beginning of their first home stand, the IceHogs had their first four-game week of the season. The Hogs started the week with an overtime loss to the Hamilton Bulldogs but were able to take a point in the standings for their second game in a row. The next night, Rockford continued their Canada road-trip with a stop in Toronto where they won despite being down 2-0 in the second period. After getting back to the BMO for their first home stand, the IceHogs took a shootout win over Charlotte in a goalie duel. The IceHogs closed out the week with another come-from-behind win when Texas scored two goals in the first period before being blanked by the Hogs while scoring four unanswered goals for the win, ending the week at (7-2-1-0) with 15 points in the standings and in first place in the Western Conference.

Bacon Bits:
-The IceHogs have earned a standing's point in six-straight games, compiling a record of 5-0-1-0
-In a four-game Week 4, Rockford went 3-0-1-0
-The IceHogs are tied for the most points in the AHL with Manchester through four weeks with 15
-Rockford has sold out two of their first three home games, including a crowd of 6,353 on Sunday, the fourth largest in Rockford's AHL era
-Forward Brad Mills made his debut with the Blackhawks on Saturday, after being recalled with Jeremy Morin
-Mills becomes the 56th former IceHog to go on and play in the National Hockey League, including 43 with the Blackhawks
-Five different IceHogs have played in a game with the Blackhawks this season through four weeks, including Jimmy Hayes, Brad Mills, Jeremy Morin, Joakim Nordstrom and Brandon Pirri
-Over the last three home tilts the IceHogs have found themselves down heading into the final frame, but managed to complete a comeback and record a win in all three contests
-For the second time against Texas this season, the IceHogs overcame a 2-0 deficit to win the game
-The last six matchups in the IceHogs-Stars series have had the winning team overcome at least a two goal deficit
-Goaltender Antti Raanta earned his fourth straight win on Sunday, stopping 46 of 48 shots
-Two of the four wins have been by way of a shootout in which Raanta stopped seven of the nine attempts
-Rockford shooters have converted on 5 of 10 chances (50%) in the skills session, with Viktor Svedberg leading the way
(2-for-2)
-Rockford's 7-2-1-0 start is their best 10-game start in the AHL era. The IceHogs started 7-3-0-0 in 2008-09.

Hot Hog: Week 4
Antti Raanta, Goaltender
Goalie Antti Raanta picked up three wins in three starts for Rockford during Week 4, helping Rockford to a six-game point streak (5-0-1-0). Raanta began the week by making 22 saves on the road in a come-from-behind 3-2 win over the Marlies. The backstop then turned away 29 shots as Rockford slipped by the Charlotte Checkers in the shootout, earning the #1 Star of the Game. Week 4 came to a close on Sunday and Raanta blocked 46 Texas shots for a third-straight come-from-behind victory, knocking off the Stars 4-2. Raanta finished the week 3-0-0-0 with a .942 save percentage and a 1.95 goals against average.

Upcoming Games:
Thursday, Oct. 31 vs. Charlotte Checkers: Puck drops at 7 p.m. The IceHogs take on the Checkers for the second time in three games. The first 5,000 fans will receive a Refillable Souvenir Cup from Kelley's Market. It is also WIFR Sellout Night where fans can get a free ticket to the game courtesy of WIFR.

Friday, Nov. 1 at Milwaukee Admirals: Game time is 7 p.m. Rockford takes a quick trip up to nearby Milwaukee for a get away game against the Admirals for the first time this season. The IceHogs and Admirals will face off against each other 12 times in the Midwest Division.

Sunday, Nov. 3 vs. Grand Rapids: The puck will drop at 4 p.m. Grand Rapids comes to the BMO Harris Bank Center for the second time this season in game one of a home-and-home set against the Griffins. The first 1,500 fans will receive a Picture Frame from Riverside Dental and there will be time for photographs with players after the game.

The IceHogs Broadcasting Network:
Catch every IceHogs game, home and road, in 2013-14 on WIFR's 23.2, "Antenna TV." The games can also be viewed on Comcast Cable Channel 436 or Mediacom 101 in the Rockford market and online through AHLlive.com. Fans can listen to the action for free on AHLlive.com. For a complete listing of TV stations carrying IceHogs games, visit IceHogs.com. Every broadcast will start with the IceHogs Warmup 30 minutes prior to puck drop.

Tickets On Sale for 2013-2014!
IceHogs individual game tickets are now on sale! Call (815) 968-5222 to reserve your seats for any IceHogs regular season game during the 2013-14 season. Tickets can also be purchased online at IceHogs.com, in person at the BMO Harris Bank Center Box Office in downtown Rockford, or any Ticketmaster outlet, including Wal-Mart. Tickets start at just $8.

Illinois Lottery Cup Series Standings
Teams Record Points
Rockford 1-0-0-0 2
Chicago 0-0-0-0 0

Upcoming Illinois Lottery Cup Games:
Nov. 29: Rockford at Chicago, 7:30 p.m.
Nov. 30: Chicago at Rockford, 7:00 p.m.
Jan. 18: Rockford at Chicago, 7:00 p.m.
Feb. 14: Chicago at Rockford, 7:00 p.m.