WEEK 9 RECAP: THREE GAME SWEEP IN TEXAS VAULTS HOGS INTO FIRST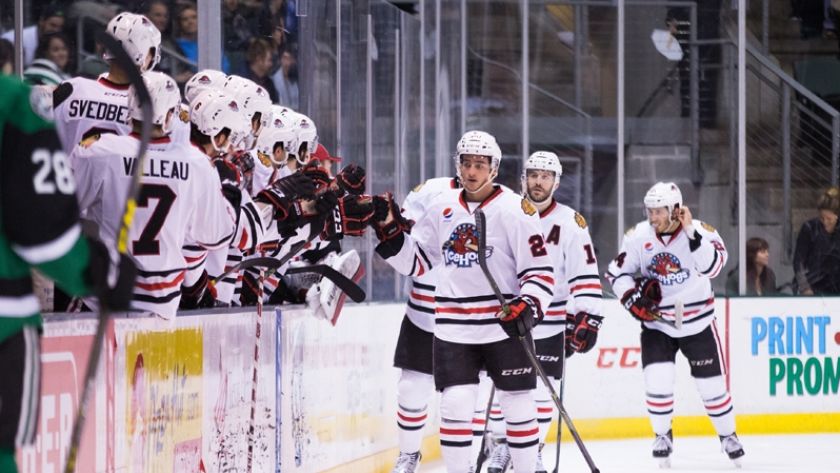 Week 9 Results:
Wednesday, December 2: Rockford 6 at Texas 5 (OT)
Friday, December 4: Rockford 4 at San Antonio 2
Sunday, December 6: Rockford 5 at San Antonio 2

Week 10 Schedule:
Tuesday, December 8 at Texas, 7:30 p.m.
Friday, December 11 vs. Iowa, 7 p.m
Saturday, December 12 vs. Grand Rapids, 7 p.m.

Week 9 Recap:
Behind three wins on the road, the Rockford IceHogs have positioned themselves in first place in the Western Conference's Central Division for the first time this season. Rockford began the week by exacting revenge from the Texas Stars, who handed the IceHogs a pair of losses earlier this season. The IceHogs then completed a weekend sweep of the San Antonio Rampage with 4-2 and 5-2 wins on Friday and Sunday respectively. The IceHogs will complete a five-game road trip with one final stop in Texas on Tuesday before returning home to the BMO Harris Bank Center for a pair of weekend tilts against the Iowa Wild and Grand Rapids Griffins.

Bacon Bits:
-After sweeping the San Antonio Rampage on the weekend, the IceHogs improved their record on the road to 9-3-0-1
-The nine wins on the road rank second-best in the AHL, trailing only the Toronto Marlies (10)
-For the fourth time this season, the IceHogs have won three games in a row
-Since the fifth game of the season, the IceHogs have picked up points in 17-of-19 contests (14-2-1-2)
-Forward Dennis Rasmussen extended his point streak to six straight games (3g-5a) after recording a point in all three games in Week 9
-Defenseman Erik Gustafsson saw his five-game point streak snapped on Friday in San Antonio
-The d-man compiled two goals and six assists from Nov. 22 to Dec. 2
-Gustafsson closed out his point streak with an IceHogs season-best four points (1g-3a) against Texas on Wednesday
-Forward Phillip Danault returned to the ice and made his season debut for Rockford on Wednesday after missing the first 20 games due to injury
-Danault opened the scoring on Sunday against San Antonio with his first goal of the season
-For the second time this season, IceHogs leading goal scorer Ryan Hartman is on a goal scoring streak
-Hartman has the longest of the season of four games, set from Oct. 23 to Nov. 6, and is currently riding a three-game goal scoring streak (4g)
-Hartman's tallies on Friday and Sunday were both game-winners
-The IceHogs held the Rampage to a season-low three shots during the second period on Friday
-Goaltender Mark Visentin continued his impressive play on the road, earning his second win of the season on Friday
-In four starts on the road this season, Visentin shows a 1.23 goals against average to go with a .956 save percentage and 2-1-1 record
-Meanwhile, goalie Michael Leighton is riding a five-game winning streak over his last five starts which is a season-long for the IceHogs
-Forward Daniel Paille appeared in his 750th career professional game on Friday in San Antonio
-In five games on the road against opponents from the Pacific Division, the IceHogs are 4-1-0-0
-Rockford converted five times on the power play in 11 opportunities (45.5%) during the week
-The Hogs have scored power-play goals in five of their last six tilts
-The IceHogs have scored multiple power-play goals in a game (Nov. 25, Dec. 2, and Dec. 6) three times over the last six contests
-Rockford improved its record to a perfect 14-0-0-0 when scoring three or more goals and the team is 12-0-0-0 when carrying a lead after two periods of play

Week 9 Hot Hog:
Ryan Hartman Right Wing (3GP, 4G, 1A, 5PTS, 2 GWG, +6)

After being held off the scoresheet in two games, Ryan Hartman regained his scoring touch in a big way during Week 9. The second year pro opened the week with a three-point outing against Texas, including two goals and an assist. On Friday, Hartman completed a big second period for the IceHogs with a tally that put Rockford in front and eventually stood as the game-winner. The former first round pick finished the weekend with his second game-winning tally against the Rampage when he notched his team-leading 10th goal of the season. In all, Hartman compiled four goals, two game-winning goals, an assist, and a +6 plus/minus rating during Week 9.

Upcoming Games:
Tuesday, December 8 at Texas Stars: Game starts at 7:30 p.m. The IceHogs wrap up a five-game road swing with their final contests against the Texas Stars during the 2015-16 regular season. Rockford took the last meeting last Wednesday but the Stars hold the upper hand in the head-to-head matchup with two victories in early October.

Friday, December 11 vs. Iowa Wild: Puck drop is scheduled for 7 p.m. The IceHogs will look to stay perfect against the Wild as the two teams meet for the sixth time this season. Rockford has won eight straight games against the Wild dating back to Jan. 16th last season. The first 1,000 fans (21 and older) through the gates will receive an IceHogs beer stein courtesy of Bud Light. Another Blues Flame Lounge, beginning at 5:15 p.m. will kick off the weekend festivites.

Saturday, December 12 vs. Grand Rapids Griffins: Game time is slated for 7 p.m. The IceHogs welcome last season's Division Champion to the BMO for the first time this season. It's Teddy Bear Toss Night at the BMO as all fans are encouraged to bring a new or gently used stuffed animal and throw it onto the ice after the IceHogs score their first goal of the game. All the bears will then be collected and donated to local hospitals and charities for the holidays. Additionally, fans are encouraged to bring a new toy to the game to donate to Toys for Tots.

Bud Light Monthly Monday Hog Talk At Vintage 501:
Bud Light Hog Talk returns on Monday, December 28 at Vintage 501 from 6-7 p.m. Vintage 501 is located in downtown Rockford at 501 E. State St. Fans can join Bob Mills or Kyle Stuetzel from 6-7 p.m. on the last Monday of every month throughout the season. Take advantage of food and Bud Light specials at Vintage 501. The show will be re-aired on Tuesdays on WIFR's "Justice Network" on 23.3 from 6-7 p.m.

The IceHogs Broadcasting Network:
Catch every IceHogs game, home and road, in 2015-16 on WIFR's "Justice Network" on 23.3. The games can also be viewed on Comcast Cable channel 434, Charter Cable channel 194 or Mediacom 102 in the Rockford market and online through AHLLive.com. Every broadcast on WIFR will start with "IceHogs Warm Up" 30 minutes prior to puck drop. Fans can also listen to the action for free at WXRX.com. For a complete listing of TV stations carrying IceHogs games, visit IceHogs.com.

Tickets on Sale for 2015-16!
IceHogs individual game tickets are now on sale! Call (815) 968-5222 to reserve your seats for any IceHogs regular season game during the 2015-16 season. Tickets can also be purchased online at IceHogs.com, in person at the BMO Harris Bank Center Box Office in downtown Rockford, or any Ticketmaster outlet, including Walmart.