WEEK 9 RECAP: ANOTHER THREE-POINT WEEK FOR THE ICEHOGS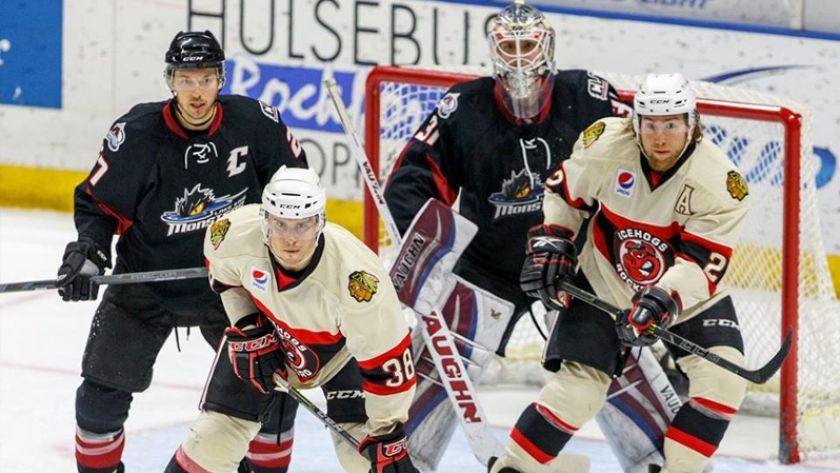 Shutout win in Milwaukee highlights Week 9 for Rockford

Week 9 Recap:
Just like the week before, the IceHogs managed half of the possible six points available from their Week 9 slate. Rockford started strong by blanking the Milwaukee Admirals 4-0 on the road, but lost in similar fashion upon their return to the BMO Harris Bank Center on Saturday. The weekend ended with the second-straight overtime affair between the IceHogs and Monsters, with this one falling in Lake Erie's favor 4-3.

Week 9 Results:
Thursday, Dec. 4, Rockford 4 at Milwaukee 0
Saturday, Dec. 6, Grand Rapids 4 vs. Rockford 0
Sunday, Dec. 7, Lake Erie 4 vs. Rockford 3 (OT)

Week 10 Schedule:
Wednesday, Dec. 10, at Milwaukee, 7 p.m.
Friday, Dec. 12, at Lake Erie, 6:30 p.m.
Saturday, Dec. 13, at Lake Erie, 6 p.m.

Bacon Bits:

-Garret Ross bagged his second hat trick of the season on Sunday, tallying all three of Rockford's goals in a 4-3 overtime loss to Lake Erie

-Ross became the second player in the club's AHL era to notch two, three-goal performances in one season

-Pascal Pelletier also accomplished the feat during the 2008-09 season

-Ross leads Rockford with 10 goals this season and has two, three-goal contests and a two-goal effort

-Goaltender Michael Leighton picked up his second shutout of the season, and 38th of his AHL career on Thursday in Milwaukee

-Leighton now holds sole possesion of third place on the league's all-time shutout list, moving ahead of Bobby Perrault

-Leighton sits seven shutouts behind Johnny Bower (1945-58) for the AHL all-time career record

-For the first time this season, Rockford allowed four goals in back-to-back games on Saturday and Sunday

-Saturday's shutout loss was the second time the IceHogs were blanked this season, including a 1-0 shootout loss in Toronto on Oct. 19

-It was the first time Rockford was held scoreless at home since a 4-0 loss to Peoria on March 16, 2013

-Even with getting shut out on their Teddy Bear Toss night, the IceHogs still managed to collect over 2,200 stuffed animals for local charites

-Since their five-game winning streak from 11/16-11/26, Rockford is just 1-2-2-0 over their past five outings

-Despite the slowdown, Rockford is still tied for the most points in the AHL (35) with Utica and Springfield through nine weeks

-After Sunday's home tilt against Lake Erie, the IceHogs won't play a home game for 19 days running through Dec. 26

-The time away from the BMO Harris Bank Center includes six-straight road games, a season high

-Over his last six games, defenseman Ville Pokka has 3g-3a-6pts

-Klas Dahlbeck became the 67th former IceHogs player to play in the NHL after skating in Rockford

-Dahlbeck also became the fourth different IceHogs skater to make his NHL debut this season

-Rockford is 5-4-0-0 on Saturdays this season and 11-2-2-1 on every other day

-The IceHogs power play is 1-26 (3.8%) over their past seven games

-During that same timespan, the IceHogs penalty kill is 3-28 (89.7%)

-Over the club's past 11 games, Rockford's penalty kill is 4-45 (91.1%) dating back to 11/15/14

Hot Hog: Week 9
Garret Ross Right Wing (4g, +5)

Second-year forward Garret Ross collected four goals in Week 9 to surge to the team lead in lamp lighters with 10 overall on the season. Ross began the week with his seventh goal of the campaign helping the Hogs to a 4-0 win in Milwaukee on Thursday. After getting held off the stat sheet on Saturday against Grand Rapids, Ross notched his second hat trick of the season on Sunday against Lake Erie. For the week, Ross finished with a plus/minus rating of +5 and overall this season, the forward has 10g-7a-17pts in 25 games, ranking second on the Hogs in scoring.

Upcoming Games:
Wednesday, Dec. 10, at Milwaukee Admirals: Game begins at 7 p.m.The IceHogs make another mid-week trip to the BMO Harris Bradley Center to tangle with the Admirals. The road matchup is the first leg of a six-game road swing for Rockford.

Friday, Dec. 12, at Lake Erie Monsters: Face-off is set for 6:30 p.m. After meeting the Monsters three times at home, Rockford makes its first visit to Cleveland to take on Lake Erie at Quicken Loans Arena. In their AHL history, the IceHogs are 10-4-1-0 on the road against the Monsters.

Saturday, Dec. 13, at Lake Erie Monsters: Game starts at 6 p.m. The IceHogs and Monsters meet for the third time in seven days as their weekend doubleheader wraps up at Quicken Loans Arena.

Bud Light Hog Talk Monday Night At Mulligan's and Grill:
Bud Light Hog Talk is back on Monday, Dec. 8 at Mulligan's Pub and Grill from 6-7 p.m. Mulligan's is located on North Main St. Fans can join Mike Peck or TJ Hogan from 6-7 p.m. on most Mondays throughout the season, as they chat with IceHogs players, coaches and front office members. This week's guests will include IceHogs forward Brandon Mashinter and Head Coach Ted Dent. Take advantage of food and Bud Light specials at Mulligan's. The show will be re-aired on Tuesdays from 7-8 p.m. on WIFR's 23.2 "Antenna TV."

The IceHogs Broadcasting Network:
Catch every IceHogs game, home and road, in 2014-15 on WIFR's 23.2, "Antenna TV." The games can also be viewed on Comcast Cable channel 436, Charter Cable channel 193 or Mediacom 101 in the Rockford market and online through AHLLive.com. Fans can also listen to the action for free on AHLLive.com. For a complete listing of TV stations carrying IceHogs games, visit IceHogs.com. Every broadcast will start with the IceHogs Warm Up 30 minutes prior to puck drop.

Tickets On Sale for 2014-2015!
IceHogs individual game tickets are now on sale! Call (815) 968-5222 to reserve your seats for any IceHogs regular season game during the 2014-15 season. Tickets can also be purchased online at IceHogs.com, in person at the BMO Harris Bank Center Box Office in downtown Rockford, or any Ticketmaster outlet, including Walmart.