WEEK 8 REPORT: HOGS HOST RAMPAGE BEFORE TRAVELING TO TEXAS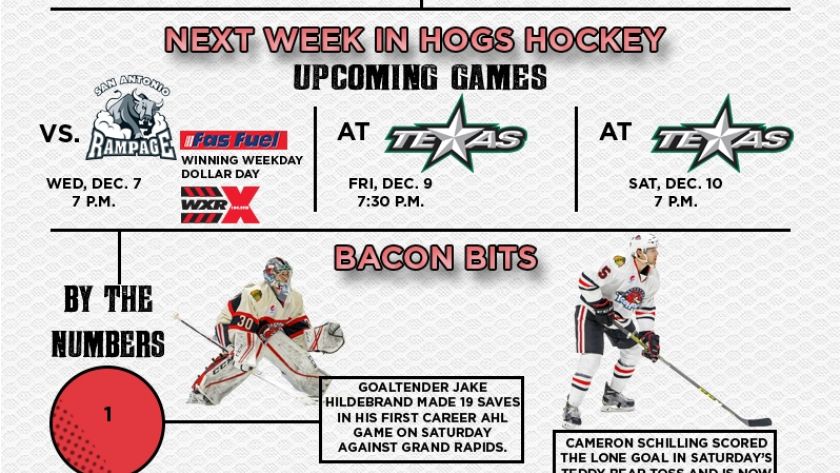 Bacon Bits:

-Tanner Kero has points in six of his last nine games since Nov. 13. He leads the team with eight points (2g, 6a) in that time.

-The IceHogs have scored at least one power-play goal in four straight home games and their 11 total power-play goals at home are the seventh-most in the AHL.

-Rockford is averaging 31.09 shots/game and has totaled 30+ shots in 14 of its 21 games. The IceHogs currently rank third in the league in total shots (684) and ninth in shots per game.

-The IceHogs have allowed 3+ goals in seven straight games since Nov. 19 (vs. Texas). Rockford has just one win in that span (1-4-0-2) and has allowed a combined total of 28 goals (4.0g/game).

-Rockford began this previous week with its third shootout in four home games, and its fourth shootout on home ice this season. The IceHogs join Providence as the AHL's lone two teams with four shootouts thus far.

-Goalie Jake Hildebrand recorded 19 saves in his AHL debut Saturday (Dec. 3) vs. Grand Rapids. Hildebrand was Michigan State University's only four-time Team MVP prior to going 7-4 with a 2.89 GAA in 14 games with the Indy Fuel this season.

-Defenseman Cameron Schilling scored the Hogs' lone goal Saturday and is now tied for the team lead with five goals on the season.

-Defenseman Viktor Svedberg tied a team season-high streak with points in four straight games (2g, 2a) from Nov. 23-30. Spencer Abbott and Ville Pokka also notched four-game streaks this year.

-The IceHogs finished their annual Teddy Bear Toss with 3,491 stuffed animals collected for donation.

-The IceHogs are eighth in the Central Division with a 7-12-1-2 record (17 points)

Upcoming Games:
Wednesday, December 7 vs. San Antonio Rampage: The IceHogs (7-12-1-2) welcome the San Antonio Rampage (9-11-1-0) for the teams' first matchup of the 2016-17 season. After every IceHogs home win on a weekday game (Monday – Thursday), all fans in attendance can redeem their game ticket for a FREE ticket of equal or lesser value to the next weekday game. Also, one lucky fan in attendance will WIN a $50 gas card courtesy of Fas Fuel. It is also WXRX Dollar Days where fans can take advantage of $2 beers, soft drinks, hot dogs and companion tickets.

Friday, December 9 at Texas Stars: Face-off is set for 7:30 p.m. The IceHogs hit the road for back-to-back games against the Texas Stars (11-8-1-1). Rockford is unbeaten on Texas' home ice through each of the last four seasons and is currently riding an eight-game win streak on the road against the Stars.

Saturday, December 10 at Texas Stars: Puck drop is at 7 p.m. The Hogs conclude their short two-game road trip with the back end of their series at the Texas Stars. Rockford will then enjoy a six-day respite from its hockey schedule before returning to the ice the following Saturday (Dec. 17) vs. the Manitoba Moose.

Bud Light Monthly Monday Hog Talk At Vintage 501:
Bud Light Hog Talk's third segment at Vintage 501 will be tonight, Dec. 5 from 6-7 p.m. The third show will feature Cameron Schilling, Pierre-Cedric Labrie and head coach Ted Dent. Vintage 501 is located in downtown Rockford at 501 E. State St. Fans can join broadcaster Bob Mills and Kevin Peters from 6-7 p.m. on the first Monday of every month throughout the season as the duo chats with IceHogs players, coaches and front office members. For those unable to attend the show in-person, Monday's show will be streaming live on WXRX.com. "Bud Light Hog Talk" will also be available on www.icehogs.com following the live show. Fans can access the podcast through the "Audio Highlights" link in the "Multimedia" menu.

The IceHogs Broadcasting Network:
Catch every IceHogs game, home and road, in 2016-17 on WIFR's "Justice Network" on 23.3. The games can also be viewed on Comcast Cable channel 434, Charter Cable channel 194 or Mediacom 102 in the Rockford market and online through AHLLive.com. Every TV broadcast will start with "IceHogs Warm Up" 30 minutes prior to puck drop. Fans can also listen to the action for free at WXRX.com and sportsfanradio1330.com. A select number of games will be aired on Sports Fan 1330 AM throughout the season, including Saturday's game in Texas. For a complete listing of TV stations carrying IceHogs games, visit IceHogs.com, and for the complete schedule of radio broadcasts, visit sportsfanradio1330.com.

Tickets On Sale for 2016-2017!
IceHogs individual game tickets are now on sale! Call (815) 968-5222 to reserve your seats for any IceHogs regular season game during the 2016-17 season. Tickets can also be purchased online at IceHogs.com, in person at the BMO Harris Bank Center Box Office in downtown Rockford or at any Ticketmaster outlet, including Walmart.