WEEK 7 RECAP - POINT STREAK SNAPPED BUT ICEHOGS REBOUND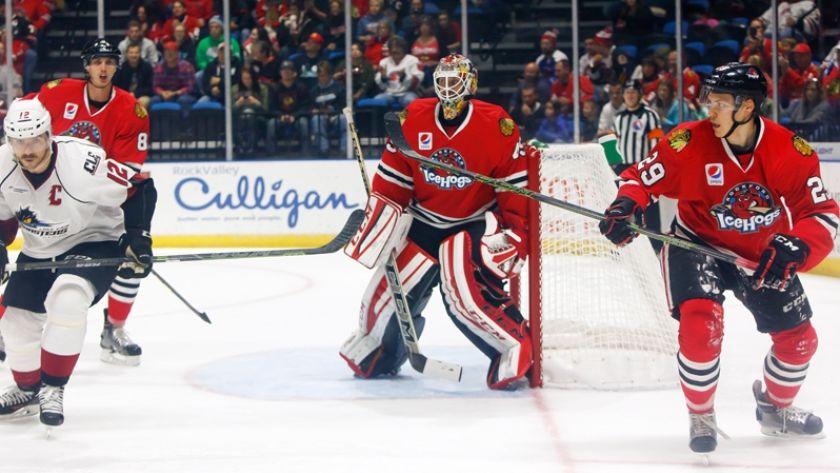 Week 7 Recap:

After picking up points in 10 consecutive games, the Rockford IceHogs finally fell in regulation to the Grand Rapids Griffins on Wednesday. The IceHogs rebounded, though, and battled back to pick up a point in a shootout loss to the Milwaukee Admirals on Friday in the final contest of a four-game road trip before defeating the Central Division leading Lake Erie Monsters in a 3-1 decision at home on Sunday. Rockford has earned a point in 12 of its last 13 games, and carries a 10-4-1-2 record into Week 8.

Week 7 Results:

Wednesday, November 18: Rockford 2 at Grand Rapids 3
Friday, November 20: Rockford 1 at Milwaukee 2 (SO)
Sunday, November 22: Lake Erie 1 vs. Rockford 3

Week 8 Schedule:

Wednesday, November 25 vs. San Antonio, 7 p.m.
Friday, November 27 vs. Chicago, 7 p.m.
Saturday, November 28 at Milwaukee, 7 p.m.

Bacon Bits:

-Despite losing their 10-game point streak in a regulation defeat at the hands of the Grand Rapids Griffins, the IceHogs picked up points in their next two contests and have earned a point in 12-of-13
-Rockford snapped Lake Erie's four-game winning streak on Sunday
-With Sunday's win, Rockford improved to 8-0-0-0 when leading after two periods
-Michael Leighton stopped 28 shots en route to the victory, which put him in a tie for first with Peter Budaj for the AHL lead in victories (9)
-The IceHogs nearly matched their best 15-game start (10-4-0-1, 2014-15 season) but came up just short, finishing 9-4-1-1 through their first 15 games this season
-Before falling behind by two goals to the Griffins on Wednesday, the IceHogs had not trailed by more than one goal for 10 consecutive games
-The IceHogs penalty kill has been spectacular thus far in November; it has only allowed three goals in 34 chances against (91.2%)
-Two of the power play goals against came versus Milwaukee in a 3-2 shootout loss on Nov. 7
-Rockford went 6-for-6 on the penalty kill against Lake Erie on Sunday, which entered the game with the fifth-ranked power play in the AHL
-Jake Dowell's game-winning shorthanded tally on Sunday marked the third time the IceHogs have scored shorthanded this season
-Two of the three shorthanded goals Rockford has scored this season stood as game-winners; the other came from Pierre-Cedric Labrie at Grand Rapids on Nov. 6
-Dowell also scored his 50th professional goal on Wednesday in the loss to Grand Rapids
-Ryan Hartman has scored in consecutive games and has points in eight of his last 10
-Daniel Paille assisted on Dowell's shorthanded goal for his first point with Rockford
-Dane Walters picked up his first goal of the year when he struck first for the IceHogs against the Monsters
-Josh Brittain assisted on the goal, earning his first point as a member of the IceHogs after signing a PTO on Friday
-Bryan Bickell saw his five-game point streak (4g-4a-8pts) snapped when he was held off the scoresheet against the Admirals
-Bickell earned at least a goal or an assist in his first five games with Rockford, but went scoreless versus Milwaukee and Lake Erie
-Pierre-Cedric Labrie rounded up a personal season-high nine penalty minutes in the win over the Monsters

Hot Hog: Week 7

Jake Dowell Center (3GP, 2G, 0A, 2PTS, +2, 5 PIM)

Jake Dowell entered the 2015-16 campaign needing just one tally to reach 50 career professional goals. The veteran center picked up two in one week, tying the game against Grand Rapids on Wednesday before scoring shorthanded versus Lake Erie on Sunday. Dowell's marker against the Monsters could not have been timelier; it gave the IceHogs a two-goal lead and ultimately served as the game-winner. He leads Rockford with a +7 plus/minus rating.


Upcoming Games:

Wednesday, November 25 vs. San Antonio Rampage: Game starts at 7 p.m.The IceHogs welcome the Rampage to the BMO Harris Bank Center on another "Winning Weekday." Every time the IceHogs win at home on a weekday, each fan in attendance will receive a free ticket to the next weekday game. Fans can also enjoy $2 beers, sodas, hot dogs, and companion tickets.

Friday, November 27 vs. Chicago Wolves: Face-off is at 7 p.m. The IceHogs play the Wolves for the second time this year in an Illinois Lottery Cup showdown after taking a 4-3 decision at the BMO on Oct. 23. Rockford will wear specialty "Ugly Holiday Sweater" jerseys with a postgame auction for select game-worn sweaters with proceeds benefitting Brovember. The IceHogs will also try to set a Guinness World Record for most mustaches in one location when they invite all fans with facial hair onto the ice for a group picture after the game.

Saturday, November 28 at Milwaukee Admirals: Puck drop is at 7 p.m. The IceHogs face Admirals for the fourth time this season and the third time in Milwaukee. Rockford carries a 1-0-1-1 record against their divisional opponent heading into the matchup.

Bud Light Monthly Monday Hog Talk At Vintage 501:

Bud Light Hog Talk returns on Monday, November 30 at Vintage 501 from 6-7 p.m. Vintage 501 is located in downtown Rockford at 501 E. State St. Fans can join Bob Mills or Kyle Stuetzel from 6-7 p.m. on the last Monday of every month throughout the season. This month, they will chat with Ted Dent, Cameron Schilling, and Erik Gustafsson. Take advantage of food and Bud Light specials at Vintage 501. The show will be re-aired on Tuesdays on WIFR's "Justice Network" on 23.3 from 6-7 p.m.

The IceHogs Broadcasting Network:

Catch every IceHogs game, home and road, in 2015-16 on WIFR's "Justice Network" on 23.3. The games can also be viewed on Comcast Cable channel 434, Charter Cable channel 194 or Mediacom 102 in the Rockford market and online through AHLLive.com. Every broadcast on WIFR will start with "IceHogs Warm Up" 30 minutes prior to puck drop. Fans can also listen to the action for free at WXRX.com. For a complete listing of TV stations carrying IceHogs games, visit IceHogs.com.

Tickets on Sale for 2015-16!

IceHogs individual game tickets are now on sale! Call (815) 968-5222 to reserve your seats for any IceHogs regular season game during the 2015-16 season. Tickets can also be purchased online at IceHogs.com, in person at the BMO Harris Bank Center Box Office in downtown Rockford, or any Ticketmaster outlet, including Walmart.