WEEK 7 RECAP: ICEHOGS PULL OFF WEEKEND SWEEP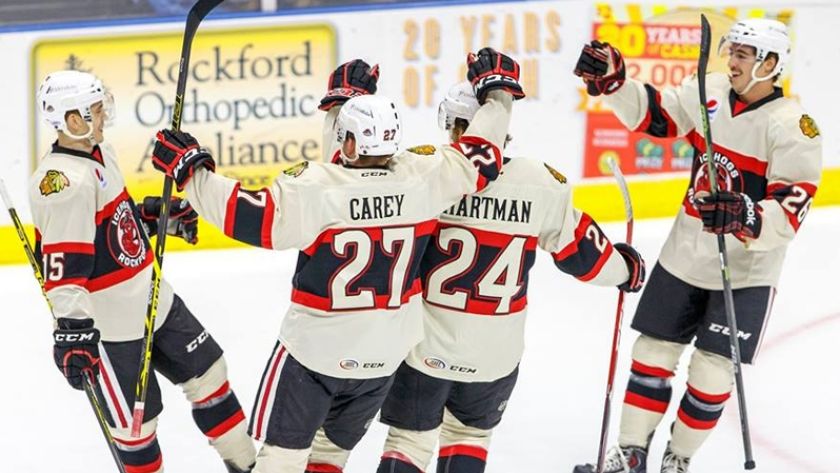 Rockford takes six points in three nights, capped with victories over Milwaukee and Chicago

Week 7 Recap:
The IceHogs were not hampered by their second straight weekend playing three games in as many nights, coming out of Week 7 with a big sweep to retain the best record in the AHL (14-4-0-1). Rockford came from behind to defeat Iowa 4-3 on Friday before taking down a pair of Midwest Division foes, beating Milwaukee 3-2 on home ice Saturday before knocking off Chicago 3-0 on Sunday.

Week 7 Results:
Friday, Nov. 21, Iowa 3 vs. Rockford 4 (OT)
Saturday, Nov. 22, Milwaukee 2 vs. Rockford 3
Sunday, Nov. 23, Rockford 3 at Chicago 0
Week 8 Schedule:
Wednesday, Nov. 26, vs. Iowa, 7 p.m.
Friday, Nov. 28, vs. Chicago, 7 p.m.
Saturday, Nov. 29, at Chicago, 7 p.m.

Bacon Bits:
-Goaltender Mac Carruth recorded his first-career AHL shutout on Sunday, making 23 saves in Rockford's 3-0 win over Chicago

-It was Carruth's first appearance in the AHL this season after backing up for Rockford for 10 games

-The shutout was the first for Rockford in a victory since 2/20/13 when Carter Hutton made 35 saves in a 4-0 blanking of Peoria

-Each of Rockford's last five shutouts, including Michael Leighton's on 10/19/14 in Toronto in a 1-0 shootout loss, have come on the road

-After Sunday's shutout in Chicago, Rockford now has a goals against average of 2.16, third best in the AHL

-Last season, Rockford ranked 29th in the AHL, allowing 3.45 goals per contest

-Sunday's win broke a five-game skid at Allstate Arena

-Rockford has won 12 of their last 14 games

-At the quarter mark of the 2014-15 regular season, Rockford has a record of 14-4-0-1 through 19 games, the club's best record during the AHL era and tied for the best mark through 19 games in franchise history (2005-06)

-The IceHogs road penalty kill (3/40) is third best in the AHL at 92.5%

-Rockford's home penalty kill (7/31) is 28th, or third worst in the AHL at 77.4%

-Forward Ryan Schnell scored his first points of the season on Friday, grabbing a goal and an assist against Iowa, while completing the Gordie Howe hat trick with a scrap against Joel Rechlicz

-Schnell added an assist on Saturday, giving him three points on the weekend

-Zach Miskovic, who is listed as a defenseman, skated as a winger for much of Saturday and Sunday, picking up an assist against Milwaukee

-Defenseman T.J. Brennan picked up a goal and an assist over the weekend, giving him points in nine of his last 11 games (3g-9a)

-Brennan's 13 total points (4g-9a) places him at a tie for fourth in league scoring by defensemen

-Goaltender Scott Darling, picked up wins number six and seven on his season to begin the weekend

-Darling is ranked in the AHL's top five when it comes to wins (T-5th), save percentage (.932, T-5th) and goals against average (1.97, 5th)

-Rockford's victory over Milwaukee broke an eight-game losing streak over their rival, dating back to Feb. 22 of last season

-Defenseman Adam Clendening and forward Phillip Danault received their first career recalls to Chicago this week, becoming the 65th and 66th IceHogs alumni to go on to play in the NHL

-Clendening became the sixth IceHogs alum to notch a goal in his NHL debut

Hot Hog: Week 7
Ryan Schnell Left Wing (1g-2a, 18 PIM, +2)

Forward Ryan Schnell got off to a hot start in Week 7. The 25 year-old put Rockford on the board against Iowa on Friday, then helped set up Ryan Hartman for the game-tying goal. He also added a fight in the IceHogs 4-3 overtime win over Iowa to complete the Gordie Howe hat trick. The Cary, Ill. native followed up his performance on Saturday with his second assist of the season and dropped the gloves with Milwaukee's Michael Liambas. In all, Schnell finished the weekend with three points (1g-2a), 18 penalty minutes and a plus/minus rating of +2, helping Rockford to a perfect three-game weekend sweep.

Upcoming Games:
Wednesday, Nov. 26, vs. Iowa Wild: Game begins at 7 p.m. The IceHogs join forces with the Brovember Beard-A-Thon to try and set a World Record for the most mustached in one building, after Rockford's matchup with Iowa. Along with the world record attempt, the IceHogs will be wearing specialty Brovember jerseys to commemorate men's health awareness.

Friday, Nov. 28, vs. Chicago Wolves: Face off is set for 7 p.m. The Brovember festivities continue into the first half of an Illinois Lottery Cup home-and-home series against the Wolves. The IceHogs will once again be wearing their specialty jerseys, a few of which will be available via silent auction with proceeds benefitting Healing Pathways Cancer Resource Center. The fun begins with another Blues Flame Lounge Pre-Game Party, beginning at 5:15 (21-and-up only).

Saturday, Nov. 29, at Chicago Wolves: Game starts at 7 p.m. The IceHogs finish their weekend with their third meeting with the Wolves in less than a week, in a Saturday night showdown at Allstate Arena. Rockford won their previous tilt in Rosemount 3-0 last Sunday.

Bud Light Hog Talk Monday Night At Mulligan's and Grill:
Bud Light Hog Talk is back on Monday, Nov. 24 at Mulligan's Pub and Grill from 6-7 p.m. Mulligan's is located on North Main St. Fans can join Mike Peck or TJ Hogan from 6-7 p.m. on most Mondays throughout the season, as they chat with IceHogs players, coaches and front office members. This week's guests will include IceHogs forward Teuvo Teravainen and Head Coach Ted Dent. Take advantage of food and Bud Light specials at Mulligan's. The show will be re-aired on Tuesdays from 7-8 p.m. on WIFR's 23.2 "Antenna TV."

The IceHogs Broadcasting Network:
Catch every IceHogs game, home and road, in 2014-15 on WIFR's 23.2, "Antenna TV." The games can also be viewed on Comcast Cable channel 436, Charter Cable channel 193 or Mediacom 101 in the Rockford market and online through AHLlive.com. Fans can listen to the action for free on AHLlive.com. For a complete listing of TV stations carrying IceHogs games, visit IceHogs.com. Every broadcast will start with the IceHogs Warmup 30 minutes prior to puck drop.

Tickets On Sale for 2014-2015!
IceHogs individual game tickets are now on sale! Call (815) 968-5222 to reserve your seats for any IceHogs regular season game during the 2014-15 season. Tickets can also be purchased online at IceHogs.com, in person at the BMO Harris Bank Center Box Office in downtown Rockford, or any Ticketmaster outlet, includating Walmart.