WEEK 6 REPORT: ROAD HOGS OPEN TRIP WITH BACK-TO-BACK WINS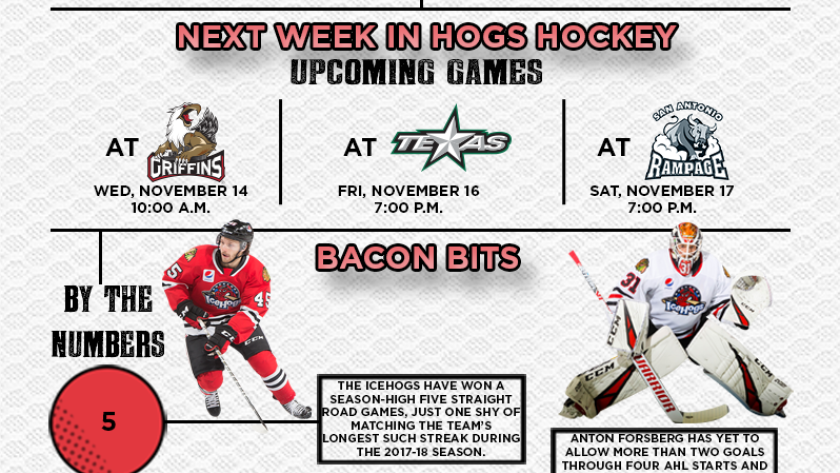 ---
BACON BITS:
-The Rockford IceHogs rebounded from a 3-0 shutout during their annual School Day Game to win each of the next two contests at Milwaukee and Chicago last week. The IceHogs have won a season-high five straight road games and have points over a season-high six straight road games since Oct. 19 (5-0-1-0 in that span). The road win streak is just one shy of matching the team's longest such streak during the 2017-18 season (went 6-0-0-0 from 3/17-4/6).
-Rockford has also notched points in 11 of the last 13 games since Oct. 13. The IceHogs are 8-2-1-2 over that span to move into second place in the Central Division behind only Milwaukee.
-The IceHogs were the second-to-last team in the AHL to notch a win in one-goal games this season but have since won three of the last four contests decided by a lone tally. Rockford is now 3-0-0-1 over its last four one-goal games after beginning the season 0-1-1-1 in such contests.
-Defenseman Darren Raddysh led the team in scoring last week with three points (1g, 2a) in three games. The blueliner logged just one multi-point effort in 66 games last year and has already surpassed that total with four multi-point games this season. He shares the team lead in multi-point games and total scoring this season (also Dylan Sikura), and currently ranks tied for sixth among AHL defenseman in points (4g, 8a).
-Forward Justin Auger signed a PTO with Rockford last Thursday and scored a goal in each of his first two games with the IceHogs. Auger scored Rockford's first goal in both games this weekend and finished the pair of contests with two points, six shots and a +2 plus/minus rating. The forward has scored 10+ goals and registered 100+ shots in each of his four full seasons in the AHL from 2014-18 (with Ontario/Manchester).
-Goaltender Anton Forsberg stopped 19 of 20 shots against Milwaukee to extend his winning streak to three straight games. Forsberg has yet to allow more than two goals through four AHL starts and enters the week ranked second in the AHL with both his 1.75 GAA and .933 save percentage.
---
UPCOMING GAMES:
Wednesday, Nov. 14 | Rockford at Grand Rapids (10 a.m.) The Rockford IceHogs travel to Grand Rapids for the Griffins' annual School Day Game. Rockford went 6-3-1-0 against the Griffins last season.
Friday, Nov. 16 | Rockford at Texas (7 p.m.) The IceHogs continue their six-game road trip with their second matchup of the season against the Stars. Rockford defeated the Stars 5-3 in the series opener on Oct. 13 at the BMO Harris Bank Center.
Saturday, Nov. 17 | Rockford at San Antonio (7 p.m.) Rockford travels to San Antonio for the second overall matchup in its 2018-19 series against the Rampage. The IceHogs upended San Antonio 5-2 in the series opener on Oct. 24 in the Forest City.
---
BUD LIGHT MONTHLY MONDAY HOG TALK AT VINTAGE 501:
Bud Light Hog Talk returns to Vintage 501 on Monday, Dec. 3. Vintage 501 is located in downtown Rockford at 501 E. State St. Fans can join broadcaster Joseph Zakrzewski from 6-7 p.m. on the first Monday of every month throughout the season as the duo chats with IceHogs players, coaches and front office members. For those unable to attend the show in-person, Monday's show will be streaming live on IceHogs.com. "Bud Light Hog Talk" will also be available on www.icehogs.com following the live show. Fans can access the podcast through the "Audio Highlights" link in the "Multimedia" menu. The expected guests next month will be announced at a later date.
---
ICEHOGS BROADCASTING NETWORK:
Catch the IceHogs this season on WIFR's 23.2 Antenna TV. The games can also be viewed on Comcast Cable channel 434, Charter Cable channel 194, Dish Network channel 252 or Mediacom 102 in the Rockford market and online through watchtheAHL.com. Each TV broadcast will start with "IceHogs Warm Up" 30 minutes prior to puck drop. Fans can also listen to the action for free at sportsfanradio1330.com, facebook.com/rockfordicehogs and IceHogs.com. For a complete listing of TV stations carrying IceHogs games, visit IceHogs.com, and for the complete schedule of radio broadcasts, visit sportsfanradio1330.com.
---
TICKETS ON SALE FOR 2018-19!
IceHogs individual game tickets can be purchased by calling (815) 968-5222 to reserve your seats for any regular season home game during the 2018-19 season. Tickets can also be purchased online at IceHogs.com, in person at the BMO Harris Bank Center Box Office in downtown Rockford or at any Ticketmaster outlet, including Walmart.