WEEK 6 RECAP: ROCKFORD TAKES ONE OF THREE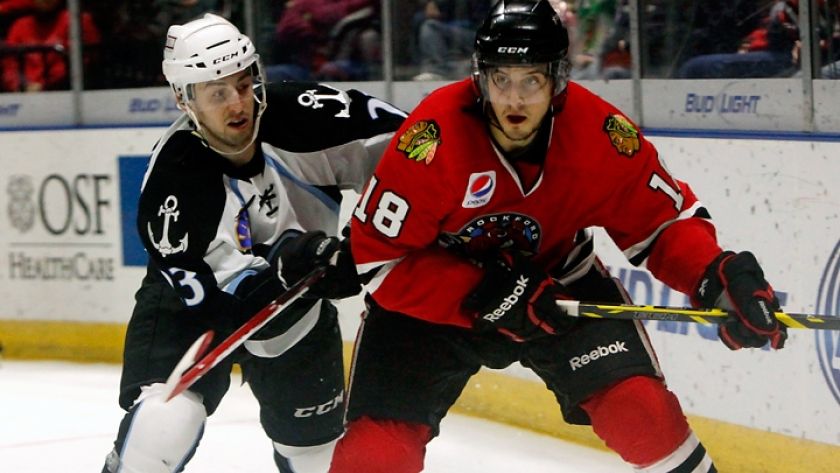 IceHogs bounce back from consecutive losses to beat defending champs on Sunday

Week 6 Recap:
Rockford's AHL franchise record eight game winning streak came to a halt as the IceHogs dropped both sides of a home-and-home series with Milwaukee to begin their first three-in-three set of the season. After taking tough 4-1 and 2-1 losses to the Admirals, Rockford rebounded to take down the 2014 Calder Cup Champion Texas Stars 3-2 at the BMO Harris Bank Center, ending the busy weekend on a high note.
Week 6 Results:
Friday, Nov. 14, Milwaukee 4 vs. Rockford 1
Saturday, Nov. 15, Rockford 1 at Milwaukee 2
Sunday, Nov. 16, Texas 2 vs. Rockford 3

Week 7 Schedule:
Friday, Nov. 21, vs. Iowa, 7 p.m.
Saturday, Nov. 22, vs. Milwaukee, 7 p.m.
Sunday, Nov. 23, at Chicago, 4 p.m.

Bacon Bits:
-Rockford's eight game winning streak, which ended with Friday's loss to Milwaukee, was the longest unbeaten streak since the 2008-09 season, setting an AHL franchise record

-The previous longest winning streak came when the IceHogs won six straight from Oct. 12 to Oct. 26, 2008

-Through 16 games this season, Rockford has four regulation losses, and three of them are against the Milwaukee Admirals

-Rockford has scored four goals in the three losses to Milwaukee, an average of 1.33 goals per contest

-In the IceHogs other 13 contests, the club is averaging 3.54 goals per outing

-Friday and Saturday's losses were the first two times this season Rockford has been held to a single goal

-Overall, Rockford has dropped eight straight against the Admirals dating back to March 7 and the IceHogs have scored just 16 goals in those eight losses

-The two losses to Milwaukee extended Rockford's winless streak against the Admirals to eight games, dating back to last season

-Rockford was whistled for a season-high 45 penalty minutes in Saturday night's loss in Milwaukee

-Defenseman Klas Dahlbeck logged 19 penalty minutes in the game, a season-high for one player

-Brandon Mashinter's second-period power play goal against Texas was the first goal the IceHogs scored with the man advantage at home since their 5-4 OT win against Lake Erie on Nov. 4, and just the second this season

-Defenseman T.J. Brennan has points in seven of his last eight games, totaling 2g-8a-10pts with a plus/minus rating of +7

-Brennan leads all Rockford skaters and ranks second among all AHL defensemen with an overall plus/minus rating of +12

-Brennan tied an individual season-high in shots on goal with seven against Texas on Sunday, and leads Rockford with 44 shots through 15 games played

-Center Mark McNeill had his team season-high six-game point streak snapped on Saturday in Milwaukee after racking up 7g-4a-11pts during his hot stretch

-McNeill also sustained a lower body injury in Saturday's game and did not play on Sunday, snapping his 91 consecutive games played streak dating back to 4/20/13, the longest active streak on the IceHogs

-Goaltender Antti Raanta turned aside 33 shots to pick up the win on Sunday, in his first start after being assigned to Rockford the previous day

-Raanta's last win for the IceHogs came exactly one year earlier, in a 4-2 victory against San Antonio on Nov. 16, 2013

-Rockford had their nine game streak of scoring a third period goal snapped on Friday against Milwaukee

-In those nine contests, Rockford had tallied 16 times, an average of 1.78 goals per third frame

-The IceHogs accumulated a single-game (regulation) season-high 45 shots on goal on Sunday, marking the third time in six games the IceHogs eclipsed the 40 shot total

-Rockford ranks seventh in the AHL, averaging 31.5 shots on goal per game

-Pierre-Cedric Labrie played in his 400th-career AHL game on Sunday

Hot Hog: Week 6
Teuvo Teravainen Center (1g-2a)
First year center Teuvo Teravainen picked up three points in three games during Week 6 for Rockford. On Saturday in Milwaukee, Teravainen potted his second goal of the season, Rockford's lone marker in a 2-1 loss. Then on Sunday, the Finnish center marked two primary assists to help lead the IceHogs to a 3-2 win over the Texas Stars. Overall this season, Teravainen has 2g-8a-10pts in 14 games with the IceHogs.

Upcoming Games:
Friday, Nov. 21, vs. Iowa Wild: Game begins at 7 p.m. The IceHogs' second meeting with the Wild kicks off with another Blues Flame Lounge Pre-Game Party at the BMO. All ticketed fans 21-and-up can arrive early to enjoy free appetizers, live music and drink specials before enjoying the game. Doors open at 5:15 p.m.

Saturday, Nov. 22, vs. Milwaukee Admirals: Face off is set for 7 p.m. The IceHogs try to break their skid against Milwaukee when they meet for the third time in seven days. Fans can stick around after the game to take a shot from center ice for a chance to win prizes courtesy of Papa John's.

Sunday, Nov. 23 at Chicago Wolves: Game starts at 4 p.m. Rockford makes its first visit to Allstate Arena to play the second of twelve against their intrastate rivals in an Illinois Lottery Cup matchup. The IceHogs are hoping to improve upon their 1-4-0-1 record in Rosemount a year ago.

Bud Light Hog Talk Monday Night At Mulligan's and Grill:
Bud Light Hog Talk is back on Monday, Nov. 17 at Mulligan's Pub and Grill from 6-7 p.m. Mulligan's is located on North Main St. Fans can join Mike Peck or TJ Hogan from 6-7 p.m. on most Mondays throughout the season, as they chat with IceHogs players, coaches and front office members. This week's guests will include IceHogs defenseman Kyle Cumiskey and General Manager of Minor League Affiliates Mark Bernard. Take advantage of food and Bud Light specials at Mulligan's. The show will be re-aired on Tuesdays from 7-8 p.m. on WIFR's 23.2 "Antenna TV."

The IceHogs Broadcasting Network:
Catch every IceHogs game, home and road, in 2014-15 on WIFR's 23.2, "Antenna TV." The games can also be viewed on Comcast Cable channel 436, Charter Cable channel 193 or Mediacom 101 in the Rockford market and online through AHLlive.com. Fans can listen to the action for free on AHLlive.com. For a complete listing of TV stations carrying IceHogs games, visit IceHogs.com. Every broadcast will start with the IceHogs Warmup 30 minutes prior to puck drop.

Tickets On Sale for 2014-2015!
IceHogs individual game tickets are now on sale! Call (815) 968-5222 to reserve your seats for any IceHogs regular season game during the 2014-15 season. Tickets can also be purchased online at IceHogs.com, in person at the BMO Harris Bank Center Box Office in downtown Rockford, or any Ticketmaster outlet, includating Walmart.