WEEK 6 RECAP: ROCKFORD SECURES TWO VICTORIES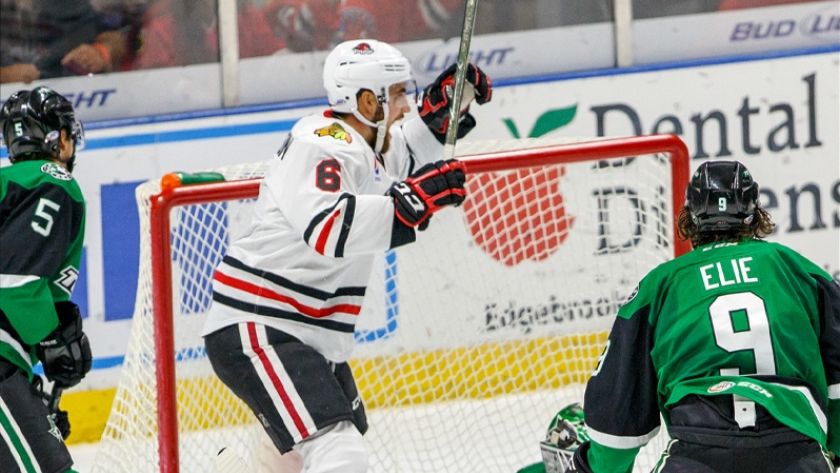 Week 6 Results:
Wednesday, November 16, Rockford 3 at Iowa 1
Saturday, November 19, Texas 4 vs. Rockford 5 (SO)

Week 7 Schedule:
Wednesday, November 23 vs. Cleveland, 7 p.m.
Friday, November 25 vs. Milwaukee, 7 p.m.
Saturday, November 26 at Chicago, 7 p.m.

Week 6 Recap:
The IceHogs earned a victory on the road and at home last week. Rockford traveled to Des Moines, Iowa on Wednesday to face the Wild for their second meeting of the season, taking home a 3-1 win, the IceHogs then hosted the Texas Stars for the first meeting between the two teams and secured a 5-4 shootout victory.


Bacon Bits:
- Rockford has moved up to 5th place in the Central Division going into Week 7
- The IceHogs are now 5-2-0-0 at the BMO Harris Bank Center this season
- Netminder Lars Johansson set a Rockford season high for saves in a single game with 43 on Saturday vs. Texas
- Johansson leads the league in goaltending minutes at 739:33 in 13 games he's skated in
- Spencer Abbott (4g, 7a) and Mark McNeill (3g, 8a) lead the IceHogs with 11 points
- Rockford now has 13 players who have each notched a goal in the 2016-17 season
- Pierre-Cedric Labrie notched his 100th career professional assist on Nov. 19
- The IceHogs have now secured victories in their two shootout contests of the season
- Blueliner Erik Gustafsson ranks third among the league's defensemen in shots, with 49 sitting after Week 6
- Gustafsson has now fired at least one shot on goal in each of his 16 games this season, and multiple shots in 12 of those 16 games
- Gustafsson has recorded multiple shots in 12 of those 16 games
- After Week 6, Carl Dahlstrom ranks third among the league's defensemen with a shooting percentage of 18.8, notching three goals on 16 shots
- The IceHogs will not have another set of three games in three days until January 5-8, when they play at Chicago, at Grand Rapids and then face the Wolves at home

Hot Hog: Week 6
Erik Gustafsson Defense (2GP, 2G, 2pts, +1, 7 SH, 2 PIM)

Defender Erik Gustafsson helped the IceHogs secure a 5-4 shootout victory against the Texas Stars Saturday night, adding two goals of his own early in the match up. Gustafsson notched seven shots between the two contests in Week 6 and is tied as the IceHogs shots on goal leader along with Mark McNeill with 49 shots. He ranks third amonth the league's defensemen with most shots on goal and has now fired at least one shot in each of the 16 games he's skated in, including 14 contests with multiple shots. Gustafsson has also notched four goals and four assists so far this season for the IceHogs and is tied with Ville Pokka in fourth place among point leaders with eight points. The Blueliner split time in Rockford and Chicago last season and skated in 27 games for the IceHogs (11 points (3g, 8a)).

Upcoming Games:
Wednesday, November 23 vs. Cleveland Monsters: Game time is 7 p.m. The IceHogs (7-8-1-0) host a mid-week match up with the Cleveland Monsters (5-8-1-1). Rockford is 1-2-0-0 against the Monsters and secured a 5-2 victory at home the last time the teams met on Oct. 23. It is the first Winning Weekdays, presented by Fas Fuel, and WXRX Dollar Days, giving fans the opportunity to take advantage of food and beverage specials.

Friday, November 25 vs. Milwaukee Admirals: Face-off is set for 7 p.m. The IceHogs host the Milwaukee Admirals (10-2-1-1) for the third match up of the season. Rockford defeated the Admirals in a 3-2 shootout victory for its home opener on Oct. 22, however later fell to Milwaukee 3-7 on Oct. 30. Friday is Military Appreciation Night and the IceHogs will be sporting specialty jerseys that will be auctioned off following the contest.

Saturday, November 26 at Chicago Wolves: Puck drop is at 7 p.m. at the Allstate Arena in Rosemont, Illinois. The IceHogs take on the Illinois Lottery Cup rival, the Chicago Wolves (6-7-1-1), for the third time of the 2016-17 season. Each teamhas taken home one win.

Bud Light Monthly Monday Hog Talk At Vintage 501:
Bud Light Hog Talk's third segment at Vintage 501 will be on Dec. 5 from 6-7 p.m. The third show will feature two IceHogs players and head coach Ted Dent. Vintage 501 is located in downtown Rockford at 501 E. State St. Fans can join broadcaster Bob Mills and Kevin Peters from 6-7 p.m. on the first Monday of every month throughout the season as the duo chats with IceHogs players, coaches and front office members. For those unable to attend the show in-person, Monday's show will be streaming live on WXRX.com. "Bud Light Hog Talk" will also be available on www.icehogs.com following the live show. Fans can access the podcast through the "Audio Highlights" link in the "Multimedia" menu.

The IceHogs Broadcasting Network:
Catch every IceHogs game, home and road, in 2016-17 on WIFR's "Justice Network" on 23.3. The games can also be viewed on Comcast Cable channel 434, Charter Cable channel 194 or Mediacom 102 in the Rockford market and online through AHLLive.com. Every TV broadcast will start with "IceHogs Warm Up" 30 minutes prior to puck drop. Fans can also listen to the action for free at WXRX.com and sportsfanradio1330.com. A select number of games will be aired on Sports Fan 1330 AM throughout the season, including Saturday's game against Chicago. For a complete listing of TV stations carrying IceHogs games, visit IceHogs.com, and for the complete schedule of radio broadcasts, visit sportsfanradio1330.com.

Tickets On Sale for 2016-2017!
IceHogs individual game tickets are now on sale! Call (815) 968-5222 to reserve your seats for any IceHogs regular season game during the 2016-17 season. Tickets can also be purchased online at IceHogs.com, in person at the BMO Harris Bank Center Box Office in downtown Rockford or at any Ticketmaster outlet, including Walmart.