WEEK 5 RECAP - SCORCHING HOGS KEEP ROLLING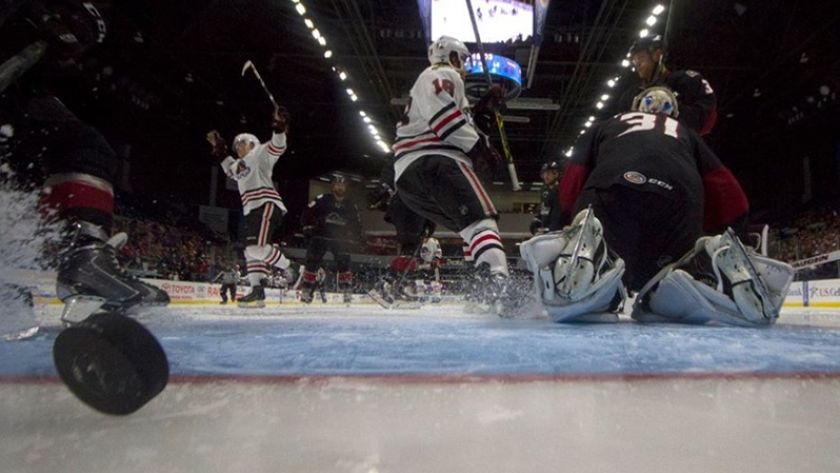 IceHogs take eight-game winning streak into Week 6

Week 5 Results:
Tuesday, Nov. 4, Lake Erie 4 vs. Rockford 5 (OT)
Thursday, Nov. 6, Rockford 5 at Iowa 3
Saturday, Nov. 8, Grand Rapids 1 vs. Rockford 3
Week 6 Schedule:
Friday, Nov. 14, vs. Milwaukee, 7 p.m.
Saturday, Nov. 15, at Milwaukee, 7 p.m.
Sunday, Nov. 16, vs. Texas, 4 p.m.

Week 5 Recap:
The IceHogs broke an AHL franchise record for consecutive wins as they took three more victories in Week 5 to grow their current streak to eight games. A stunning come-from-behind overtime triumph over Lake Erie on Wednesday gave the Hogs six in a row, matching their previous record, before they went on to roll past Iowa and Grand Rapids to close out the week's action.

Bacon Bits:

-With Rockford's seventh-straight win on Thursday, they set an AHL franchise record for consecutive wins, eclipsing their previous longest streak of six, set in 2008-09

-The IceHogs need four more victories to set their all-time franchise record, which currently stands at 11-straight, set from Jan. 18- Feb. 12, 2006, as members of the UHL

-Rockford's offense has been blazing as of late, scoring five or more goals in four of their last five contests

-The Hogs currently sit in fifth place in AHL scoring with 3.46 goals per game

-The IceHogs registered a season-high 46 shots against Lake Erie on Tuesday, and followed with 44 on Thursday in Iowa

-It was the first time Rockford has notched over 40 shots in two-straight games since Dec. 27 and Dec. 30 in 2013

-The 21 shots Rockford poured on net in the first period against Iowa were the most in a single frame by the IceHogs in 91 games, dating back to April 12, 2013, when they peppered Chicago with 25 shots in the second period of a 7-3 win

-Mark McNeill has now found the net in each of his last four games, picking up the game winner in three of them, tying him for the league lead

-McNeill has now tallied a point in five-straight games and in eight of his last nine, a stretch where he has piled up 14 points (9g-5a)

-The McNeill-Garret Ross-Phillip Danault forward unit combined for 10 points (6g-4a) and a +11 rating in Week 5

-Defenseman T.J. Brennan is riding a five game point streak into Week 6, during which he has collected seven points (1g-4a) and a +5 rating

-Goaltender Scott Darling has picked up the win in all five of his appearances this season

-Darling's 1.52 goals against average and .948 save percentage are both ranked in the top five among AHL goaltenders

-Michael Leighton is unbeaten in his last six appearances, picking up wins in five of them

-Peter Regin became the 64th former IceHog to play in the NHL as he was called up to the Blackhawks on Thursday

-Head Coach Ted Dent became the winningest coach in Rockford's AHL history with his 123st victory on Saturday

-Dent also became the longest-tenured bench boss in franchise history, coaching in game 241 against the Griffins

-Rockford picked up their sixth road win on Thursday, in their eighth road game of the season

-The IceHogs won a total of 11 road games in 2013-14

Hot Hog: Week 5
Center Mark McNeill (6g)
The Rockford IceHogs stayed hot during Week 5, due largely in part by the play of second year center Mark McNeill. The Hogs' leading scorer through 13 games opened the week with his third multi-point effort of the season, scoring two goals to help Rockford mount a comeback and knock off Lake Erie in overtime on Tuesday. McNeill followed it up on Thursday at Iowa with a tally in his third straight contest and it proved to be the game-winner in a 5-3 win. The pivot closed out the week on a strong note with a natural hat trick, leading the IceHogs to their eighth straight win. McNeill proved to be clutch throughout the week as four of his six markers came when the team needed it most in the third period.

Upcoming Games:
Friday, Nov. 14, vs. Milwaukee Admirals: Game time is at 7 p.m. The IceHogs look to avenge their opening night defeat at the hands of the Admirals as the two begin a home-and-home series. The first 2,500 fans will receive an IceHogs cowbell courtesy of BMO Harris Bank.

Saturday, Nov. 15, at Milwaukee Admirals: Face off is set for 7 p.m. Rockford makes its first of six visits to the BMO Harris Bradley Center to cap off the two-game set against the Admirals. The IceHogs held a 1-4-0-1 record in Milwaukee last year.

Sunday, Nov. 16 vs. Texas Stars: Game starts at 4 p.m. The IceHogs round out their first three-in-three set of the season as they host the defending Calder Cup Champion Texas Stars at the BMO Harris Bank Center. Fans can stay after the game's conclusion to take the ice with their favorite players in another rendition of "Skate With the Hogs".

Bud Light Hog Talk Monday Night At Mulligan's and Grill:
Bud Light Hog Talk is back on Monday, Nov. 10 at Mulligan's Pub and Grill from 6-7 p.m. Mulligan's is located on North Main St. Fans can join Mike Peck or TJ Hogan from 6-7 p.m. on most Mondays throughout the season, as they chat with IceHogs players, coaches and front office members. This week's guests will include IceHogs forward Klas Dahlbeck and Head Coach Ted Dent. Take advantage of food and Bud Light specials at Mulligan's. The show will be re-aired on Tuesdays from 7-8 p.m. on WIFR's 23.2 "Antenna TV."

The IceHogs Broadcasting Network:
Catch every IceHogs game, home and road, in 2014-15 on WIFR's 23.2, "Antenna TV." The games can also be viewed on Comcast Cable channel 436, Charter Cable channel 193 or Mediacom 101 in the Rockford market and online through AHLlive.com. Fans can listen to the action for free on AHLlive.com. For a complete listing of TV stations carrying IceHogs games, visit IceHogs.com. Every broadcast will start with the IceHogs Warmup 30 minutes prior to puck drop.

Tickets On Sale for 2014-2015!
IceHogs individual game tickets are now on sale! Call (815) 968-5222 to reserve your seats for any IceHogs regular season game during the 2014-15 season. Tickets can also be purchased online at IceHogs.com, in person at the BMO Harris Bank Center Box Office in downtown Rockford, or any Ticketmaster outlet, includating Walmart.