WEEK 4 REPORT: HOGS STUMBLE AFTER POINT STREAK HITS 5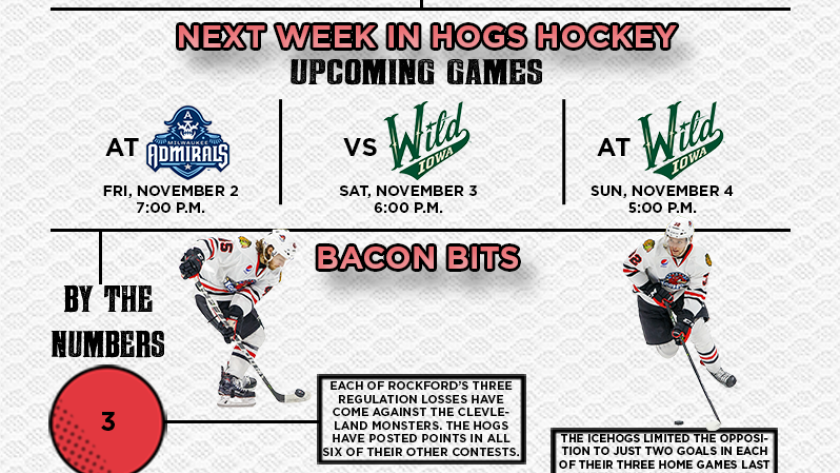 ---
BACON BITS:
-The Rockford IceHogs picked up points in two of three home games last week, going 1-1-0-1 with a victory over the San Antonio, shootout loss to Manitoba and outright defeat by Cleveland...Each of Rockford's three losses in regulation this season have been against the Monsters...The Hogs have otherwise posted points in all six of their other contests this season (4-0-1-1 against other teams).
-The IceHogs limited the opposition to just two goals in each of their three home games last week...Overall, the Hogs are allowing only 3.00 goals per game in 2018-19, and have only once allowed more than two goals on their home ice (5-3 win vs. Texas on Oct. 13).
-Rockford outshot Cleveland in the season opener on Oct. 5 but has since gone eight consecutive games without outshooting the opposition...The IceHogs have been outshot in six of those games and finished tied in shots on goal in two of those contests...Opponents own a 259-225 advantage in shots on goal during that eight-game stretch.
-Matthew Highmore has tallied four points (1g, 3a) over his last three games to move into a tie for the team lead in scoring...Highmore led Rockford in scoring at home last season (25 points) and has now logged six of his first seven points this season on home ice...He has combined for 31 points (17g, 14a) in 38 home games with the IceHogs.
-Victor Ejdsell produced Rockford's first multi-goal game of the campaign with a pair of tallies against the Monsters on Saturday...The forward has combined for 10 goals over his last 19 AHL games with the IceHogs dating back to the 2018 Calder Cup playoffs...He has totaled three multi-goal efforts during that span.
-Andrew Campbell collected his first point of 2018-19 during Sunday's game, breaking up a shutout with a goal late in the second period against Manitoba...The goal was just his 34th career marker in 662 career AHL games, and marked the fifth AHL team with which Campbell has scored at least one goal (also Tucson, Toronto, Portland and Manchester)...Campbell finished last week's three-game schedule with a team-high +3 rating.
---
UPCOMING GAMES:
Friday, Nov. 2 | Rockford at Milwaukee (7 p.m.) The Rockford IceHogs take on the Milwaukee Admirals for the first time of the 2018-19 season. The Hogs went just 2-6-0-2 against Milwaukee last year, but notched each of their two wins in the series on the road at the UW-Milwaukee Panther Arena.
Saturday, Nov. 3 | Rockford vs Iowa (6 p.m.) Rockford returns to the BMO Harris Bank Center for the first of three consecutive games against the Iowa Wild. Saturday is Military Appreciation Night, and the first 2,500 fans will receive a free military-themed IceHogs baseball hat, courtesy of Rose Pest Solutions.
Sunday, Nov. 4 | Rockford at Iowa (5 p.m.) The IceHogs cap a three-games-in-three-days stretch with a Sunday evening game against the Wild. Rockford went 7-4-1-0 against Iowa during the 2017-18 season, highlighted by Matthew Highmore netting a pair of hat tricks in the series.
---
BUD LIGHT MONTHLY MONDAY HOG TALK AT VINTAGE 501
Bud Light Hog Talk returns to Vintage 501 on Monday, Nov. 5. Vintage 501 is located in downtown Rockford at 501 E. State St. Fans can join broadcaster Joseph Zakrzewski from 6-7 p.m. on the first Monday of every month throughout the season as the duo chats with IceHogs players, coaches and front office members. For those unable to attend the show in-person, Monday's show will be streaming live on IceHogs.com. "Bud Light Hog Talk" will also be available on www.icehogs.com following the live show. Fans can access the podcast through the "Audio Highlights" link in the "Multimedia" menu. The expected guests for Nov. 5 are forwards Dylan and Tyler Sikura.
---
ICEHOGS BROADCASTING NETWORK
Catch the IceHogs this season on WIFR's 23.2 Antenna TV. The games can also be viewed on Comcast Cable channel 434, Charter Cable channel 194, Dish Network channel 252 or Mediacom 102 in the Rockford market and online through watchtheAHL.com. Each TV broadcast will start with "IceHogs Warm Up" 30 minutes prior to puck drop. Fans can also listen to the action for free at sportsfanradio1330.com, facebook.com/rockfordicehogs and IceHogs.com. For a complete listing of TV stations carrying IceHogs games, visit IceHogs.com, and for the complete schedule of radio broadcasts, visit sportsfanradio1330.com.
---
TICKETS ON SALE FOR 2018-19!
IceHogs individual game tickets can be purchased by calling (815) 968-5222 to reserve your seats for any regular season home game during the 2018-19 season. Tickets can also be purchased online at IceHogs.com, in person at the BMO Harris Bank Center Box Office in downtown Rockford or at any Ticketmaster outlet, including Walmart.